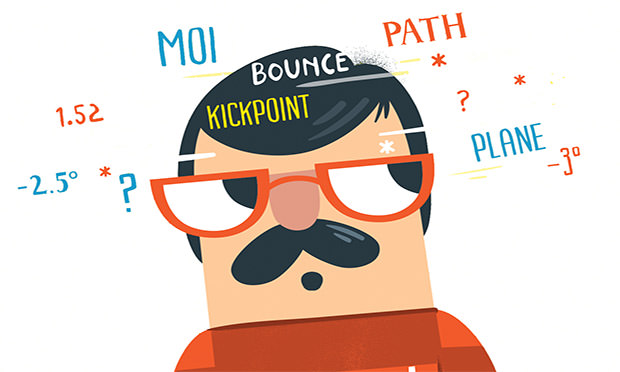 No wonder this game is so frustrating. I need to turn up the Smash Factor while controlling my Spin Rate, but my shafts aren't even "pured." My 3-wood is too stiff, my 4-wood is actually a 5-wood, and my wedges aren't properly gapped. As for my volatile 21-degree hybrid? Despite having a shaft that is emblazoned with a big "S" for stiff, its whippy flex is better suited for a beginner.
Those are just a few of the things I learned in a whirlwind immersion into the high-tech world of custom clubfitting (along with discovering that my right arm is a half-inch longer than my left). It's a near certainty that many and perhaps most of the 14 clubs in your bag are not fit properly. Visiting a vendor-agnostic custom clubfitter and builder—who has access to multiple brands and shafts—can lower your score. Whether you are looking for new clubs, dialing in an adjustable driver to offset a slice and maximize distance, or just trying to make sense of your current bag, a clubfitting session can help pinpoint your problems and resolve them.
Custom clubfitting dates back to Old Tom Morris, but it was introduced to the broad market a couple of decades ago by companies like Hot Stix and Cool Clubs. With ever-improving technology and a broadening appeal to savvy customers, it's enjoying a boom nationwide and in Colorado, where options are increasing dramatically.
Club and ball-tracking simulators (TrackMan is the frontrunner) utilize Doppler radar to record a litany of swing traits, and to essentially identify your golf DNA. The most critical is usually the Smash Factor, expressed as the ratio of ball speed to clubhead speed, because it measures your ultimate efficiency. But the tracking software also spits out columns of other important data, including club delivery, launch angle, spin rate, shot dispersion, carry and total yards.
Clubfitters follow a basic protocol of first learning about your game, then matching those characteristics to the right shaft (and grip) and then clubhead. Shaft variables include weight, length, flex and flex profile, and finding the right clubhead means dialing in the appropriate loft, lie and swingweight.
Your club pro, favorite golf retailer, or the brand reps at the demo day at your local range might all utilize launch monitors to help with fittings. But investing in a custom clubfitting, which can cost upwards of $350 if you go all out for a three-hour, full-bag process, takes it to the PGA-Tour-player level in terms of expertise, experimentation and options. With an inventory of most club brands, shafts and grips—up to 35,000 options in some cases—custom clubfitters can dramatically increase your odds of finding the best needle in a haystack.
In a two-week period, I visited four custom clubfitters in the Denver area. While the goals and tracking data are fairly consistent across the spectrum, approaches can vary significantly from shop to shop. My clubfitting journey took me from the veterans at D'Lance to the new Fitting Van at the PGA Superstore, and from newly opened Club Champion Golf in Highlands Ranch to the range at CommonGround Golf Course with Gott Golf. Here's what I learned along the way:
D'Lance Golf, Englewood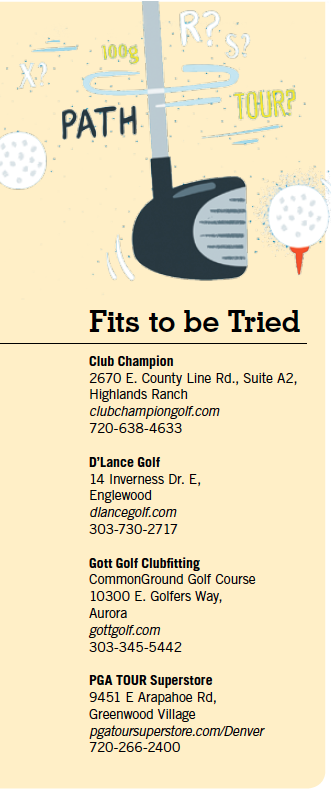 Dan Sueltz, a chemical engineer by training, is the godfather of Colorado clubfitting. He's fitted more than 10,000 golfers since he opened shop in 1996, and is headquartered in an office complex next to the Inverness Golf Club. D'Lance was voted as the Best Golf Store in the 2017 CAGGY Awards, and his system is the most detailed and systematic of any outfit I visited, primarily because he set out to make it repeatable, and not subject to the whims of an individual clubfitter. Called BGF (Better Golf…Faster), it's licensed to the Golf Etc. retail chain. D'Lance (the name combines the founder's first initial with the name of his son) has been named a Golf Digest Top 100 Clubfitter every year since 2011, and Sueltz also mentored a half- dozen other fitters who went on to make the list.
Sueltz starts with a detailed questionnaire on background, ability, rounds played, practice habits, strengths, weaknesses, mental approach, current clubs, ball type and even arm measurements. This information, along with swing data from TrackMan and a Mizuno Shaft Optimizer, allows him to establish a profile that he will then begin to match, by trial and error, with the correct shafts, clubheads and set-up.
After measuring my current bag, Sueltz delivers the bad news on my fairway woods and, most distressingly, the verdict on my supposedly stiff-shafted 21-degree hybrid, which is actually the equivalent of a soft regular (no wonder it's been the most inconsistent club in my bag).
D'Lance is old-school, believing that a graphically attractive simulator screen is merely "entertainment," and even a distraction. So I hit balls into a net; the four bays here are actually open 24/7 for practice.  We eventually dial in on a driver shaft, but it's pricey at $450. Using his proprietary technology, Sueltz quickly finds another shaft with the same characteristics and half the price. D'Lance keeps all its customers' records and recommendations on file, so if their game changes, they can return for an update via D'Lance's lifetime fitting guarantee.
PGA Superstore Fitting Van, Greenwood Village
The PGA Superstore is a growing national chain (28 stores and counting) owned by Arthur Blank, founder of The Home Depot and owner of the Atlanta Falcons. The Fitting Van segment is essentially a "store within a store," opening a year ago under the auspices of nine-year-fitting veteran Blake Miles.
While retail customers at the Superstore have access to their own fitting bays and staff help, the Fitting Van segment gives you Miles' undivided attention and expertise, and dramatically expanded options. Similar to other clubfitters, a customer might choose shaft options that cost the same as the original equipment in a purchase, or choose to upgrade and pay the difference.
Miles, quickly assessing my capabilities and preferences, steers me toward a shaft made by Boulder-based KBS, the creation of shaft guru Kim Braly, who pioneered the stepless RIFLE shaft. Noting my affinity for my classic, 12-year-old Taylor Made RAC LT irons, Miles suggests today's equivalent from the TaylorMade family, the PSi. Miles also explains a simple fact in the iron evolution, that lofts have been strengthened across the board in recent years, so my old 31-degree RAC 6-iron is roughly equal to the 31.5-degree PSi 7-iron. The clubs feel good, and the expanded on-screen graphics at the Fitting Van, showing where the ball hits on the face, are the most impressive I would see on my tour.
Matt Corey, the Atlanta-based chief marketing officer for PGA Superstore, notes that every Superstore is designed around technology first.  The store's goal is to find the gear "that's best for you," and none of the employees work on commission. It's also the clear value leader: The $99.99 full bag fit is less than a third of what other premium clubfitters charge.
Gott Golf, CommonGround, Aurora
Is clubfitting a science, art or a little bit of both? Brian Gott, who is based on the practice range at CommonGround Golf Course, can go either way, but seems to prefer to approach it as art.
Gott, who was the 2016 Callaway Clubfitter of the Year and is also a PGA certified professional, takes a distinctly different approach from the other fitters I visited. He resists working inside, needing to see turf interaction with grass rather than on a synthetic surface, and he wants to see your ball flight with his own eyes. He asks a few questions about my game and goals, but embraces entering our process "blind," preferring to reach his own observations and opinions. He also dismisses the Club-Connex type system that is the foundation of the clubfitting world, allowing fitters to quickly snap iron clubheads into different shafts during the fitting process. The system adds a few grams of weight, and Gott prefers his own cart of a few dozen "glued" Callaway clubhead-shaft options (he also fits and builds Pings and Mizunos).
After watching me hit balls with my own clubs, Gott begins with bookend shafts—one feather-light, the other heavy—before honing in to the target weight, flex and profile. His recommendation falls in line with what fitters concluded elsewhere, though Gott never even turns on his TrackMan, which he says is not uncommon. "I can see it," he says. Gott's reputation and clientele speak for themselves; former Denver Nuggets coach George Karl is behind me in line as Gott's next appointment.
Before I depart, I show Gott my new Titleist 917 D2 driver; I'd had an inch taken off the shaft, then added weight fore and aft to the sole to restore the swing weight. He signals his approval, noting that the 46-inch drivers often sold at retail might initially produce prodigious drives, but that a shorter club will be much more controllable and consistent in the long run.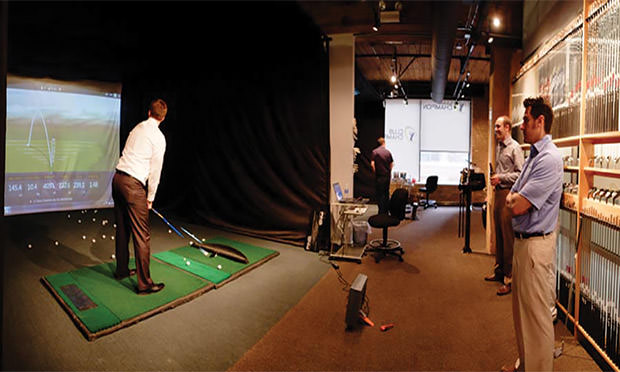 Club Champion, Highlands Ranch
This Oak Brook, Ill.-based outfit presents an impressive, complete package for the serious golfer seeking a modern, resource-laden experience. Beyond the David Leadbetter TV commercials and the limited-time 50-percent discount coupon the company offered to all Colorado Golf Association members when its Highlands Ranch store opened in January, Club Champion displays a core commitment to quality, service and detail.
The knowledge and passion of Master Fitter and Builder Mitch Anderson is immediately apparent. After spending a decade fitting clubs at retail, Anderson is ecstatic about the resources he wields here, especially after spending a month training at the company's headquarters in Oak Brook, where the club builds are performed for the group's 17 stores. "I feel like I've gone from the minors to the major leagues," Anderson says.
"The shaft is your engine," Anderson says as he guides me through the first step of the fit process, and then tells me about Club Champion's commitment to "puring" all its shafts. Shafts begin as sheets of steel, which are then cut and rolled to a seam to create a shaft. The seam is fused, then buffed clean so it's not visible. But this "pure line" is the strongest part of the shaft, and should be facing the target. Most shaft producers don't mark the pure line, so Club Champion does it in-house. We also utilize the on-site SAM PuttLab, which quantifies some 28 elements of the stroke and roll, and determine that I have the right putter type but would benefit from a larger grip.
Club Champion books fittings by appointment only. A 3½-hour full-bag fitting runs $350.
All told, my sojourn into the once-mysterious clubfitting world served as the most eye-opening gear education of my 40-plus years as a golfer. The recommended clubs helped me hit the ball farther, higher and straighter with more confidence, and I now have a clear plan of what clubs to buy next and—just as importantly—why.
---
This article appears in the April 2017 issue of Colorado AvidGolfer. Subscribe today!
CAG contributor Andy Bigford is the editor of Ski Inc. (skidiamondconsulting.com). Colorado AvidGolfer is the state's leading resource for golf and the lifestyle that surrounds it, publishing eight issues annually and proudly delivering daily content via coloradoavidgolfer.com. Follow us on Twitter, Facebook and Instagram.