We've heard that these are the products everyone was talking about at Demo Day…

Bushnell's Hybrid Laser/GPS, Puma PWRADAPT shoes, Phat Golf Scooters, Power Tee, Callaway Chrome Soft and TaylorMade's TwistFace all starred on Tuesday at this year's Major of Golf Business.
By Alex Rajaniemi
---
Bushnell Hybrid Rangefinder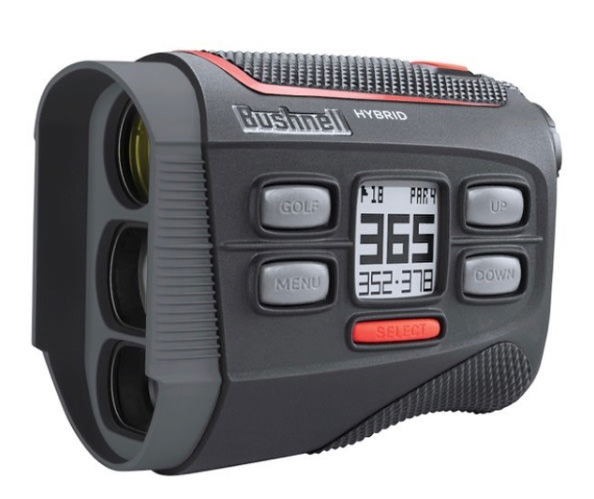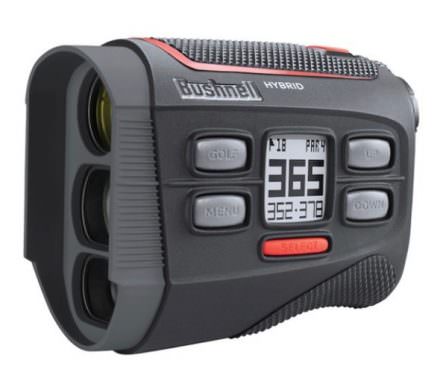 The days of scouring the fairway for yardage markers has long been past thanks to Bushnell and its competitors, and this year the company continues to make strides. The all-new Hybrid Rangefinder combines Bushnell's pinpoint laser accuracy with a CR2-powered GPS unit. What does this mean and why is it better than the old, clunky version at the bottom of your bag? Well, not only does it accurately located pins up to 400 yards away, the Hybrid gives both green front and back yardages in the same shot. Complete with Bushnell's patented PinSeeker and JOLT Technology, the tournament-conforming Hybrid runs at $400— $100 less than the [easyazon_link identifier="B06WP82GP2″ locale="US" tag="coloradoavidg-20″]Bushnell X2 (which you can buy here)[/easyazon_link] and the same price as the highly-touted [easyazon_link identifier="B06W583KCG" locale="US" tag="coloradoavidg-20″]Tour V4 SHIFT (which you can buy here)[/easyazon_link].
---
Puma PWRADAPT Golf Shoes

Rickie may or may not have had some influence on these. Available in four colors (black, white, navy blue, and grey), Puma's attempt to win its share of the golf footwear market takes a step forward with the 2018 PWRADAPT. Full-length IGNITE foam along the sole allows for a plush feel while all-news PWRADAPT Technology gives three-way traction to keep you grounded and balanced at all times. Puma was so confident (as they ought to be) about PWRADAPT's ability to keep you balanced that they demoed the new flagship shoe on a slick, downhill lie.
[easyazon_link identifier="B074ZQT9GL" locale="US" tag="coloradoavidg-20″]You can lace 'em up for $150 here.[/easyazon_link]
---
Phat Golf Phatty HD Golf Scooter

The PGA Merchandise Show is famous for showing us new, exciting ways to get around the course—whether it's GolfBoard or ClubCar— but this year the talk of the Demo Day crowd revolved around Phat Golf. Endorsed by World No. 17 golfer Pat Perez of PXG, these scooters run just seven feet in length and can reach 20mph. Able to run 36 holes on one charge, the scooters can carry up to 350lbs and climb hills at a 30-degree clip. Plus, even for the price ($2,399-$2,999), these things look like an absolute blast to rip around the course. Need more? Visit phatgolf.com
---
Power Tee
The golf instruction world is obsessed with repetition and replication from swing mechanics all the way to playing environment. Power Tee, an automated teeing system, aims to perfectly recreate your swing environment during your practice session. No more bending over and picking up tees, no more repositioning, and no more fuddling with your grip based on your stance— simply step up and swing, swing, swing. Power Tee, a Jim Furyk favorite, has up to 40 customizable tee settings and starts at $4,500 per unit. Check them out at powertee.com
---
TaylorMade M3 and M4 – Twist Face
The Belle of the Ball this year is TaylorMade once again. Last year at the PGA Merchandise Show, the driver giant broke the news that some guy named Eldrick had signed on, and this year the splash was nearly as big. Twist Face is a complete re-imagination of the driver clubface, allowing for larger misses to find their way into the short grass. TaylorMade has moved away from the typical "bulge-and-roll" design that focuses on one, centered sweet spot and quite literally twisted the driver face to allow heel-misses (commonly a slice) and toe-misses (commonly the dreaded hook) to fly straighter.
While you won't see much of a difference with the naked eye, hit a drive or two and see why TaylorMade may have already won the driver contest this year with what they're touting as "Straight Distance." The clubs hit the open market at $499 (M3) and $429 (M4) in February.
---
The All-New 2018 Callaway Chrome Soft Golf Ball
Some would've thought Sergio Garcia would struggle with a Masters hangover and a full-bag equipment overhaul but the polarizing star kicked off his new Callaway partnership with a bang in Singapore. Oh, and did we mention he did it with a Chrome Soft?
From Callaway headquarters, "the new Graphene-infused Dual SoftFast Core features a new, larger inner core. This larger inner core maximizes compression energy while minimizing driver-spin and promoting high launch for long distance. Essentially, you have a recipe for faster ball speeds."
If you were wondering what Graphene is, it won the 2010 Nobel Physics Prize. Now it's in your golf ball. Think about that.
---
Colorado AvidGolfer is the state's leading resource for golf and the lifestyle that surrounds it, publishing eight issues annually and proudly delivering daily content via coloradoavidgolfer.com.