The 1919 Original is what makes American golf great, while the Peninsula's other jewels push it to the top of any bucket list.

By Andy Bigford
---
IT TOOK UNTIL 1972 for the once-stuffy United States Golf Association to stage its U.S. Open Championship at a course the public could actually play, the Pebble Beach Golf Links. Thirty-two-year-old Jack Nicklaus faced a Pacific baptism of his own when he glared into a stiff wind on Pebble's now-famous, 218-yard, par-3 17th hole in the final round. He responded by short-hopping a 1-iron off the flagstick for a tap-in two that sealed the 11th of his 18 majors.
Both the "best golfer ever" and what many consider to be the "best golf course ever" acquitted themselves rather nicely on that long ago day. In a wind-ravaged final round on marble-slick greens, in conditions described as a "landscape of horrors," Pebble extracted an average score of 78.8 from the field. Nicklaus shot what was perhaps the best 74 ever recorded en route to a 72-hole total of 2 over par.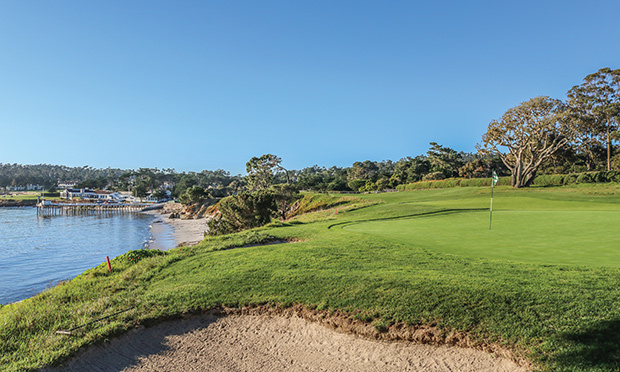 Thirty-six years later, when Pebble finally acquired a key parcel of prime oceanfront land it had sought for eight decades, it turned to Nicklaus to design another iconic Pebble Beach par-3, the cliff-hugging 5th. The work remains a highlight in Nicklaus' second career as an architect, which includes some 400 courses worldwide.
"If I had only one more round to play," the Golden Bear has famously said, "I would play it at Pebble Beach." No disagreement here, and in fact his statement could be expanded to this: "If I had only one week to play, I would play it on the Monterey Peninsula."
"There's not another destination that has what we have on the Monterey Peninsula," observes Patrick Freeman, the director of golf and tournaments for Pebble Beach Resorts. Freeman, who is busy preparing Pebble to host its sixth U.S. Open in 2019 to celebrate its 100th year anniversary, isn't just referring to the courses under the Pebble Resorts umbrella (a lineup that also includes Spyglass Hill, which many golfers believe is every bit Pebble's equal; the Scottish-style Links at Spanish Bay; and the circa-1897 Del Monte, the oldest continuously played course west of the Mississippi).
The Peninsula's two-dozen courses also feature, for those with the right connections, the incomparable Alister Mackenzie-designed Cypress Point and the magnificent Monterey Peninsula Country Club, where the recently restored Dunes and Shore courses make it arguably the best 36-hole private club in the country. And, if you expand your horizons slightly to encompass the entire Monterey Bay, Pasatiempo Golf Club, the public-access, not-to-be-missed Mackenzie gem, is just 50 minutes to the north in Santa Cruz.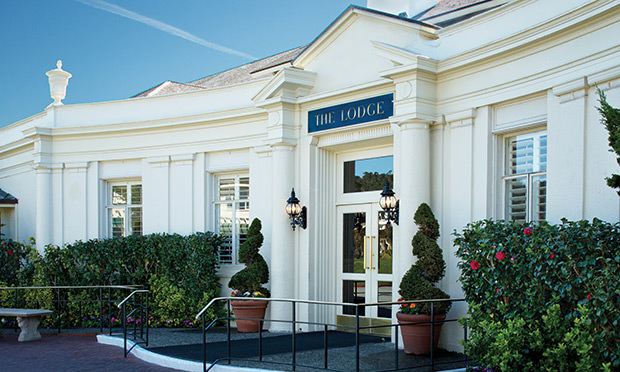 But let's begin with the wonder that is Pebble, the very definition of American golf, where the holes and shots you've watched for decades on TV are even more dizzying and dazzling in person. For its timeless design, tournament tradition, stingy challenge, white beaches and craggy slopes, Pebble stands above all the thousands of courses that have opened since its debut in 1919…and that despite, or perhaps because of, its truly humble and very American origins.
Pebble was a last-ditch real estate play, and a quick, cheap one at that; course construction cost less than $100,000. Samuel F. B. Morse represented the property's owner, and was charged with creating a buzz to sell the 18,000-acre parcel, with the golf links serving as the beacon. (Morse, a distant cousin of the telegraph and Morse code inventor of the same name, would ultimately found Del Monte Properties, buy the land himself, and in five decades at the helm become known as the "Duke of Del Monte.")
The early 1900s were the Golden Age of golf design, with the likes of Mackenzie, Donald Ross and A.W. Tillinghast creating exclusive enclaves with blue-blood pedigrees such as Oakland Hills, Winged Foot and Augusta. In contrast, Pebble would open its gates to everybody, hire one of the first U.S.-born golf professionals (Californian Harold Sampson), and select its designers because they were cheap (free) and geographically desirable. Jack Neville and Douglas Grant lived nearby, enjoyed decorated amateur careers, and had the vision. Besides the free design services, Morse budgeted for a cost-efficient greens keeping crew, comprised primarily of goats.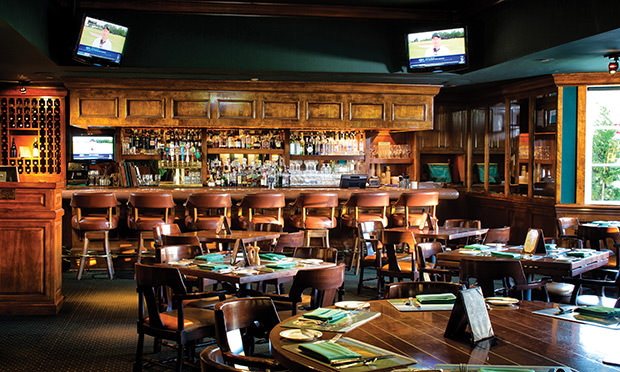 Grant and Neville made the most of their once-in-a-lifetime opportunity; the latter was overly modest about the design accomplishment, always crediting the canvas. "It was all there in plain sight," he told the San Francisco Chronicle in 1972, the year of that first U.S. Open. "It took a little imagination, but not much." In the early 1920s, British architect William Herbert Fowler was engaged to enliven what was then an anti-climactic, short par-4 18th, transforming it into today's 535-yard fireworks display, maybe the best finishing hole in golf. But other than that, and Nicklaus' work on the 5th in 1998, Pebble has changed remarkably little over the century.
Pebble is a refreshing hybrid—a links-like course in places, for sure, but always standing on its own identity. The greens are relatively fast, true (despite the poa annua) and tiny. At an average of 3,500 square feet, they are the smallest on the PGA Tour, and roughly a third smaller than those at, say, Bandon's acclaimed Pacific Dunes. Likewise, the fair-ways are relatively lush (except during U.S. Opens), while affording unrivaled proximity to the Pacific. There are forgettable holes, but nothing matches the sparkle and tumble of Stillwater Cove, or the adrenaline rush of holes 4-10 (the testosterone-testing approach to No. 8 remains Nicklaus' favorite) and 17-18.
In contrast to the natural, unmarred views along, for example, the North Sea or the Oregon coast, Pebble is surrounded by development—and a slew of $15-million-plus homes (the landmark estate behind the 10th green, once owned by Gene Hackman, recently sold for $27 million). But these are part of the Pebble fabric, and rather than apologize, Pebble embraces it, including the addition this fall of the Fairway One lodging complex to the left of the first hole.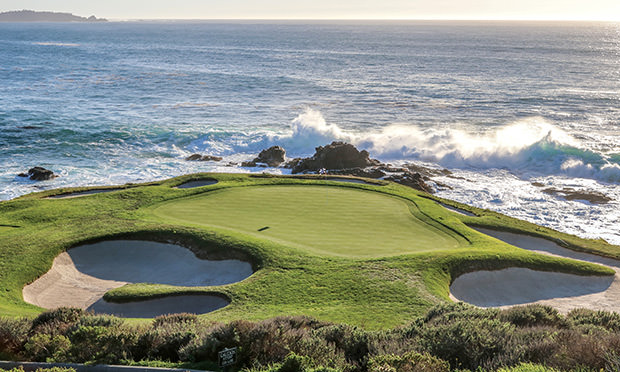 Famous for its weather, Pebble can see sun, fog, wind, and rain co-mingling on any given day. But on average, it blows much less here than at most oceanside courses. When I hit a choked-down 6-iron into a stiff, rainy gale at Pebble's signature 106-yard par-3 seventh, our caddie said it was the strongest wind he'd seen in years. And by the time we reached the 9th, the sun was shining and the wind was down.
For these reasons and for several generations, Pebble reigned as the perennial "bucket list" leader among North American golf destinations. With Bandon Dunes muscling into the discussion in the past decade, the beautiful thing is that the two could not offer more divergent experiences. Pebble is cashmere to Bandon's tweed. "We are aware they are there," Pebble's Freeman says of the Oregon upstart, "but it doesn't change what we do."
You are going to pay more for Pebble, where the walk-up rate has risen to $525 a round. Furthermore, to guarantee tee times at Pebble, guests need to book a room for at least two nights at one of its three proper-ties: The Lodge at Pebble Beach (including the new Fairway One), The Inn at Spanish Bay, and the most luxurious property, Casa Palermo. Rooms start at roughly $840 per night and climb upward toward the price tag of a compact SUV for a multi-night stay. (For perspective, in that U.S. Open year of 1972, a Pebble golf package, including room, board and green fee, cost about $50 a day.)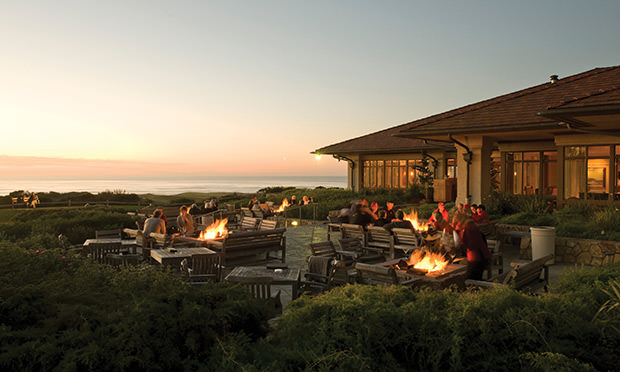 September through mid-November are the busiest, most expensive months, when a three-night stay is usually required. But after that, the resort offers "Fall and Winter Stay and Play Packages," valid mid-November through the end of March, that are fairly reasonable. Pebble's creative resort reservations staff can help create your perfect package and offer an array of incentives and credits. One starter package has two golfers sharing a room at the Inn at Spanish Bay for two nights, playing 18 holes at Pebble and Spanish Bay, and paying less than $1,500 per person. But the real savings kick in with three- and four-night itineraries.
There is another way, and that is book-ing other accommodations on the Peninsula and testing your luck with last-minute tee time availability for the crown jewel. It's best to be a single or double, more of a long shot for a foursome. Holidays increase your odds (Thanksgiving, Christmas, New Year's, July Fourth, etc.), and have the Pebble tee time reservation number (800-877-0597) on speed dial; you can book 24 hours in advance, with the line staffed from 7 a.m. to 7 p.m. on week-days and 8 a.m. to 5 p.m. on weekends.
In my three visits to the Peninsula, we hit the jackpot on the last trip, when I was visiting a college roommate who now hap-pens to own a vacation bungalow in Carmel, and who rather fortuitously had the priceless connections that got us on both Cypress and Monterey Peninsula CC. We also had an 8:30 a.m. weekday tee time at Spyglass, and when a spot for two opened at Pebble on the same morning, the staff seamlessly switched us. Paired at random with a CNN political commentator and a master sommelier (who later walked us through the wine list in the Tap Room), it was the best $500 I've ever spent.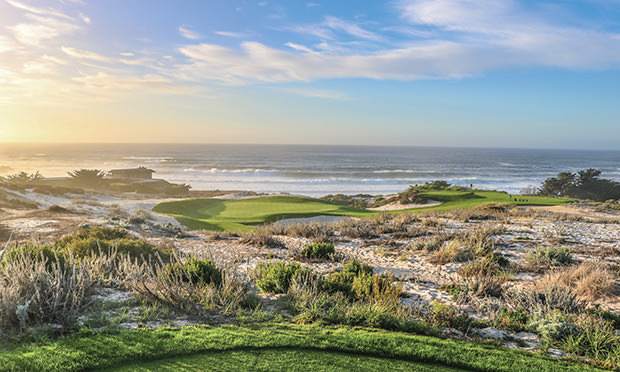 Pebble Beach Resorts' other courses, especially Spyglass, are more than memorable… they just aren't Pebble. Outside of the resort company lineup, the best of the rest of the public-access courses on the Peninsula might be the Robert Trent Jones, Jr.-designed Poppy Hills, home of the Northern California Golf Association. Jack Neville's other commission, Pacific Grove Golf Links, offers a roughly $60 greens fee and is proudly touted as "the poor man's Pebble," with a back nine that skirts the ocean. The Bayonet and Black Horse courses, former military tracks before the decommissioning of Fort Ord, have been redesigned by Gene Bates. For inland options, Carmel Valley Ranch Golf Club is a beautiful resort with the only Pete Dye-designed course in Northern California, while the Quail Lodge and Golf Club was recently renovated by Todd Eckenrode of Origins Golf Design.
If you fail to win the tee sheet lottery for Pebble, you can experience the Pebble magic by cruising 17-Mile Drive (there's even an app for that), enjoying a meal at the Tap Room in the Lodge, or catching the evening bagpiper at Spanish Bay. Then again, even with the high price of admission to stay on-site and guarantee your round at Pebble, it might be one of the best values in all of golf.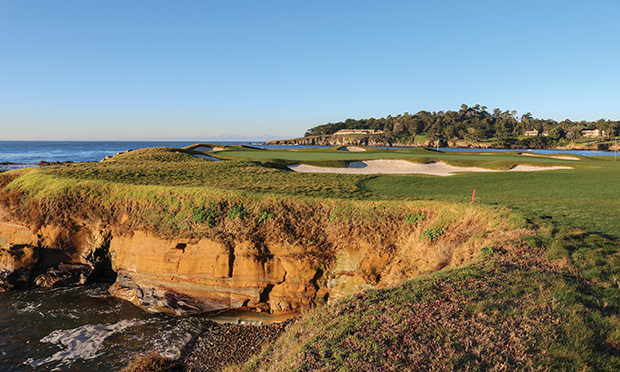 ---
This article appears in the Winter 2017 Issue of Colorado AvidGolfer Magazine, the state's leading resource for golf and the lifestyle that surrounds it, publishing eight issues annually and proudly delivering daily content via coloradoavidgolfer.com.