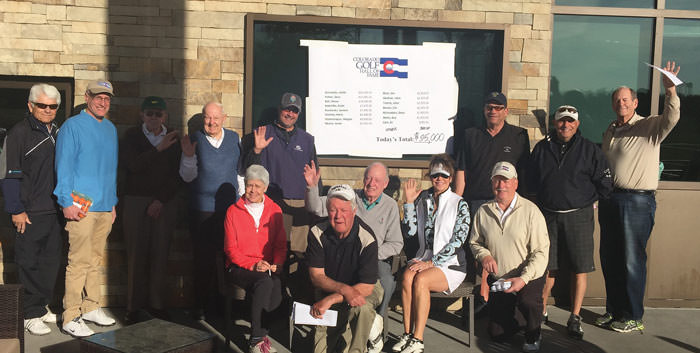 Do you want to have a golf tournament—or do you want to raise some significant funds for a worthy cause? One should lead to the other, but that's not necessarily always the case. 
The board members of the Colorado Golf Hall of Fame know this all too well. After years of putting significant resources into annual charity tournaments, the Hall—just like any other nonprofit, 501(c)(3) and worthwhile organization—started looking into ways to be more effective, efficient and prosperous.
Last year, CGHOF board member Gary Potter asked Arizona Golf Association Executive Director Ed Gowan how his organization had been so successful in raising well over $1 million for the AGA Foundation.
"It's not from conducting charity golf tournaments," Gowan replied. "No way scramble golf events can raise significant dollars. Normal golf events take way too much time, effort and manpower. We were always frustrated with time and expense in 'golf events,' which always yield less-than-expected results."
Gowan explained that he had worked for a number of years with an organization called ProFundWest. "The program has been our way of maximizing contributions to the Foundation," he told Potter. "It has an amazing, creative and businesslike approach to raising serious dollars."
How serious? After learning more about ProFundWest's turnkey, step-by-step process and how its fund-raising technology handles everything from donor pledge registration to pledge collecting, Potter brought the idea—and ProFundWest founder and president J. Michael Meadows—to the CGHOF executive board. The members agreed to the campaign, and 90 days later, the Colorado Golf Hall of Fame Classic 100 took place at the Greg Mastriona Golf Courses at Hyland Hills in Westminster.
The 15 participants raised $95,463 before lunch.
As one of those participants, I can vouch not only for our success but also for the fun we all had in achieving it. The 15 of us played golf—100 holes of it—as twosomes on the Par-3 course. Two players had aces and one shot 34-under par. The 15 of us had a total of 518 sponsors—and ProFundWest's technology took virtually all the effort and awkwardness out of soliciting them and processing their donations.
The money went directly into our account to help fund youth golf initiatives and maintain our growing museum at the Riverdale Golf Courses in Brighton. We still held our annual golf tournament later that year, with hole sponsors, foursomes and volunteers providing spirited support. Predictably, the tournament also required at least twice the amount of planning time, effort and work as the Colorado Golf Hall of Fame Classic 100 Campaign had, while netting less than half the money.
Successfully staging a ProFundWest campaign took the pressure off the tournament as the organization's sole funding source. The monies generated have allowed us to continue to create a foundation and golf tournament worthy of the standards of excellence recognized by a hall of fame. This year's tournament will take place June 29 at Sanctuary in Sedalia.
Since 1992, ProFundWest has staged more than 6,300 campaigns similar to the Colorado Golf Hall of Fame's, raising hundreds of millions of dollars for similarly worthy causes. The company has perfected and automated a seamless process that provides all the tools to reduce the time and effort involved in staging a successful fundraising event. 
J. Michael Meadows and his team have expanded well beyond golf-related events. They know the goal behind any charity tournament is to make money, not to have board members stuffing gift bags, checking sponsor signage, serving as witnesses on prize holes and ensuring every player buys enough drink tickets to offset his inflated handicap.
For more information about how the ProFundWest program can help reach your fundraising goals, visit ProFundWest.com, or call J. Michael Meadows at 602-252-5758.
---
2017 Tournament Guide presented by Cheyenne Mountain Resort
Why the 'New' Plum Creek Could Be Home to Your Next Tournament
The Hole Hecklers are Making Funny Money
Mapping Your Road to Tournament Success
Creating an Exceptional Experience
How ProFundWest helped the Colorado Golf Hall of Fame finance its foundation

Colorado AvidGolfer is the state's leading resource for golf and the lifestyle that surrounds it, publishing eight issues annually and proudly delivering daily content via coloradoavidgolfer.com. Follow us on Twitter, Facebook and Instagram.