Porsche and the Hybrids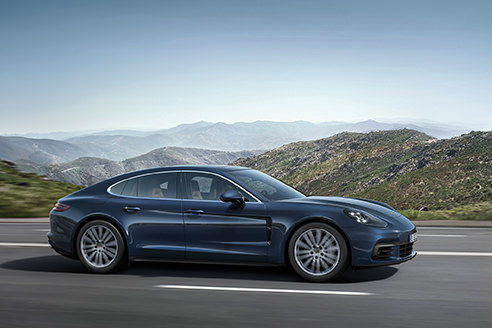 Meet an unlikely band of game-changing vehicles.
By Isaac Bouchard
2017 Porsche Panamera 4S
MPG: 23/35 (city/hwy)
Price as Tested: $141,685
Completely in line with the current political zeitgeist is the second generation Porsche Pamamera. This all-new model is more beguiling to drive and certainly to look at than the first Panamera. Porsche's forms flow more freely over its skin, and it now really does rather resemble a four-door 911.
Based on a new architecture labeled MSB (which will also serve duty in Bentley's upcoming car and the new Cayenne), it is stronger and lighter than its predecessor. The cozy and cosseting four-place cockpit that it contains is beautifully designed and quite radical in some ways. Gone is the "flight deck" of buttons between the front seats. Now there are multiple gloss black touch screens to control most every function.
Most work brilliantly, and the lovely 12.3-inch center screen is very thoughtfully laid out. About the only analog gauge left is the classic Porsche tachometer, flanked by twin seven-inch screens that can be configured to show maps, music or virtual gauges. The driver needs to access menus even to move the center air vents, which is not necessarily optimal.
What can be described as optimal, however, is the manner in which the Panamera
drives. The volume 4S model now is powered by a new, 2.9-liter, twin turbo V6, whose 440 horses and 405 lb-ft of twist are adroitly deployed by an equally new 8-speed twin-clutch transmission. This PDK gearbox is now the gold standard, with luxuriously fluid gear changes  when proceedings aren't rushed, and instantaneous seeming cog swaps when in Sport or Sport Plus modes, whether computer- or human-controlled.
While this engine is nowhere near as aurally compelling as the older V8, it certainly breathes better in our air, and flings the Porsche down the road with the expected velocity often lacking in the predecessor at lower RPMs. While no independent testing has been released, it feels like a mid-4 second car, which is to be expected at its price point; V8 Turbo and Turbo S models will no doubt rival the latest Tesla for fastest accelerating sedan honors.
The Panamera feels special just cruising in Normal, with a stiffly controlled yet generally supple ride, superb electric-assist steering, feelsome brakes and a coiled readiness that explodes once the systems are ramped up in the more dynamic modes. Handling is secure yet interactive, high speed cruising quiet and refined, and long distance comfort seems excellent. Like many cars with air suspension (optional here) some high-frequency jitter filters through, but overall few will find reason to complain, even if they come out of more overtly luxurious transport.
The Porsche shrinks around the driver when driven hard; here the optional four-wheel steering shows its benefits, making directional changes quickly yet in a stable manner.
This new Panamera also offers a good look at Porsche's latest safety tech, with great lane assist and tracking, emergency braking and traffic-jam assisted cruise control. These very sophisticated systems take much of the fatigue out of our typically congested commuting and bode well for next-level autonomous systems. Porsche has some of the highest profits per vehicle of any car company. Combined with robust volumes, this means it can develop incredibly cohesive and captivating cars. Such is this new Panamera 4S.
Hybrid Vigor
A concerted, multiyear effort to improve economy and reduce the environmental impact of automobiles has created some amazing technology. While the take-rate remains low—2.5 percent of the market—for cutting-edge vehicles such as the BMW i3, Kia Niro and Toyota Prius Prime, the hardware and software that makes them such masters of mileage will trickle down to more conventional machinery over time, benefiting a significant portion of the buying public.
---
Toyota Prius Prime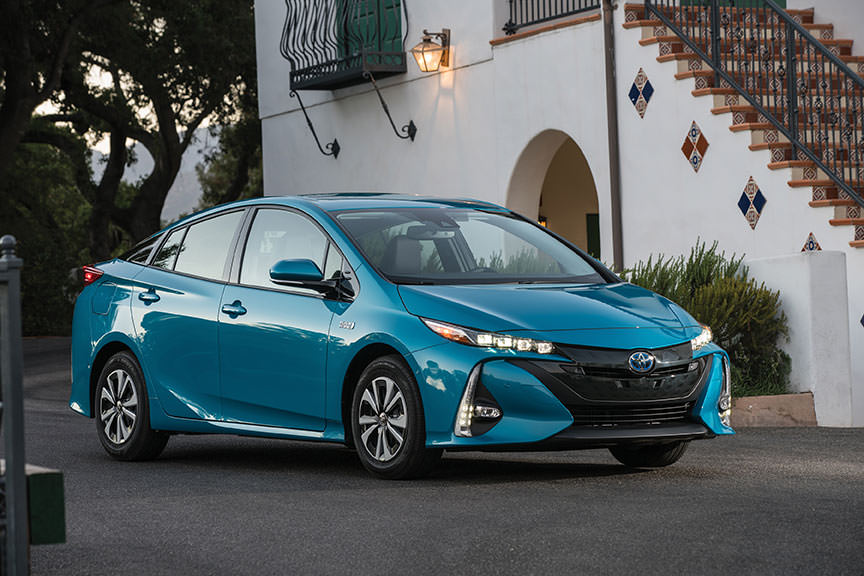 Price as tested: $36,305
Toyota is the undisputed leader in hybrid sales with the Prius family, but only very recently has committed to the concept of plug-in models, which can run on electricity alone and whose larger and more powerful batteries can be charged from the grid.
The Prime is a stopgap until more fully-fledged Toyota models come online. It therefore doesn't convey the pure electric vehicle (EV) experience, since it often uses its gasoline engine to supplement the electrons flowing from its 8.8kWh battery. Either way, it isn't a quick car, with 0-60mph taking 10-12 seconds depending on which mode it is in.
But the Prime is otherwise actually a fun car to drive, thanks to the company's all-new TGNA platform; it rides decently, steers sweetly and handles well. Road noise is better isolated than prior Prii, but this is still a rather loud way to get about. Toyota's renewed focus on quality is evident in the radically colored and designed cockpit, assembled out of nice materials and full of fun details like the anodized blue bezels around the vents.
The Prime also debuts the company's new, vertically oriented, 11.6in infotainment interface, which is fast and fairly intuitive, if lacking in brightness and resolution. The Prime loses the center back seat and some cargo capacity to the larger battery but is otherwise a more interesting option than the normal model, especially as its frontal design aspect is less willfully bizarre. The Prius Prime will recharge itself in about five hours from a normal outlet, and routinely get over 50 mpg.
---
Kia Niro
Price as tested: $30,545
The Niro comes across as a fairly conventional-looking crossover—though no AWD variant is offered. Its blocky exterior means it is incredibly practical for sole transportation duties. While not yet available as a plug-in, like the Prius, it uses a very high thermal efficiency, Atkinson-cycle four, electric motor and very advanced, lithium ion polymer battery pack design.
The Niro's 139 system horsepower make it a bit fleeter than the Toyota. Even the less-efficient, more luxurious Touring model made mid-9 runs to 60mph. However, it feels much sprightlier than that, as it has 195lb-ft of torque to call upon.
In normal hybrid mode the interchange between the gas and electric drives isn't handled as seamlessly as it is in the Prius—Toyota's experience here is evident, as it is when using the regenerative braking system—but put the Niro into Sport mode and Kia's inclusion of a twin-clutch transmission over a continuously variable one starts to make sense. Driven in this manner, the Niro's performance also feels more cohesive, given that the chassis and large wheels means it rides quite stiffly. Mileage drops into the low-30s, still not bad for a "crossover," but nowhere near the numbers achieved by less well-equipped Niros.
That's forgiven when a hot day encourages you to turn on the ventilated seats, or use the heated steering wheel on a chilly morning. The Kia UVO infotainment system is a conventional, well-resolved touch-based system, and those who choose it wont feel like they are missing out on the other luxuries in life.
---
BMW i3
 
Price as tested: $54,695
BMW's i3 does force one to make choices; thankfully it thrills in other ways the Asian duo can't. It is an almost perfect city car, with the ability to turn around almost on its own axis. It also offers great ride quality and a very quiet ride. The i3 has really strong off-the-line urge (0-60mph in 7 seconds but it feels faster), meaning you can punch into any available gap in heavy traffic with ease and beat everyone from the lights, along with interactive steering and kart-like feel to the handling.
But there are no power seats available (and the manual ones limit adjustments), its displays look like placeholders until something better comes along, and it gets very expensive—and has tended to depreciate—very rapidly. The 2017 model has significantly more range—both as an electric car, or in the Range Extender model, whose 2-cylinder gasoline motor adds 30-40 more miles of driving to the 33kWh battery's 120.
The i3 is the coolest looking, nicest finished, most advanced and most entertaining of this trio, but the ferocious pace of advancement in EV tech means it almost starts to feel as obsolete as a smartphone now does after a few years.
The BMW and Toyota also can qualify from large state and federal tax incentives. This may change with the current review of automotive emissions at the EPA, so if this type of vehicle speaks to you, it might be best to act quickly. If efficient and pragmatic transport is all that is necessary, the Kia makes a compelling alternative.
---
Automotive Editor Isaac Bouchard is president of Bespoke Autos ([email protected]; 303-475-1462). Read more by him at coloradoavidgolfer.com and bespokeautos.com.
---
This article appears in the May 2017 issue of Colorado AvidGolfer. Subscribe today!
Colorado AvidGolfer is the state's leading resource for golf and the lifestyle that surrounds it, publishing eight issues annually and proudly delivering daily content via coloradoavidgolfer.com. Follow us on Twitter, Facebook and Instagram.