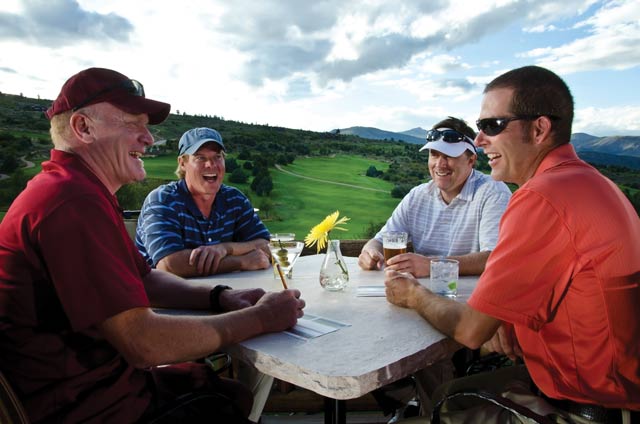 I have traveled the world playing golf. Not as a tour player but as a travel writer. The best job in the world, it included having the fortune of experiencing Scotland's famed Muirfield like a member—18 holes in a four-ball (or best ball) match in the morning, after which we changed for lunch (tie and jacket required). After that we put our golf togs back on for a fast two-ball (alternate-shot) match in the afternoon.
On the other end of the spectrum, I became stranded with just my golf bag in Vung Tao, Vietnam, my suitcase 90 miles away in a Ho Chi Minh City hotel. After showering, I had to wear my stinky, sweat-soaked clothes to dinner, but at least the local bar had very hot spicy shrimp. Now I always carry a toothbrush in my golf bag.
I've had pelicans the size of Great Danes cross in front of me in Australia, withstood three 36-hole days in scorching Thai heat and experienced an Irish storm strong enough to prevent the rain from hitting the ground. It just came in sideways and stayed that way. Or so it seemed.
Hitting the road with the sticks has been a way of life, and thus I feel I know what it takes to make a memorable golf experience. For starters, the golf course isn't all that important. Seriously. It's incidental to the ultimate goal: making memories.
Firing a laser-like approach over the Pacific Ocean to Pebble Beach's famous No. 8 green, which Jack Nicklaus merely called the best second shot in the world, is indeed something to cherish. Having your best buddy there to share it, commemorate it, or curse it because it won the front-nine bet? Well, that's the raison d'être.
Experiences live on when shared, relived and recounted. Like holes in one, they need witnesses. From my experience, they need a few other items as well.
The Site
Aside from providing accommodations and access to food, the site should have more than one course within close proximity. Variety increases enjoyment and allows you to see more of the area.
Choose a place with courses unlike the ones you play all the time. Vacations allow you to explore and experience something new with your friends.
Also, many of us feel we don't get to play enough golf. A golf trip is the chance to saturate ourselves in it. Having more than one course to play will happily exhaust you.
Accommodations
Condos that sleep four or more are nice because it makes it easier to set up Headquarters—that place where people congregate, eat, catch up on current events and talk. In other words, where the bar is.
If the group of four or more has to stay in a hotel, try to get connecting rooms because on these trips keeping groups of that size connected is difficult. Since the tee sheet breaks people into groups, Headquarters reignites that we're-here-together feeling.
Food
If possible, make arrangements for an outdoor grill. Firepits don't count, though they do satisfy our primal urge to gather around the flames with marshmallows.
Yes, there are always the local restaurants, but few things bring people together like preparing provisions over fire. The act stimulates conversation, opinions and criticism. Remember, every guy thinks he can do three things better than the next: start a fire, manage a hotel and grill a steak.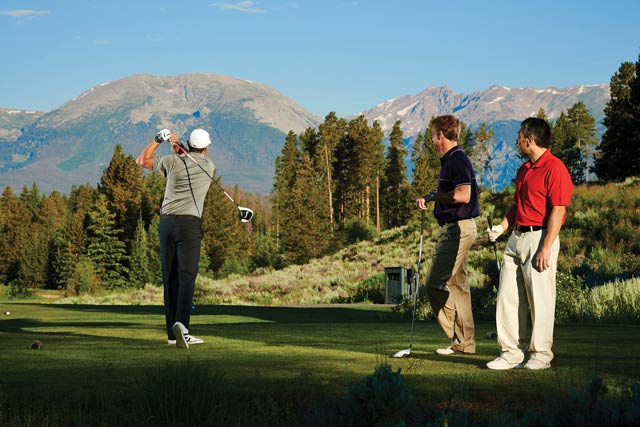 Mode of Play
At home, I'm a golf purist. I walk and carry, play it down and observe the rules. All that goes out the window on summer golf trips.
The focus is fun, and this is where the benefit of carts comes into play. They make it easy to carry snacks, drinks, cigars, butane lighters, rangefinders and cell phones for videos and pictures. Sitting next to a fellow participant for a couple of hours allows you to bond and talk trash—which among friends amount to the same thing.
It almost goes without saying that in this environment some form of competition should be mandatory, which brings in wagering. Bets sharpen focus. But the wager doesn't have to be for much. It's not the money that counts. It's the act of making the other player dig for that money—even a quarter. Of course, the next best thing about winning is reminding your fellow competitors that you indeed won. 
Music
A few years ago the idea of someone playing music while playing golf seemed anathema. Now, satellite radios, cart speakers and smartphones make tunes part of the course.
Having experienced it, I have to say that slow but steady backbeat in Little Feat's  "Dixie Chicken" offers a compelling way to slow my takeaway. I also know some who cannot play without Willie Nelson in the background. I try to avoid fans of AC/DC or Metallica. I haven't met anyone who listens to Beethoven on the course but I hear waltz music is good… for… tem…po.
Off-Course Activities
Friends have gone on golf trips as an excuse to play poker all night. Others have used it to explore local culinary delights, craft breweries, local trails or gentlemen's clubs.Still others just do it for tradition—you know, getting the old gang together again. Does it matter? No. Not when all are involved.
Little Things
1. Particularly with groups larger than four, do everything you can to mix and match the groups every round. I advise switching cart mates every nine holes just to keep the conviviality flowing.
2. A post-round or post-day assessment of the worst shot of the day. Require the honoree to stand up and explain how it happened in painful detail.
3. Add contests aside from the usual closest-to-the-pin and longest-drive competitions. A unique format like "Rotating Tees" is a good place to start. It requires the group to play from the back tees on the first hole, the middle tees on the second hole and from the most forward on the third. Repeat throughout the round. Yes, sometimes the short knockers have to play a 480-yard par-4, but do the longer hitters know how not to try to drive a short par-4 green?
4. Many trips call for 36 a day. The  second round should always have an added feature, benefit or rule. Here's one from famed sports writer Dan Jenkins: Every person is allowed once a round to throw the ball. That's right, pick it up and throw it as a stroke. It makes getting out of tough greenside bunkers much easier.
5. Play for speed, not for rules. Nothing takes the fun out of golf like draggy pace of play. It's past the OB stakes? Drop and hit, let's go. Or, if it's an irretrievable dog of a shot, just call a FIDO—Forget It, Drive On. (Note: Among friends, a one-syllable, family-unfriendly expletive serves as an acceptable first-word substitute.)
The All-At-Once
On every trip stage at least one all-group golf event. It can be as tame as a putting contest during cocktail hour or as crazy as, well, let's just say that time of day breeds all kinds of guerilla formats—including the brisk, ever-so-fun  "One-Club-Two-Holes," wherein you learn that putting with a 5-iron is not only possible, but preferable because it a) enables you to walk and carry your drink and b) gives you less to carry as you escape security.
Although course managers tend to look down upon eightsomes roaming the course, it can be done if cleared ahead of time. On one trip, with the approval of the resort owner, we closed out the day with a 12-player skins game. It was nine holes of glorious madness: four or five players teed off at a time as carts swept down and crossed fairways like Patton's Fourth Army during the Battle of El Guettar. Balls flew overhead and skipped along on the ground. Approach shots landed within feet of rolling putts as shouts of fore! and hey! constantly rang out amidst the peals of laughter.
It was fast, fun and memorable. The perfect end to a golf trip.
ALSO SEE: Colorado Summer Golf Trip Ideas
Ted Johnson is a California-based CAG contributor.
This article appears in the June 2016 issue of Colorado AvidGolfer.
Colorado AvidGolfer is the state's leading resource for golf and the lifestyle that surrounds it. It publishes eight issues annually and proudly delivers daily content via coloradoavidgolfer.com.