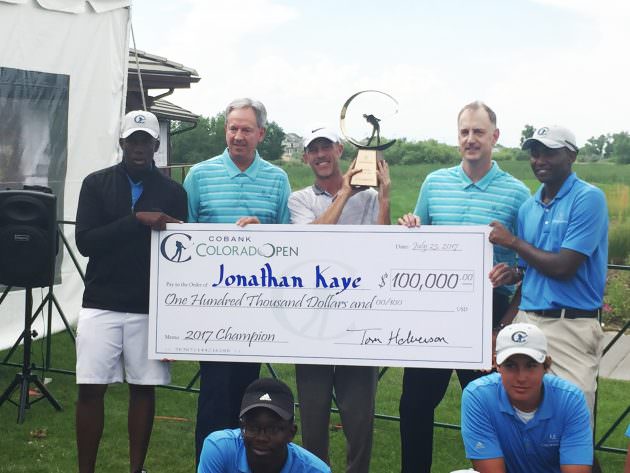 Twenty-one years after his first Colorado Open victory, Jonathan Kaye of Boulder posted an impressive final-round 6-under 66 at Green Valley Ranch Golf Club en route to a record-tying 23-under-par 265 in the 53rd CoBank Colorado Open.
The victory earned the two-time PGA TOUR winner $100,000. For perspective, Kaye's winning share in 1996 was $27,000.
Kaye's 8-birdie/2-bogey Sunday performance was one shot better than runner-up Jacob Lestishen of Lone Tree, CO who pocketed $20,000 for the week.
Kaye and Lestishen were knotted at 21-under after Lestishen eagled the par-4 14th with a greenside chip-in. However, Kaye, in the group behind, birdied the 14th as well to take back the lead.
Lestishen then tied it again at 22-under with a birdie at 15, but Kaye overcame an abysmal second shot on the difficult par-5 18th.  He put his third shot 12 feet from the pin and coaxed in the putt to make birdie, tying the all-time tournament scoring record of 23-under 265 set last year by champion Neil Johnson.
Defending his title, Johnson shot a 19-under-par 269 to tie for third with Oscar Fraustro of Chihuahua, Mexico. Both earned $9,500.
In the low amateur competition, Jake Staiano, playing for Colorado State University, kept his 3rd round seven-stroke lead intact shooting even par 72 (15-under total) beating University of Colorado player John Souza from Phoenix, AZ and four others for the amateur title.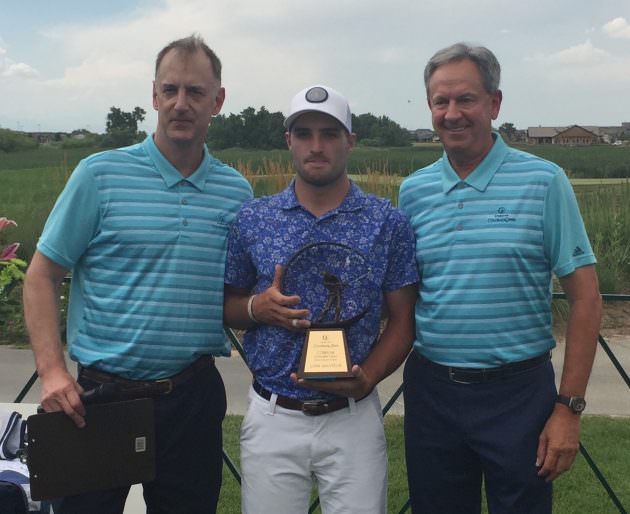 Click here for complete results from today's round