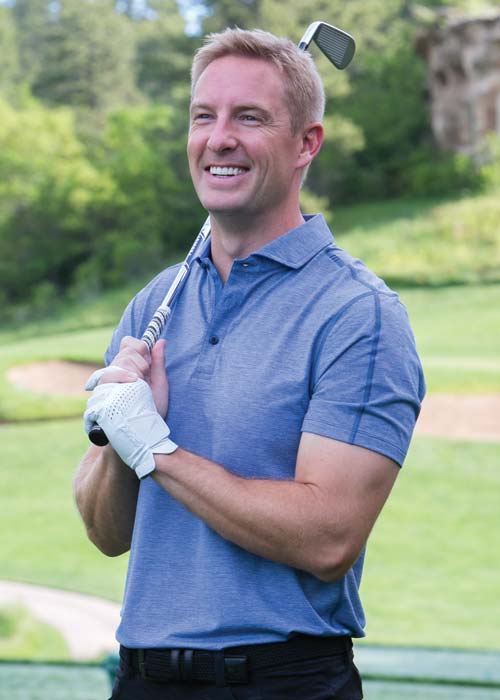 Joel Klatt's star is shining so brightly on the college football broadcast landscape that he probably could play a round of golf at midnight.
But Klatt, who is FOX Sports' No. 1 college football television analyst, is settling for playing a morning round with his buddies on the sun-bathed Ridge at Castle Pines North.
Once the foursome is in place, they hop into carts and hurry to get in a few quick practice putts before stepping up to the first tee.  Klatt's rise to fame in the national TV booth make him an easy target for his golf pals—Chuck James, Dave Runyon and Tom Reimann. One playful jab follows another.
Having taken a fair share of hits during his three years as starting quarterback at the University of Colorado, Klatt is equipped to take the verbal blitz.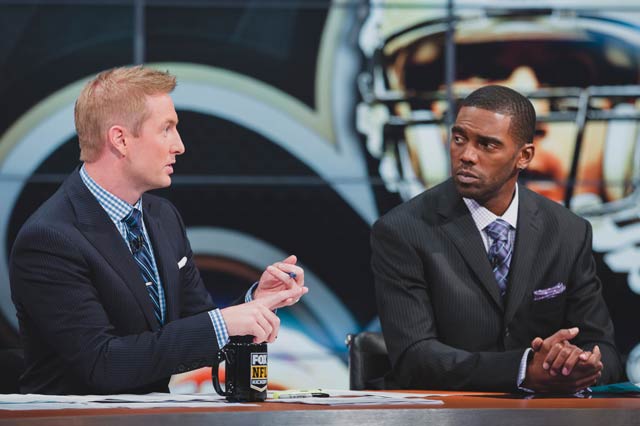 "Hey Klatt, is it hard to go to the gas station for you, people following you around?" muses James. They all seem to find great delight in teasing him about wearing black camo pants. Klatt even joins in the banter, adding something about metrosexual golf outfits, manicures and pedicures.
The laughter subsides just long enough for Klatt to remind his partners that they're playing the "friendly" wager game called Sweat, wherein players can double bets throughout holes. Second on the tee, Klatt pulls a 3-wood from his bag of Titleists, and launches a drive that drops center cut and deep—about 280 yards—into the fairway of the 472-yard first hole. Runyon and Reimann follow with their tee shots, and James hits a second ball before the group heads toward their carts.
There's no masking the competitive nature within Klatt. "I like to win on the golf course, let's just say that," he says. "I shot 70 once at Indian Tree. Never broke 70. Every time I tee it up I'm trying to break 70."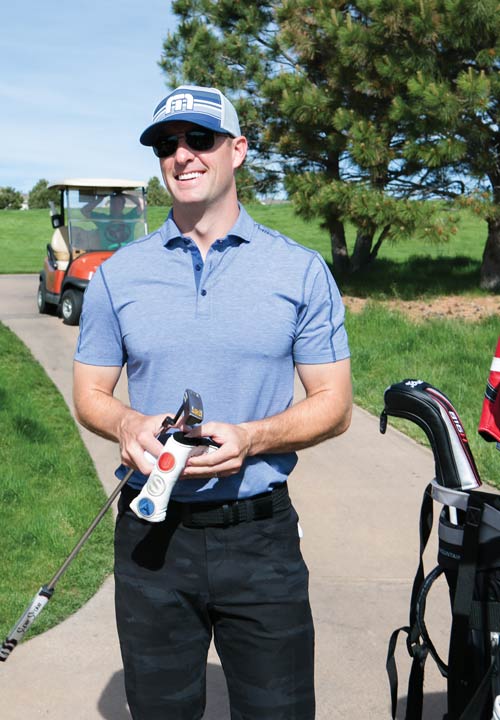 Klatt has a picturesque golf swing that seems effortless yet powerful. With driver in hand, he hits the ball between 325 and 345 yards. "My strength is length off the tee," Klatt says. Sounding like the former quarterback that he is, Klatt adds, "I struggle with my scrambling ability."
His handicap fluctuates between one and six, an admirable range considering the lack of time he is able to spend on the golf course due to family and broadcasting commitments.
"In the fall it's really tough," he says. "If I do play, it'll be Monday mornings. Sometimes Sunday afternoons when I get home. That's my time if I can get out—it's been hard with two little boys (four-year-old Henry and two-year-old Sam.)
In 2013, Klatt, 34, and his wife of 11 years, Sara, moved from Colorado to Manhattan Beach, California. They recently relocated the family to Newport Beach. Still, you can't take the Colorado out of the boy.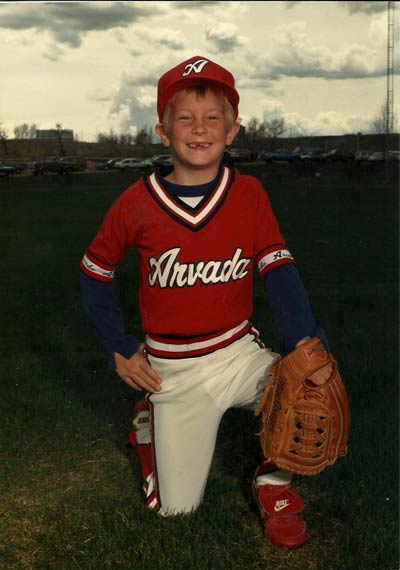 Klatt loves to play golf in his home state and it doesn't take much to stoke his excitement about the tracks he likes to play: Green Valley Ranch, Colorado National, Legacy Ridge, Bear Creek and Bear Dance are among the many on his list.
"You don't realize this until you live somewhere else. Colorado is one of—if not the best place in America—for public golf. And let me tell you, after living three years in L.A. County, which has no good public golf, public golf in the Denver metro area is unbelievable."
Klatt is a self-taught golfer who approaches the sport much in the manner that he approaches his college football assignments—with diligence and precision. His television broadcasting career began in 2006, shortly after he lost a job at an investment firm. Denver-based FOX Sports Net Rocky Mountain gave Klatt on-air opportunities. Producers Ken Miller and Benjie Kaze saw right away that he had loads of potential in the studio.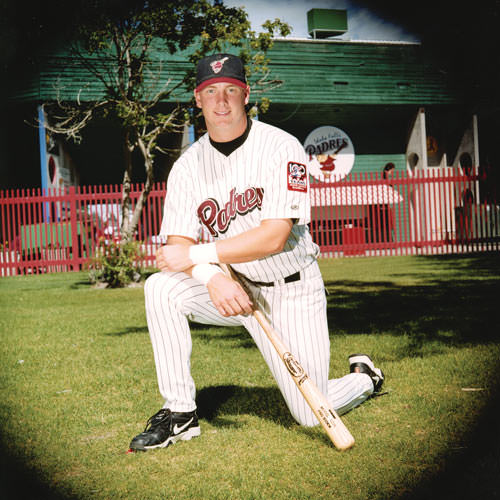 He worked college football and Colorado Rockies' broadcasts on FSNRM and later, Root Sports. He also landed gigs on the local sports talk-radio circuit after an encounter with Denver sports media icon Irv Brown during the Denver Golf Expo.
As Klatt gained notoriety in radio, demo tapes of his television work circulated around the country. He secured a role on FOX's Big XII studio show, while bugging the show's execs to let him out of the studio and into a broadcast booth to call a game. Klatt eventually got his wish.
"It was a Texas Tech-Kansas State game," Klatt says. "And it so happened that Eric Shanks, the president at Fox Sports, was watching. He liked my call, and all of a sudden the right people started to put me on a path towards where I am today."
Versatility and knowledge of multiple sports have served Klatt well. He is paired with excitable play-by-play man Gus Johnson for FOX Sports' lead college football telecasts. His knowledge of golf—"I'm kind of a golf freak," he admits—earned Klatt a role in the network's online coverage of last month's U.S. Open at Oakmont Country Club.
He played the course earlier this year and called it "straight-forward brutal"— making par on the 18th hole to break 90.
The NFL might seem natural in the broadcast progression for Klatt, but he isn't interested in making a move at this time.
"Not that the NFL isn't great, but it's a totally different sport," Klatt says. "To me it feels a little bit more corporate. Every environment is similar. In college football, the pageantry and game-day traditions of each fan base and stadium…and the effort of players on a week-in and week-out basis…and the fact that every single game means everything to every person on the field… there's just nothing like college football Saturdays."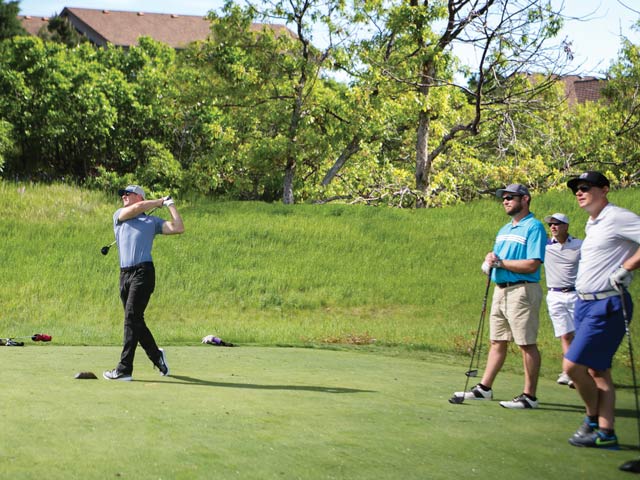 Klatt played football at Pomona High School and was coached by his father, Gary, who attributes a fear factor as a huge key to success in television for the youngest of his four children.
"He's afraid to death of failure," Gary Klatt says. "In fact, he's his own worst critic. I'll talk to him after a broadcast and he'll tell me all the things he did wrong—could have been better with this or that. He's really afraid to fail, so he prepares fanatically. I almost think it's a bit of an obsession with him. But it's really paid dividends for him because he's been able to show the producers and directors that he's worked for it and is well-prepared.
"As a result it's put him in a pretty good position at FOX. "I've always been kind of a red-flag guy. We're very close, and I'm at stage now where I'm trying to be his 'keep-his-feet-on-the-ground' advisor."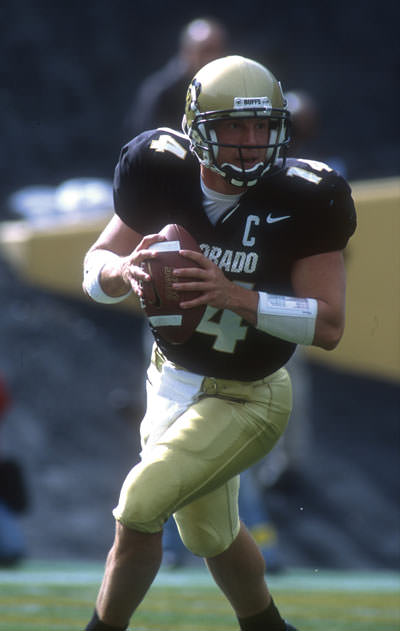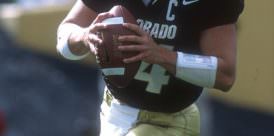 The senior Klatt advised his son to walk on CU's football team in 2002, after a career in pro baseball proved unsuccessful. Klatt, who was an all-state infielder in high school, was selected by the San Diego Padres in the 11th round of the 2000 Major League Baseball draft—319th overall. He signed a pro baseball contract and immediately reported to the Padres' Class A team.
Klatt struggled mightily on the baseball field, and even more so off it. He drank alcohol. Too often and too much. "We went on numerous road trips when Joel was in the minors. He wouldn't let us see it, but it was obvious that he wasn't in a healthy place," Gary Klatt says. "I encouraged him to go to college and get into a healthier environment."
The alcoholism reared itself again after Klatt's football career at CU ended in 2005. "For anyone that has played athletics at any level, the transition into not being an athlete is very difficult," Klatt says. "I absolutely dealt with depression—and I dealt with it poorly. I drank too much after I was done playing, which is something I had really curbed after I quit baseball."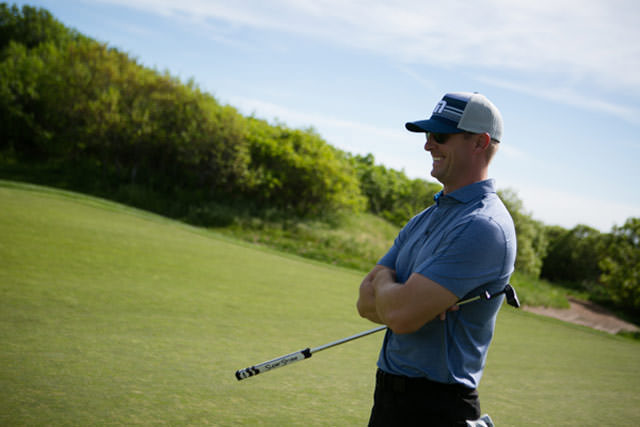 Klatt credits the support of his wife and his faith as the instrumental forces which helped turn his life around. "The main thing I would communicate is, too many times we hide from those types of struggles in our lives—because we view them as weaknesses," Klatt says. "I've gone to counseling and I'm not ashamed to admit it. The more I've gone through, the more I've realized that everybody deals with some amount of pain. The more I confronted my own struggles as if they were a competitor on the football field or golf course, the more I found success."
Klatt set 44 passing records during his time at CU. The game he recalls vividly was his first college start, in 2003. The sophomore completed 21 of 34 passes for 402 yards and four touchdowns (without an interception) in a 42-35 win over Colorado State.
Golf played a huge role in his performance. "I was the complete unknown, so I was very nervous," Klatt says. "I mean, very nervous. So, in order to relax a little bit, I totally ditched class the Friday before the game, and took my clubs over to Flatirons Golf Course. I played golf and it was really relaxing. I enjoyed myself tremendously. That was kind of the start of my career, but it all started with a round of golf alone that Friday at Flatirons.
"I don't remember exactly what I shot. I can tell you, as many people might attest to, when their mind is elsewhere they tend to play pretty well. I broke 80, I know that."
Former CU head football coach Gary Barnett once told Klatt that playing golf would serve him well down the line. Like Klatt, Barnett has turned to broadcasting. He'll be 850 KOA's color analyst for all CU football games this fall. The two stay in constant contact, and play golf together often.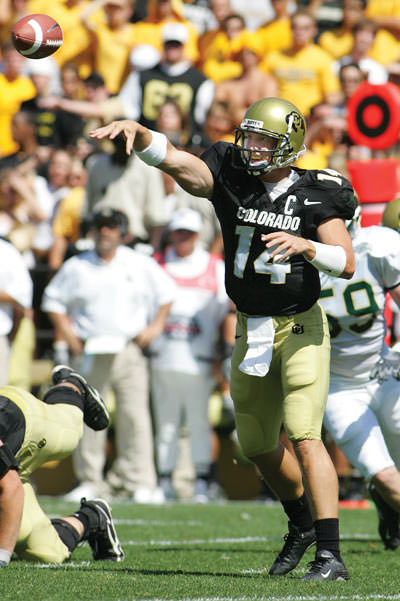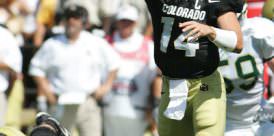 "We've played a number of times, but I don't really have a golf story with Joel that stands out—he might have one that comes to mind quicker," Barnett says. "I know he beat the pants off of me over at Bear Creek one year, just hammered me, and I vowed that would never happen again. But he hits it so far. He's got a great swing."
"Nothing gets my juices going like trying to beat Coach Barnett," counters Klatt. "Any time we play golf it's so much fun."
After the round at the Ridge, Klatt and his pals continue to spar. James, who started the day hitting two off the tee, won the game of Sweat.
"He has not let me forget it," Klatt texts me almost a week later. No smiley-face emoticon tempers it. Even after a "friendly" game, failing to win seems to stir his juices for the next time.
And there will be a next time. Between now and then, Klatt, a tireless worker, will  hone his game. Driven by a fear of real or perceived failure, he wants to succeed utterly at whatever he does. It's that drive—coupled with a telegenic poise, approachability and wide-ranging sports knowledge—that continues to propel his star higher into the firmament of sports broadcasting.
Contributor Sam Adams is an award-winning sportswriter and stand-up comedian. He is the author of If You Don't Believe Me…Lessons Learned from Listening to the Greats. This is his 24th Colorado AvidGolfer cover story.
This article appears in the July 2016 issue of Colorado AvidGolfer.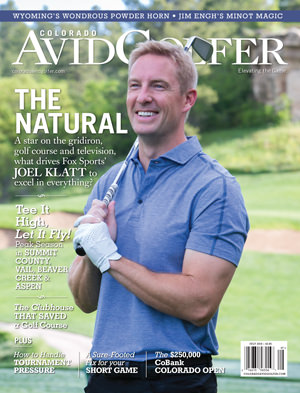 ---
RELATED ARTICLES:
Chauncey Billups' Smooth Transition
Nolan Arenado: This Guy Can Play!
The Passion of "Big Al" Williams
Colorado AvidGolfer is the state's leading resource for golf and the lifestyle that surrounds it, publishing eight issues annually and proudly delivering daily content via coloradoavidgolfer.com. Follow us on Twitter, Facebook and Instagram.