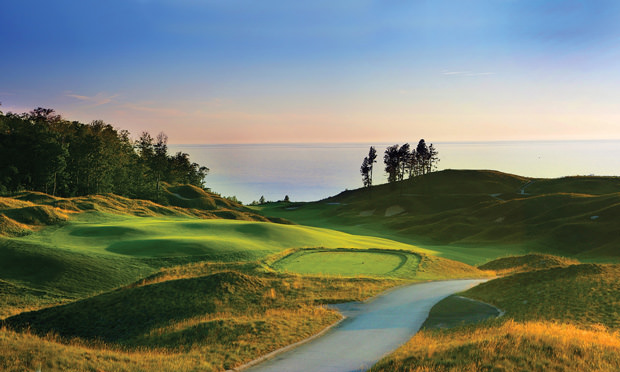 Enhancements at Arcadia Bluffs and Belvedere Golf Club make golf even greater in the Great Lakes State.
By Andy Bigford
---
Appearing annually alongside the Pebbles, Bandons and Pinehursts in the rarified air of the national Top 15 "Courses You Can Play" rankings, Arcadia Bluffs is the most beloved and busy pub-lic-access course in golf-mad northern Michigan. Perched 225 feet above Lake Michigan with views worth paying for, golfers happily shell out $195 per round in the summer high season to ride this Rick Smith- and Warren Henderson-designed rollercoaster. So expectations ran high when Arcadia announced it would build a second course—albeit "across the street" on an apparently feature-less apple orchard with no lake views and just 60 feet of elevation change.
Arcadia owner Rich Postma found the right man for the job in ascendant architect Dana Fry, fresh off global acclaim from his design role with the 2017 U.S. Open course, Wisconsin's Erin Hills. Among many business endeavors, Postma is the co-founder and CEO of U.S. Signal Co., the largest privately held fiber-optic carrier in the Mid-west, while Fry has been immersed in golf design since the 1980s (most notably with Dr. Michael Hurzdan) and now partners with Jason Straka.
Postma and Fry quickly bonded over their shared passion for the linear legacy of the cir-ca-1894 Chicago Golf Club, the oldest club in the country and a timeless tribute to the design stratagem of C.B. Macdonald and Seth Raynor. Postma and Fry knew they had to create some-thing special as an Arcadia Bluffs "encore," and Postma was willing to take a risk to get there.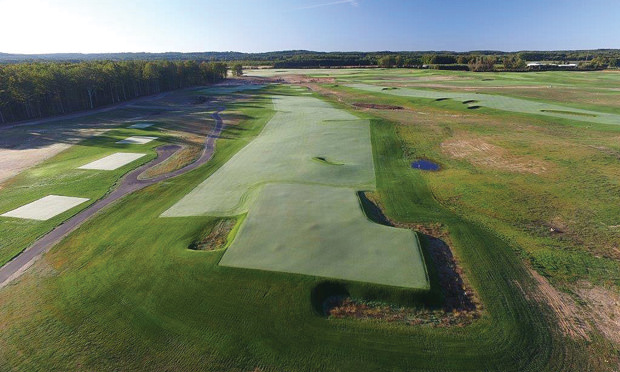 The South Course at Arcadia is not a copy or replica of the legendary Chicago Golf Club, but boldly emulates its old-world style and feel; Arcadia calls it "complexity veiled by simplicity." When it opens on Aug. 1, golfers will be exposed to something entirely new, yet classically old: rectangular tees with 90-degree corners; straight-lined fairways bordered by fescue; Raynor-inspired elevated greens with square corners; and rectangular bunkers with steep grass faces and flat bottoms. Viewed from high above, the right angles appear harsh, but from the ground, with its contours and swirls, the canvas is natural, fresh and fun. De-signed to play hard and fast, fairways average 52 yards in width, with 18 yards of rough before the tall fescue. The huge green complexes average a stupendous 9,400 square feet (get ready for 115-foot putts) and overflow with swales, ridges and slopes.
Fry found plenty to love about the South site, beginning with a massive 310 acres of subtly rolling terrain with no development in sight. While you can't see Lake Michigan and there is no water on the course, you will feel the wind, averaging 10-15 mph and up. With holes routed in all four directions of the compass, golfers will be fully tested by the breezes. Macdonald, a pupil of Old Tom Morris, saw no benefit from trees on a golf course, reasoning that they just block the wind and views. So after clearing the site of trees except for one (and transplanting more than 450 to the course's perimeter), Fry was left with a pure sand base in which to ply his trade. "This is God's country for building golf courses," Fry enthused on a tour of the course in late August, "and the best grow-in I've ever seen."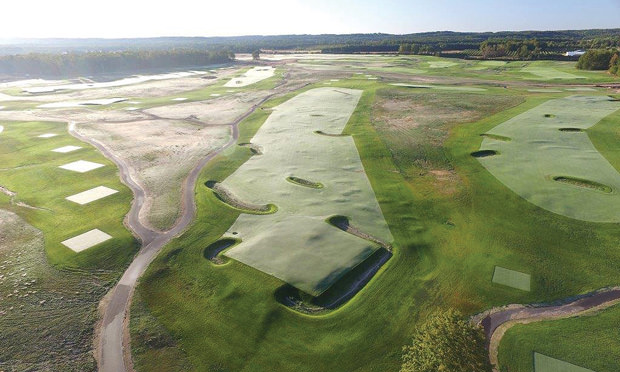 The par-72 layout, designed to be easily walkable, features five sets of tees ranging from 5,261 to 7,412 yards. Green fees are set below the Bluffs at $150 in high season, with appeal-ing deals for twilight and replays. There will be a clubhouse and driving range, but no other development is planned. Meanwhile, Arcadia has un-veiled the new 16-unit Bluffs Lodge at the main course, to complement existing accommodations in The Lodge and The Cottages.
"Nobody's done this before," Fry says of South (other than Macdonald-Raynor, that is). "I think we've got something here."
From Arcadia, the picturesque lakeside town of Charlevoix is a scenic two-hour drive to the north, with the Alister MacKenzie-designed Crystal Downs roughly halfway in between. For the vast majority of golfers who can't get on the exclusive Downs, the affordable, accessible and wonderfully playable alternative is Charlevoix's semi-private Belvedere Golf Club. It was built four years before the Downs, in 1925, by the acclaimed William Watson of St. Andrews, whose sterling résumé includes San Francisco's Olympic Club, Chicago's Olympia Fields and Minneapolis's Interlachen.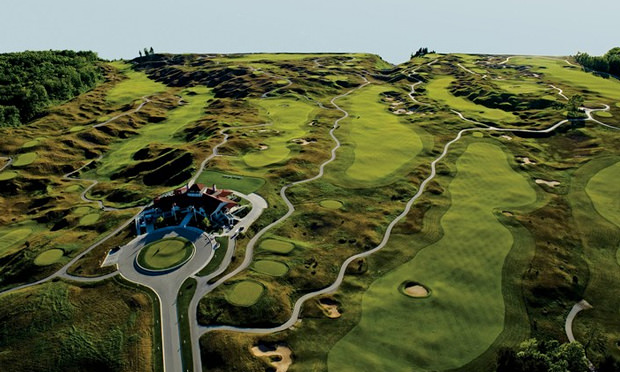 An effort to return Belvedere to its roots gained momentum in 2016 when Watson's original course drawings were discovered in a former print shop destined for demolition in downtown Charlevoix. Armed with the blueprints, renowned restoration architect Bruce Hepner and superintendent Rick Grunch led an effort that eventually removed 5,000 trees, returned strategic bunker-ing and restored all 18 greens to their original shapes.
The work included cutting tree stands between Nos. 2 and 3, opening views of a creek that meanders through the front nine, and removing a pine tree that had popped up in the middle of the par-5 9th (along with the trees that lined the left side of that hole). When completed for the 2017 season, the work revealed a delightfully fun and challenging course, a "Crystal Downs Lite" that invokes the MacKenzie masterpiece without the punishment (including lighter winds).
The first hole, sited on a high bluff with views of the lake, is eerily reminiscent of Crystal's opener. The iconic hillside 16th, a short par 4 with a devilish green, is a classic that was loudly praised by Gene Sarazen, Walter Hagen (who won the first Great Lakes Open here) and Tom Watson, who played here regularly as a youth while summering in Charlevoix and remains an ardent member.
Belvedere head pro Dennis "Marty" Joy II is a local who oversees a quaint pro shop lined with historic photos and is writing books on both architect Watson and Belvedere, which has roots as an exclusive Midwestern vacation enclave going back to 1878. Rates for 18 holes are exceedingly reasonable, ranging from $50 to walk in the slow season up to $99 for 18 holes with a cart in high season, with a variety of specials, including multi-day rounds.
---
Andy Bigford is a Michigan native who has returned annually for three decades to play Crystal Downs, Arcadia Bluffs, Belvedere and many other northern Michigan courses. For more information, visit ArcadiaBluffs.com, BelvedereGolfClub.com
This article appears in the May 2018 issue of Colorado AvidGolfer, the state's leading resource for golf and the lifestyle that surrounds it, publishing eight issues annually and proudly delivering daily content via coloradoavidgolfer.com.