Nick Clearwater expands on his feature in the January 2020 issue of Golf Digest.
The January 2020 issue of Golf Digest was a pretty big deal for GOLFTEC. This issue featured the 'Best Teachers in Your State,' and GOLFTEC had 35 coached named to the list. In addition to that great honor, Vice President of Instruction, Nick Clearwater, was named a 'Top 50 Instructor.'
That issue was overflowing with quotes, articles, and features from the best of the best, including a feature from Clearwater who shared a drill you can do to gain more distance and accuracy. All you need for the drill is a door. But since magazines are always tight on space, Clearwater was limited to the amount of info needed to execute this drill flawlessly. Luckily for you, he was able to expand on the exercise in this exclusive video below.
It's no secret in golf, getting more distance is on everyone's mind. Even during January, when a majority of the country is stuck inside due to unfavorable weather, we're still thinking about how we can perfect our swing to hit long and straight bombs on the course.
Well, that's why Clearwater shared this particular drill. There's a common misconception that if you want more distance, you need to 'stay behind it.' Well, this might not be 100% false, Clearwater believes there's a better way to go about it.
Stretch It Out for Longer Shots
Clearwater explains in the video above, 'staying behind' the ball can limit the depth of your backswing. We know this can prevent long, powerful swings. So if you're looking to elongate your backswing, you just need to head to a door.
As odd as that sounds, you can work on backswing by standing in a doorframe and practicing your backswing. Take your normal stance, but rest your head up against the doorframe as the image to the right shows. As you take your backswing, if your head starts to sway off of the doorframe, that indicates you're moving 'behind the ball.' The best way to combat this is to try and keep your head on the doorframe throughout your entire backswing.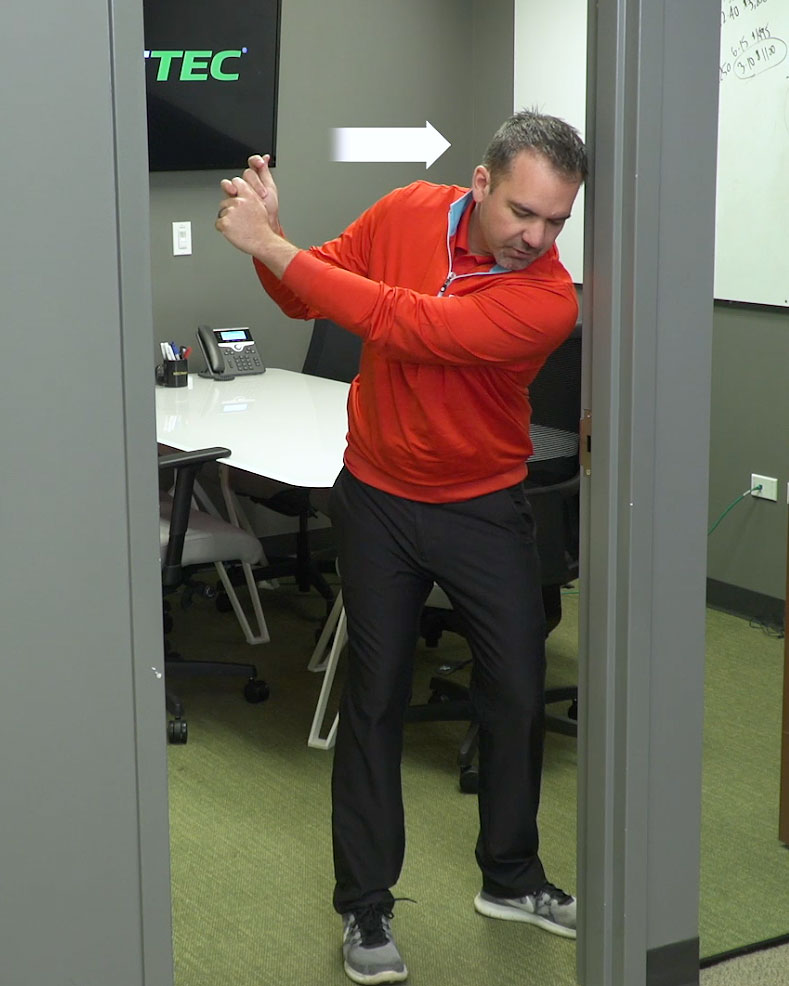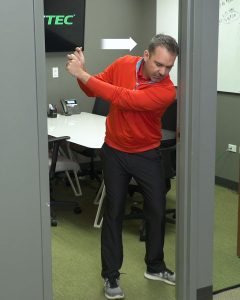 Doing so is going to produce a couple of new feelings in your swing. First, your lead arm is going to be able to move farther back, allowing for a deeper backswing. Also, you'll be able to stretch your chest, which is going to help move your arms higher, without causing them to separate, to ultimately give you the most extended swing possible. Practicing this motion might cause you to push your head up against the door frame, but if you're continually trying to elongate your chest, that's perfectly fine.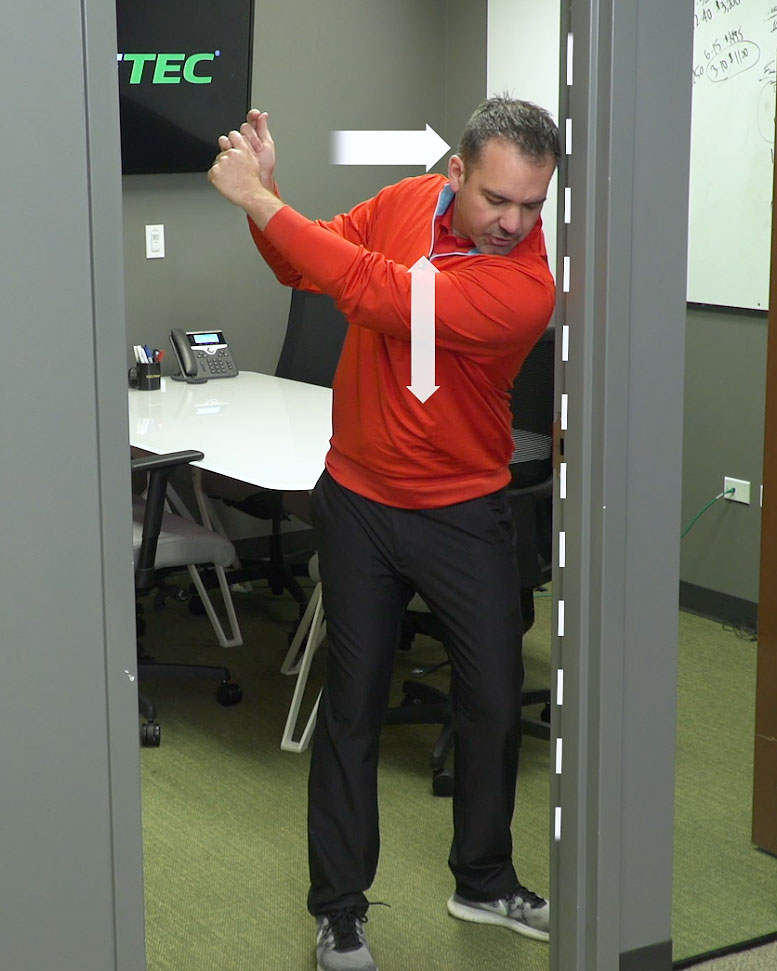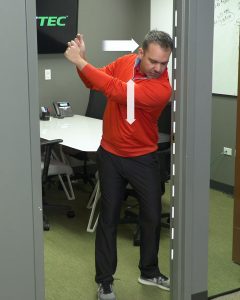 If you're serious about hitting some of the longest shots of your golf career this upcoming golf season, you need to start thinking about your swing now. So, find the nearest doorframe and start working on stretching out your backswing, and you'll be crushing the ball by the time the weather begins to turn.
---
Want to read more instruction articles like this one? Visit our INSTRUCTION PAGE.
Colorado AvidGolfer Magazine is the state's leading resource for golf and the lifestyle that surrounds it, publishing eight issues annually and proudly delivering daily content via coloradoavidgolfer.com.