For three-plus decades, Gary Barnett lived and breathed football, the last two in the pressure-cooker of elite Power Five conference competition. The track record speaks for itself: Barnett was named coach of the year twice in both the Big 10 and Big 12 conferences, espousing a philosophy that stressed belief in his players with a Southern-style charisma that was both tough and likeable.
At perennial doormat Northwestern in 1995, Barnett's resurgent Wildcats beat Notre Dame and Michigan on the road and Penn State at home, capturing the the Big 10 title for the first time since 1936 in a season that still ranks among the top program turnarounds in NCAA history.
When he returned to the University of Colorado in 1999, having served previously as an assistant and offensive coordinator for the team's 1990 co-national championship team, he led the Buffs to four Big 12 North titles and, in 2001, to a 62-36 beat down of Nebraska that remains a signature win for the program. The Buffs next travelled to Dallas and etched a 39-37 victory over then-No. 3 Texas, collecting CU's first and only Big 12 conference crown.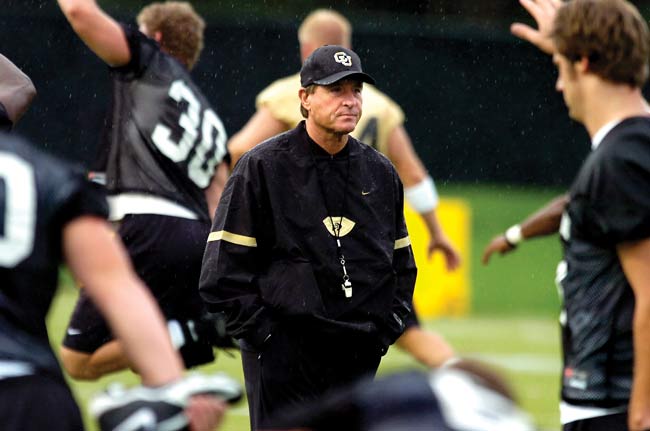 And then, on Dec. 9, 2005, in the incendiary fallout from an ugly recruiting scandal that eventually brought down the university's president, chancellor and athletic director, it was all over. Barnett's world went from 100 mph to a slow walk in the park.
[quote style="boxed"]"You don't jump out of a hole like that, you climb out." – Gary Barnett [/quote]
So where did the coach channel all that intensity and focus? On golf.
"It's a game I absolutely love," says Barnett on the practice range at Boulder Country Club, where he and his wife Mary own a townhome. "I go after it just like I did football when I was a coach. I'm obsessed with getting better. I fiddle with my game every day. My eyes are like a camera. I'll be chasing this game until my last day on earth." How hard does he chase it? Barnett figures he plays 300 rounds a year, often 36 holes sandwiched by practice before and after.
Within a few days of being fired as CU's head coach with a $3 million buyout, Barnett was teeing it up in Scottsdale, Ariz., where he has a home and is a member at Desert Mountain, which offers six Jack Nicklaus-designed courses, and enjoys playing privileges at Whisper Rock, the go-to club for PGA Tour players.
Barnett's own self-confidence and steely disposition allowed him to put the controversy aside, while his renewed focus on golf provided the avenue to channel all that energy. Meanwhile, his own view of fairways and greens has been much brighter than the one inside Folsom Field, where the Buffs have won just 28 percent of their games (a collective 35-88) since the coach's departure in 2005.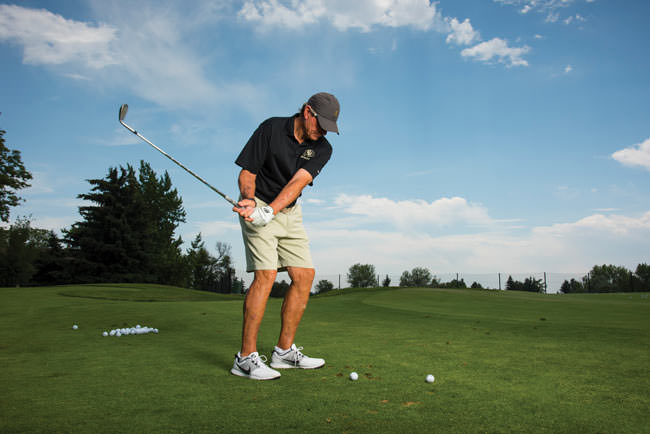 SAND GREENS
Barnett fell in love with golf at age 8, when his mom would drop him off in the morning with a couple of cheese and pimento sandwiches and he'd play the sand greens at Arthur Hills Golf Course in his childhood hometown of Mexico, Missouri. As a three-sport athlete at Parkway Central High School near St. Louis, he never had the chance to play much golf.
While playing wide receiver for Dan Devine at the University of Missouri, Barnett worked summers on the grounds crew at Bellerive Country Club under the legendary Hord Hardin, former Chairman of the Masters Tournament and Augusta National. He parked cars and then watched the action when Bellerive hosted its first major, a U.S. Open won by Gary Player, in 1965. (Bellerive will host its third major, the 100th PGA Championship, in 2018). Through stints as a head coach at Air Academy High School in Colorado Springs and at Fort Lewis in Durango, Barnett hit the links as much as his busy schedule would allow. When he was recruited by Bill McCartney to come to Boulder in 1984 as an assistant, he eventually found his way to then-public Lake Valley Golf Club and a few matches with the Goons immortalized by Rick Reilly in his book Missing Links.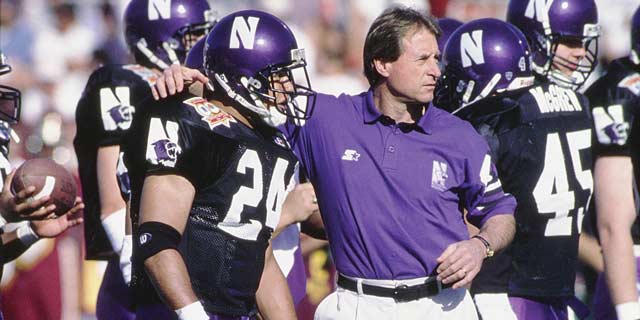 Assuming a huge risk to become Northwestern's head coach in 1992 ("I had no idea what I was getting into"), he fulfilled his pledge to "take the Purple to Pasadena," and whittled his index down to 3.7 while sampling the Chicago area's championship-course bounty, including Medinah, Butler National and Olympia Fields.
Barnett, currently an 8.4, is open to any swing technique or mental approach that might help him improve, and admits to being a Golf Channel junkie. During our nine holes at BCC, he was working on stack-and-tilt variations and AimPoint putting while field-testing a new putter. The week before, he'd recorded his first hole-in-one with a 9-iron on BCC's 137-yard 15th hole, and two weeks later he would shoot his age, a one-under-par 70, at Fox Acres in Red Feather Lakes, where he has a vacation home.
Barnett remains in prime physical condition, sporting the same wiry 6-foot, 1-inch, 190 lb. frame that he brought to Mizzou as a freshman. He gets his cardio on the course, still walking the majority of his rounds; stretches and lifts light weights; and watches what he eats (he was a vegetarian for 22 years, during the 1980s and '90s).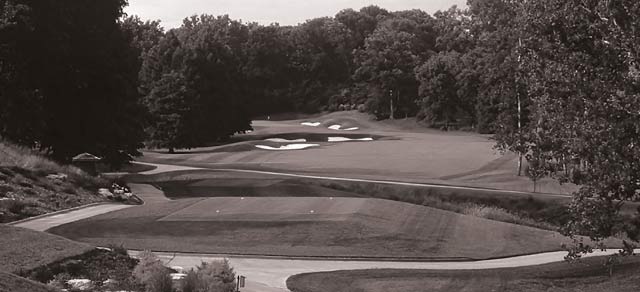 "GRACE AND HUMOR"
Boulder attorney Don B. Miller attended kindergarten and first grade in Missouri with Barnett, and was a fellow pledge brother at Mizzou. He still chokes up when he recalls the conditions that Barnett toiled under during the CU recruiting contretemps. If you could choose from all the coaches in the world, says Miller, "Gary is who you would want your kids to be playing for. He handled it all with remarkable grace and humor. He wanted to keep doing what he loved [coaching], but there was never any bitterness. He rolled with the punches—and he played more golf."
There is one thing Barnett would take back: The way he handled the 28th question in a pressure-packed press conference on allegations that Buffs kicker Katie Hnida had been raped by a teammate and harassed by other players. When asked specifically why others resented Hnida, Barnett candidly replied it was because she was a "girl" and an "awful" kicker. Asked if that justified the mistreatment, he replied, "Absolutely not." Barnett later apologized for his remarks, but the damage was done.
"I would have said that differently," says Barnett now. "I wanted to make it work for her. We did everything imaginable to make it work for her. Other than that, there isn't one thing I would have changed."
COLLEGE COURSES
With his winning pedigree, Barnett had opportunities to move on as a DI head coach, but admits to pursuing them half-heartedly. After working in Boulder, he realized the programs that were interested in him would represent a step down. He enjoyed the free time with his daughter Courtney, son Clay and six grandchildren.
Eventually Barnett settled into his role as a college football color analyst for Sports USA Radio Network, the nation's largest syndicator of college and NFL games with 430 affiliates. He immediately called friend and legendary Buffs radio broadcaster Larry Zimmer to pick his brain and learn the trade.
And a funny thing happened whenever Barnett got his work schedule for the upcoming season and translated it into his own travel and golf itinerary:
Cincinnati vs. Virginia Tech @ Redskins Park: 36 holes at Congressional, 18 holes at Merion, 36 holes at Pine Valley
Mississippi @ Georgia: 36 at East Lake Country Club
Notre Dame @ Stanford: 45 holes, from dusk to dawn, at Olympic Club
Ohio State @ University of Michigan: Oakland Hills Country Club
"It's worked out pretty well for me," smiles Barnett.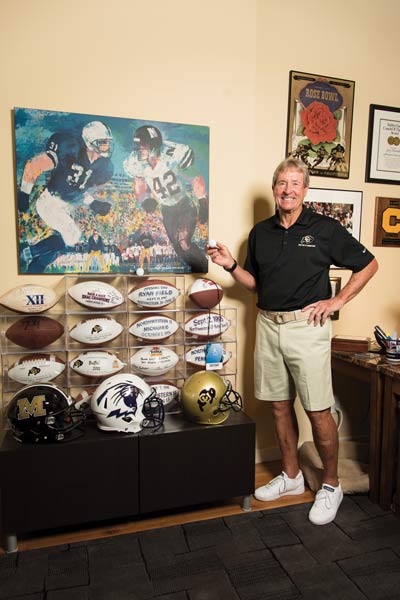 BACK WITH THE BUFFS
For the past decade, Coach Barnett remained a loyal Buff, making personal appearances for CU and helping out wherever he could, including hosting Ann Kelly's CU women's golf team in Arizona for spring breaks. His name rose to the top of the list when CU and 850 KOA were looking to replace the legendary Zimmer, who spent 50 years as a college broadcaster. Barnett let it be known that he'd be happy to try to fill Zimmer's role, but only if all parties were entirely comfortable and supportive of his return.
"I didn't want to regurgitate the past," he says. "I'm over the pain. Life is too short."
The former coach is excited to join KOA play-by-play partner Mark Johnson, and expresses a heartfelt thanks to loyal Buffs fans who have hung on during the turbulent past decade. "The arrow is pointing up," he promises.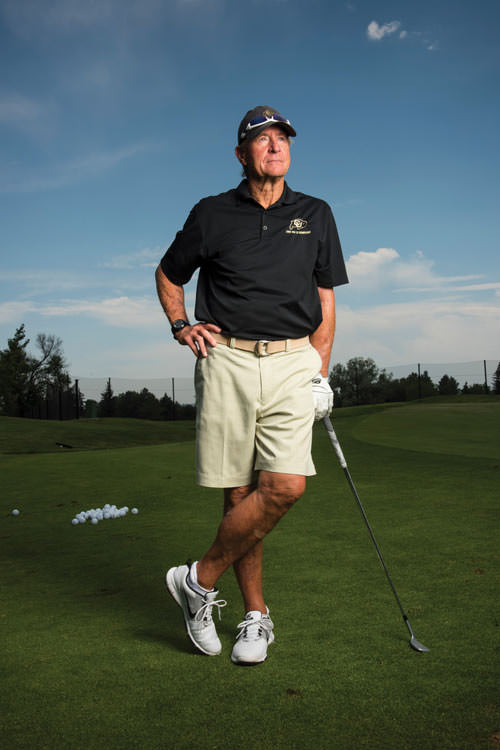 The loss of prized transfer quarterback Davis Webb, who took his skills to Berkeley (and the University of California) instead of Boulder, is a blessing in disguise, says Barnett, allowing the Buffs to avoid any negative locker room vibes that would have ensued in a QB competition, where three-year incumbent Sefo Liufau is the team's go-to guy. Barnett believes CU's success will hinge on play in the trenches, with the offensive and defensive lines. He asks for more patience for head coach Mike McIntyre, whose recently jumpstarted recruiting efforts, bolstered by the completion of the $165 million Champions Center, are not going to pay off on the field for a few more seasons.
"The hole was deeper for Mike than anybody knew," Barnett says. "You don't jump out of a hole like that, you climb out." In fact, the mantra Barnett applies daily to his own golf game translates perfectly for the CU football program.
"You need to be willing to go to bed frustrated," he says, "and wake up wanting to get better."
Colorado AvidGolfer Contributor Andy Bigford is the editor and collaborator of filmmaker Warren Miller's autobiography, Freedom Found, which went on sale Sept. 1.
---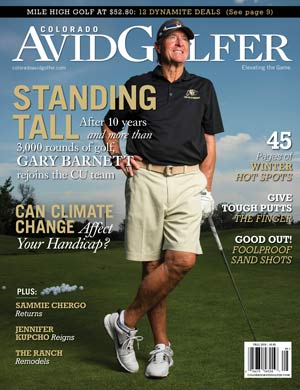 This article appears in the Fall 2016 issue of Colorado AvidGolfer. Subscribe today!
RELATED ARTICLES:
Vote for the best in Colorado golf with the CAGGYs
Chauncey Billups' Smooth Transition
Colorado AvidGolfer is the state's leading resource for golf and the lifestyle that surrounds it, publishing eight issues annually and proudly delivering daily content via coloradoavidgolfer.com. Follow us on Twitter, Facebook and Instagram.