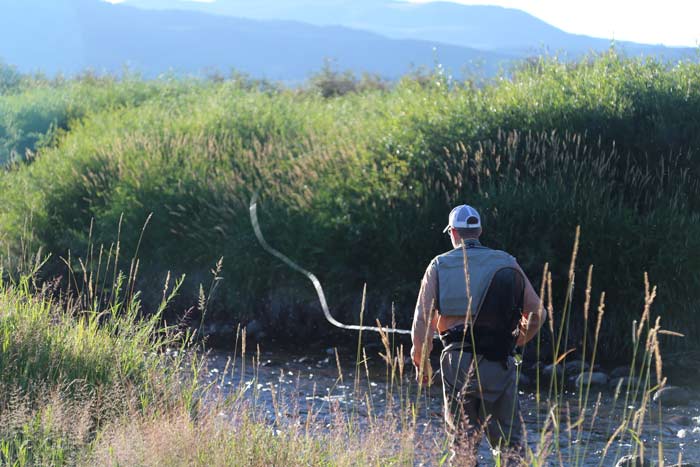 Eagle, Colo. – When avid fly fisherman and part-time Eagle resident Brent Drever joined Frost Creek in May of 2015 he knew the club's private water on Brush Creek was a good fishery, but he didn't know how good. As one of a multitude of mountain lifestyle and traditional club activities offered at Frost Creek, it was only after he explored the Club's section of Brush Creek that he realized its charm, beauty and exceptional fishing.
The Drevers bought a home in Eagle Ranch in 2004 as a retreat from Colorado's Front Range, which they call home. When Frost Creek launched in April 2015, they knew that membership to the club would be a perfect extension to the mountain lifestyle they were already accustom to enjoying in Eagle County.
"You look at the activities and amenities that Frost Creek offers in addition to world class golf and realize what a well-rounded experience membership provides. This is especially important to us because we have two sons under the age of 11. They'll grow up here and can experience all of this," said Brent Drever.
During the time before joining Frost Creek, Drever had fished many public sections of Brush Creek that meander through the Town of Eagle and had been invited by friends a few times to fish Frost Creek's (then Adam's Mountain Country Club) private water.
"I loved my time on the public portions of Brush Creek and the few times I fished the private water were great, but it was only after I had time to explore it on my own that I realized just what a gem this is," added Drever. "It's small water with wonderful braids, lazy oxbows, deep pools and cut banks. I generally fish it with a lighter three weight rod, but don't be deceived by the light tackle. It's only because of the tight canopy and constricted backcasts that I choose it; not because of the size of the fish."
In one recent outing, Drever fished for roughly 30 minutes and landed an 18 inch, a 17 inch and four 16 inch trout in that order.
"That day I was catching fish on streamers and chose that fly because the fish were obviously very active beneath the surface. I've had similar success on dry flies and nymphs and, though I missed it this year, I've seen stonefly husks on the rocks in the river and know there is a substantial stonefly hatch up here. The fish are active and healthy", he said.
Much of the creek has a shady canopy of cottonwoods covering it keeping the fish and anglers cool and providing glimpses of additional wildlife such as Blue Herons, Deer, Songbirds and various aquatic insects that provide the fish with nutrition.
"My favorite thing is to have someone drop me off on the creek and to fish back to the clubhouse. There are times when I look up and can't believe that there is a golf course, or anything for that matter, within a million miles of me. It's magical. I can't wait for my sons to be able to join me. For now they are honing their skills on the stocked ponds throughout the property, but when they are ready, the creek is only a short walk away. If they grow up fishing Brush Creek, they'll be able to fish anywhere. It's technical, but very rewarding fly fishing."
Information about membership and real estate offerings at Frost Creek contact Kevin Denton, director of sales at Frost Creek at (970) 306.9330 or [email protected] or visit www.frostcreek.com
RELATED: Mountains of mountain activities have made Frost Creek Colorado's fastest-growing club.
Colorado AvidGolfer is the state's leading resource for golf and the lifestyle that surrounds it, publishing eight issues annually and proudly delivering daily content via coloradoavidgolfer.com. Follow us on Twitter, Facebook and Instagram.