A zoning decision by Douglas County could spell the end to a non-irrigated series of crudely maintained golf holes.
By Jon Rizzi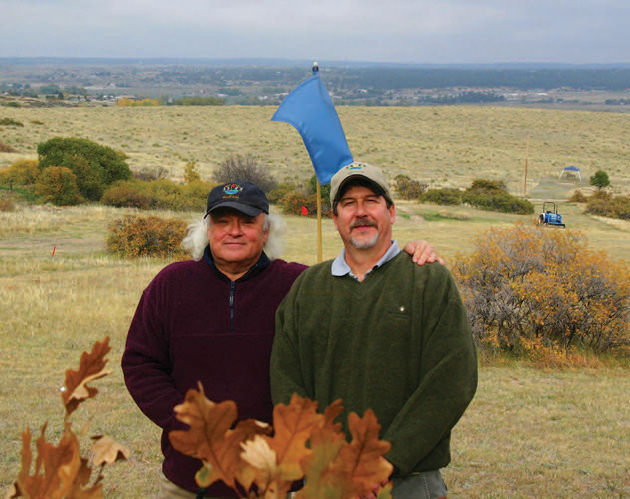 ---
Looking more more info? CLICK HERE to listen to The Ross Kaminsky Show discuss the issue (53:56)…
What constitutes a "golf course"?
That simple question has led to a conflict in Douglas County that could have repercussions for anyone who drives, chips or putts on property not zoned for golf—including his or her own backyard.
The conflict stems from a complaint filed by a resident with the Douglas County Director of Community Development over the partial use of 34.61 acres of community-owned open space near Castlewood Canyon in Franktown. The Homeowners Association of Castlewood owns the property, which residents use for a variety of recreational purposes—hiking, croquet, picnicking, dog walking and a game called "xerigolf," which a handful of residents play on 16.82 acres of non-irrigated prairie grass.
A little over 3.65 of those acres belong to insurance broker Bill Greer. Since 2008, he and commercial real-estate broker Brad Slabaugh and a group of other residents have mowed the rugged turf into 12 crude par-3 "holes"—including one with a 160-yard carry over Willow Lake—defined by spray-painted 12-foot diameter "greens" featuring regulation-sized cups and flags.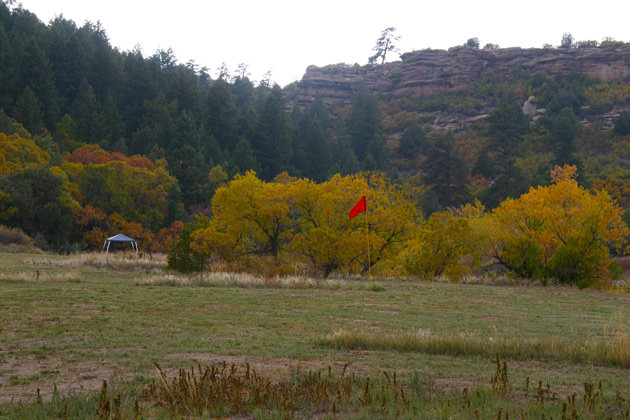 "A ball is considered 'holed' if it lands within the circle," explains Slabaugh. "You really can't putt on this grass." Slabaugh and the handful of neighbors who play tend to use beat-up balls and clubs—even in their only regular game on Thursday nights, weather and conditions permitting.
Once every summer, usually toward the end of June, the so-called Links at Willow Lake stages a party to honor and remember one of the original neighbors who passed away.
"We've had as many as 70 people come," Slabaugh says. Everyone in the neighborhood gets an invite, and for nine years, the beer, barbecue and stories have flowed, galvanizing the community in a Saturday afternoon of fun.
This year's event was no different, but for the first time, one of the property owners abutting the open space complained to the county that Greer and Slabaugh were operating a golf course in violation of zoning laws. Failing to use any photographic evidence, they greatly exaggerated the number of participants, parked cars and golf carts.
Yet, on October 24, Terence Quinn the Director of Community Development supported the plaintiff's contention in a broad interpretation both of "Golf" and "Golf Courses," the latter of which were barred from agricultural and residential zone districts.
Quinn defined a "Golf Course" as "a recreational facility primarily used for the purpose of playing golf" that "shall include but is not limited to, one or more of the following:
Two or more holes, flags or targets.
Surfaces from which to hit the ball for distance.
Maintained or prepared surfaces.
Natural or man-made obstacles
The ability to use carts for conveyance between targets.
The ability to have multiple persons playing golf at one time.
The ability to have golf tournaments."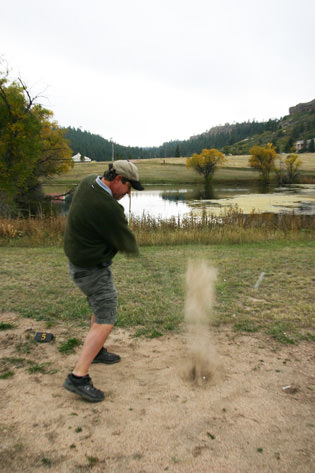 The interpretation left Slabaugh, Greer, HOA President Tim Deger and fellow neighbor Bob Pankey flabbergasted, especially after Quinn and Zoning Compliance Manager Michael Cairy determined their xericourse was an operating golf course in violation of the Douglas County Zoning Resolution.
The only recourse was to appeal. In an extensive, carefully worded 10-page request (complete with seven exhibits) for an appeal hearing, Slabaugh's group challenged the interpretation in meticulous detail, maintaining that their crude xericourse did not conform.
The appellants and representatives from the Zoning Department and County Attorney's Office will appear before the three-member Douglas County Board of Adjustment on January 16. At stake isn't just a source of recreation, but the right of anyone in Douglas County to have a practice putting or chipping area behind their house, or even a net into which to hit balls.
"We aren't just adding our spin to it," says Slabaugh. "This interpretation will affect EVERY property owner in Douglas County. The county is afraid other people will do what we've done. If you ignore their orders, they'll fine you and, according to one attorney I spoke with, ultimately, taken to the extreme, they could foreclose on your home in order to pay the fines."
Moreover, the decision could also establish a precedent in other Colorado counties. "It sets the course of county government overreach through capricious zoning control," Slabaugh says. "I hope people hear the story and agree with us."