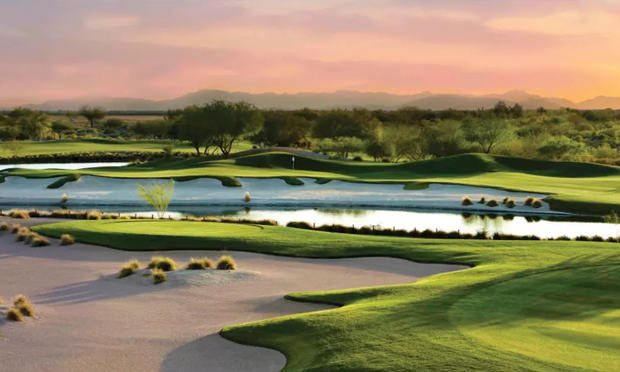 Desert Courses Require Swing Smarts and More
By Chris Duthie
---
[easyazon_infoblock align="right" identifier="B078TMTG1M" locale="US" tag="coloradoavidg-20″]Last week on a trip to Scottsdale, I met a young woman who recently completed a soul-crushing round of golf at one of the city's more celebrated desert golf designs, the Jay Morrish-crafted South Course at The Boulders Resort.
"I don't know what happened out there, but I couldn't keep the ball in play," she said, adding that just a few years ago she had been an accomplished junior player. "My swing totally abandoned me off the tee, I lost a ton of balls, and it became harder and harder to score.
"My swing was awful and I was so discouraged that I actually considered selling my golf clubs," she lamented.
I've met a lot of golfers that have expressed similar frustration with playing desert courses, which are famous for sporting fairways and greens that are closely bordered by penal, thorny and jungle-like foliage. In fact, that's how the infamous lateral-drop "Troon Rule" was coined — it basically was invented at one of the very first desert courses in America, the Tom Weiskopf/Morrish-designed Troon Golf & Country Club.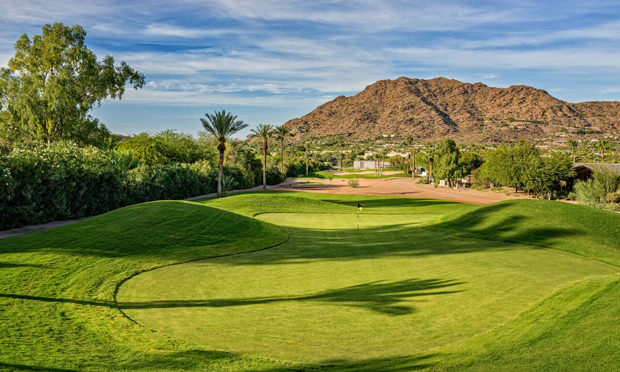 I once considered hanging up my golf spikes under similar circumstances. When Troon North opened in north Scottsdale in 1990, my game was on veritable life support after an exasperating round that included 10 lost golf balls and an overwhelming urge to trash my driver.
It took weeks to get back my shattered confidence — the experience was as difficult and humbling as it was educational. But I did adjust, and my game benefited. For what it's worth, here's what I've learned from playing dozens of desert layouts:
1) Leave your ego at home.
Unless you can drive the ball with tour player-like accuracy and consistency, you're practically guaranteed to lose a sleeve of balls (or three). Better to find the fairway by teeing up with a hybrid or a dependable fairway metal. And if that isn't working, there's no shame in driving with a 4- or 5-iron.
2) Play the course, not your (usual) game.
So many desert style layouts are shaped and contoured with landing zones, or pods, that dictate a form of aerial "hopscotch" targeting. Pay no heed to that "time for the big dog" swing temptation. Instead, seek out caddy, scorecard and on-course advice that suggests a "don't-go-longer-than" club.
3) If competing with friends, try match play.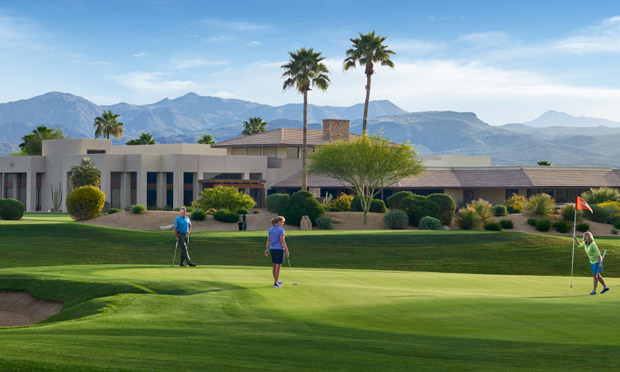 What would you rather be: down one or two holes, or down six or seven strokes? Few of us can tolerate a player who is constantly searching for lost balls. Match play keeps things light, friendly and fun, and the quick-play format helps everyone keep pace with the group ahead.
4) Stay patient.
You might have been hitting stripes on the practice tee, but the pressure mounts and the swing tightens when fairways get narrow and greensites offer marginal bailouts. When presented (but not forced), take full advantage of easier scoring opportunities and hope that you can card a few up-and-downs.
5) Mix it up.
Regain your confidence by experiencing something entirely different, like a course that offers generously wide fairways and foliage-cleared roughs, or an ego-boosting par-3 layout. (See my recommendations below.)
Above all, remember that damage control is the key to playing a desert design. Accept that you'll have a few blowup holes, and that your handicap might take a five- or 10-stroke hit. Next time — if you choose to come back to the fray — I promise you'll be better prepared.
You may not score any better, but the experience won't be near as tortuous.
Scottsdale Area Recommendations
For temper-testing desert style challenges, the Scottsdale area has a smorgasbord of amazing daily-fee standouts including The Boulders' North and South courses (designed by Jay Morrish), Troon North's Monument and Pinnacle courses (Weiskopf/Morrish), We-Ko-Pa's Cholla and Saguaro courses (Scott Miller and Bill Coore/Ben Crenshaw), Quintero (Rees Jones) and the TPC Scottsdale's Stadium course (Weiskopf).
But if you're looking for something that's formidable but also forgiving, consider these chart-toppers: Ak-Chin Southern Dunes (Lee Schmidt/Brian Curley/Fred Couples), 27-hole Kierland Golf Club (Scott Miller), The Raven (Gary Panks/David Graham), Verde River (Ken Kavanaugh/Tom Lehman), Papago (Billy Bell), Gold Canyon (Kavanaugh) and Longbow (Kavanaugh, pictured atop).
There's also a third enticing option: Go play the Short Course at Mountain Shadows (Forrest Richardson) or the Li'l Wick par-3 course at Wickenburg Ranch. Both are awesome swing tune-ups, yet they serve even better for recharging beaten-down confidence levels. It's a bonus that both are absolute joys to play, too.
---
[easyazon_infoblock align="right" identifier="B06ZYC3Q5G" locale="US" tag="coloradoavidg-20″]RELATED LINKS
---
Chris Duthie is a Durango-based contributor to Colorado AvidGolfer.
Colorado AvidGolfer is the state's leading resource for golf and the lifestyle that surrounds it, publishing eight issues annually and proudly delivering daily content via coloradoavidgolfer.com.