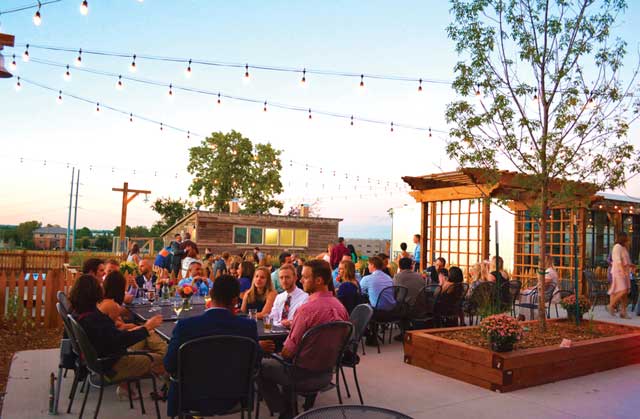 Thanks to craft-brewing mainstays New Belgium and Odell's, nobody seems to remember that Fort Collins stayed dry more than 20 years before Prohibition's institution and almost 40 years after its repeal. The city has more than compensated. Its twenty-plus breweries now make it eminently worthy of a pub-crawling pilgrimage.
A quick skim of the latest Great American Brew Fest or World Beer Cup winners could help narrow down the list of where to visit. Instead, I sought out breweries that spotlighted particular styles of beer rather than a handful of crowd-pleasers. I discovered a concentration of the best niche market breweries not only in Colorado, but the country.
Zwei Brewing
Zwei Brewing focuses on crafting beers, most of which were born hundreds of years ago in Munich and influenced by the neighboring Czechs. Rather than brewing a big IPA, stout and other popular American styles, Zwei offers other local taps and collaboration beers, something aspiring breweries should take note of if they truly want to become an expert in brewing to style on the micro-level.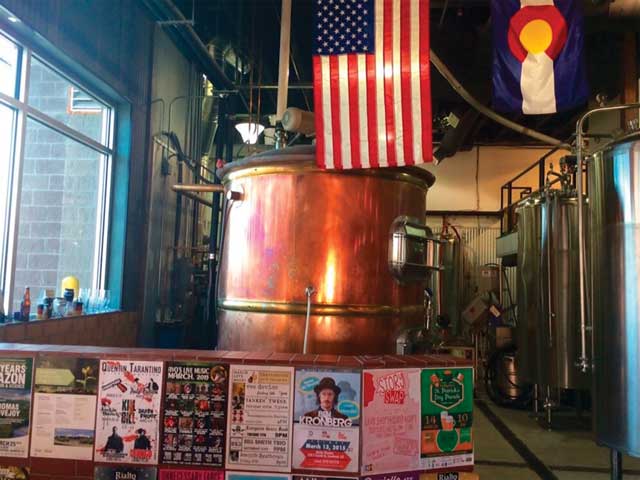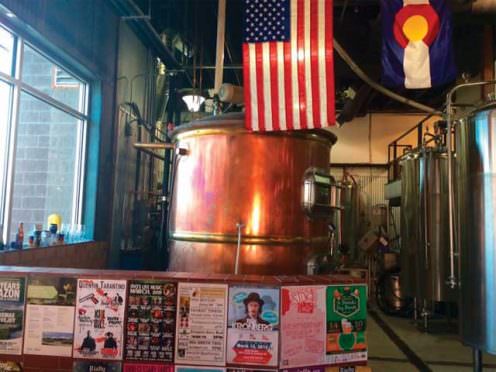 Freshness runs through all their beers. This is not a cliché but a flavor descriptor. One of Zwei's German staples, Keller Pils (an unfiltered, bigger-bodied version of Pilsner), boasts a lively grain aroma and an invigorating yet full-bodied flavor. Not quite as crisp as a standard pilsner, it finishes with a slight herbal bitterness and medium-dry.
Dunkelweizen, a Bavarian-style wheat beer, exemplifies a malt-forward German ale. Zwei's version has the characteristic ripe banana and clove flavors from specialized ale yeast. It's a bit darker than its cousin, Hefeweizen, due to added specialty malts that can impart some caramel and cocoa flavors as well as a fuller body. Wheat malt is dominant, but it balances with the fruit and spice flavors of the style.
The Helles Bock is one of the fresher-flavored beers I've had in awhile. Aromas of caramel and sweet grain prevail. The flavor suggests fresh wort (the sugary liquid made from steeping grains prior to being boiled and yeast pitched) and bread crust.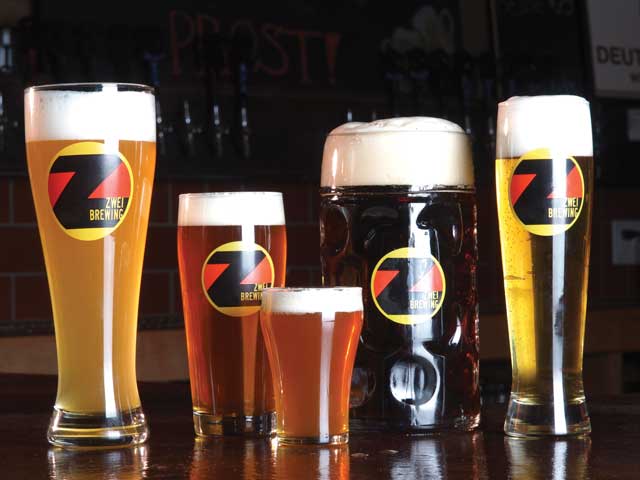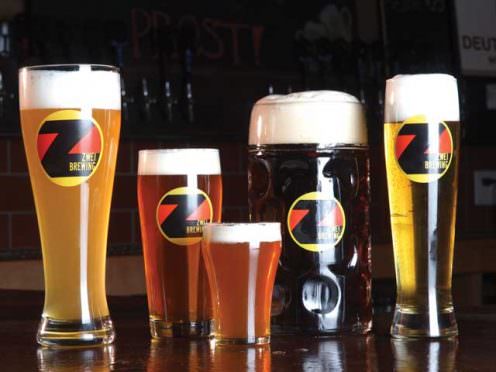 This beer is extremely smooth with a full body, yet not filling. With a very clean finish and no astringency or bitterness, this is a malty beer drinker's heaven.
Although most of the American and Belgian taps come from other breweries, Zwei does produce a few one-offs, but with their own take. The Espresso Stout has a cold brew coffee aroma and assertive coffee flavor without the roast or bitterness of most other versions. It's lighter than many coffee-infused stouts, with a clean, refreshing finish akin to Zwei's lagers.
Zwei's bustling beer garden atmosphere—which includes groups of postgame sports clubs, couples, dogs and old men in lederhosen—belies its location on the city's strip-malled outskirts.
4612 S Mason St #120 
970-223-2482; zweibrewing.com
Funkwerks
Funkwerks attained national recognition in 2012 when it won the Great American Beer Fest's "Small Brewing Company of the Year" award. It hasn't slowed down since, as it continues to re-define one of the more ubiquitous, yet misunderstood of styles—the saison.
The small taproom in no way suggests the enormous range of flavors Funkwerks brewers have coaxed from the four components of beer. Corrugated metal and wood give it a shack-chic appearance and the atmosphere is far tamer than that some of its rowdier downtown neighbors.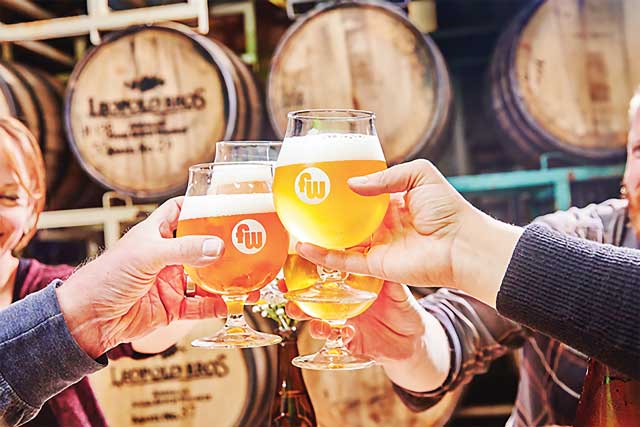 The flagship beer, simply named Saison, sets the tone. It's a simple, subtle beer with a host of complexities. Rustic notes of raw ingredients and fruity esters (yeast by-products) evolve with every sip. Crushed grains are upfront, with flavors of banana bread becoming more evident as it warms, finishing with hints of bubble-gum. It also finishes dry and is super-quaffable. Many breweries will simply rely solely on an expressive yeast strain to bring out big, spicy and sometimes chalky flavors for their saisons, but a true articulation of the style plays down these flavors and melds them seamlessly with the malt and hops.
For the wine drinker of the group who "doesn't like beer," Barrel-Aged Deceit is a great crossover brew. The barrel-aging adds flavors of white wine with a noticeable tartness and tropical fruit flavors. There's also a whiff of green apple in the aroma with some earthy funk. For a beer aged for 18 months to two years, it's as bright and vibrant as a week-old pale lager.
Raspberry Provincial is not your typical fruit beer. Rather than being aggressively fruity, the beer has a high level of effervescence to balance any residual sweetness or acidity. The raspberry comes through juicy with no tartness and just a hint of sour acidity and flavors of hibiscus. The somewhat full mouthfeel makes this a spritzy yet very smooth and drinkable beer. With every sip I was waiting for the pop of biting into a fresh berry.
1900 E Lincoln Ave.
970-482-3865; funkwerks.com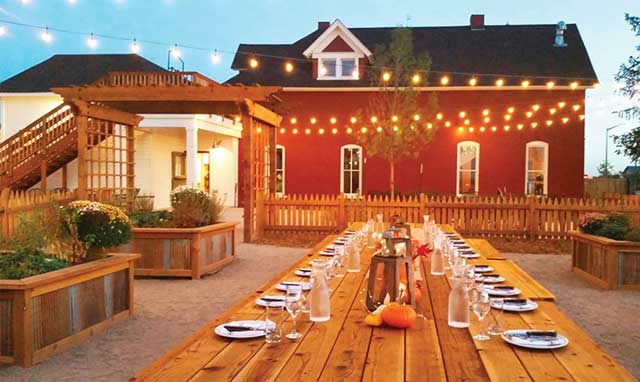 Jessup Farm Barrel House
One of the newer arrivals to the vast landscape of breweries, Jessup Farm Barrel House makes exceptionally approachable barrel and mixed-fermentation beers. Located in a restored barn on a former farm, both the interior and exterior are stark changes of their former iterations. Nestled within the Jessup Farm Artisan Village, the brewery and taproom are among the most beautifully designed in the state. The view however is not likely what the original owners of the farmstead envisioned, with rows of modern townhouses visible from every window.
The beers reflect this atmosphere, being both steeped in tradition and adjusted for modern tastes. Jessup's offerings undergo a variety of mixed-fermentations in the barrels for the characteristic funk and sourness of wild beers, but are blended to achieve specific flavor profiles.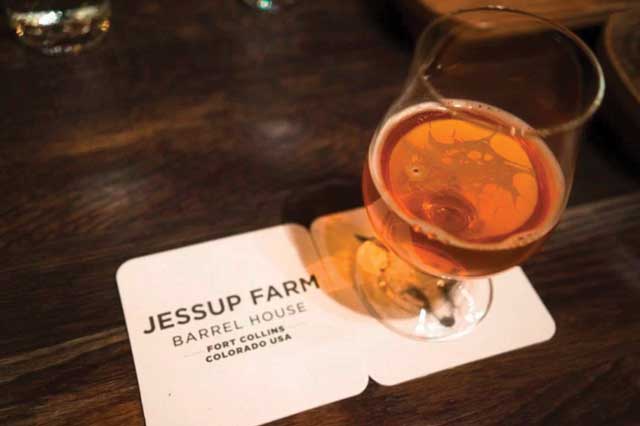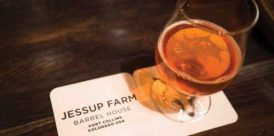 Fermented with brettanomyces (a wild yeast strain known for imparting flavors ranging from "barnyard" to tropical fruit), Fancy Pants sparkles with flavors of apricot and peach. Fruity, with pith bitterness, this is an eminently balanced, refreshing summer ale.
Jessup also serves darker, full-bodied beers, especially the Nib Knot Nitro, a whiskey-barrel- aged black ale. The flavor is reminiscent of coffee and cocoa with a wisp of whiskey. It's silky smooth with a creamy vanilla aroma for a decadent richness with no acidity.
1921 Jessup Drive
970-568-8345; jessupfarmbarrelhouse.com
For all of the well-deserved accolades earned by Fort Collins' larger breweries, the city offers a plethora of alternatives. With the standard already being set, the young guns have found a corner of the market to call their own. Let beer geeks and weekend (beer) warriors alike rejoice.
Contributor and homebrewer Cody Gabbard regularly writes CAG's Tapping In column. This article appears in the July 2016 issue of Colorado AvidGolfer.
Colorado AvidGolfer is the state's leading resource for golf and the lifestyle that surrounds it, publishing eight issues annually and proudly delivering daily content via coloradoavidgolfer.com. Follow us on Twitter, Facebook and Instagram.
RELATED ARTICLES: