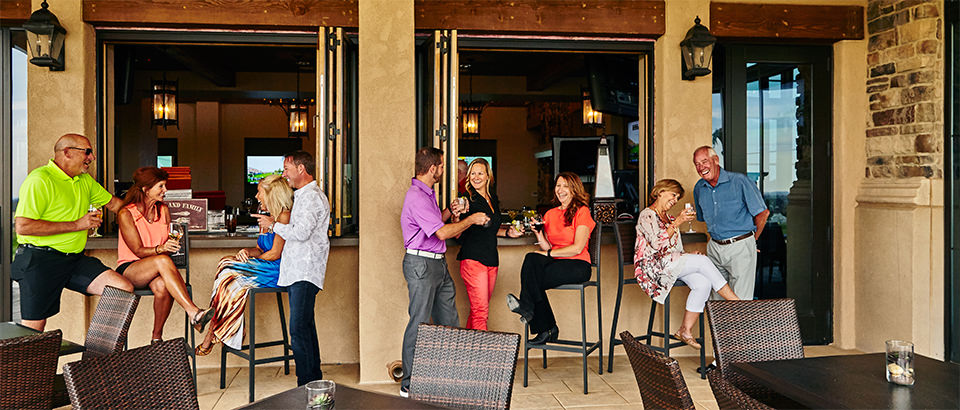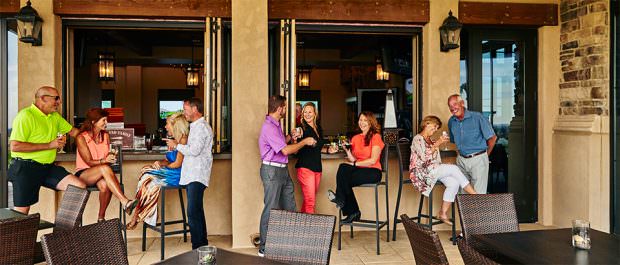 Back in the day, any country club worth its crest would build a reputation around its golf operation. Golfers, mostly men, ran the clubs, and their thinking was that every dollar a club spent on food and beverage, swimming, tennis and general hospitality wasn't being spent on grooming the fairways, rolling the greens, stock-ing the pro shop, maintaining caddie programs and cart fleets, and ensuring the quality of the gin in the men's locker and grill rooms.
Times have changed. More than ever, clubs across the country recognize that food, beverage, amenities and programming are the primary drivers for member satisfaction. While course quality remains a factor, a resort-style approach has replaced the golf-centric one.
"With the growth of family engagement and greater time pressures, clubs realize they need to become a one-stop shop for the recreation needs of the entire family," says Kevin Hood, the past president of the Rocky Mountain Club Managers Association and former general manager of Cherry Hills Country Club.
That can mean fitness facilities so members don't need a separate gym membership; healthy casual dining options so they can bring the family; on-site childcare and junior enrichment and sports programs; massage and spa services; events like concerts and culinary classes; cabanas by the pool; and value-adds such as  preferred pricing on wine, ski passes and other off-site events and services.
"You have home and work. Clubs want to be and need to be that third place," says Hood. This approach is nothing new at Cherry Creek Country Club, which has succeeded as a "life-style club" since opening 15 years ago. Other clubs are also stepping up their game and growing their memberships as a result.
In the mountains, Frost Creek in Eagle doesn't call itself a country club. Offering access to—and the equipment for—every imaginable outdoor activity, the property once inhabited by Adam's Mountain Country Club has become an upscale year-round outdoor playground for families, who stay in member cabins, enjoy the amenities of a huge clubhouse and play golf on a glorious Tom Weiskopf-designed course.
Three courses—plus a nine-hole Dave Pelz Short Course—await at The Club at Cordillera, which has thrived under the management of Troon Privé by updating restaurants, pools, fitness facilities, fishing areas and winter activities to attract families year-round. Troon Privé membership also gives access to 85 private clubs.
Down the hill, The Club at Flying Horse in Colorado Springs remains a paragon of "lifestyle club," with its tremendous athletic club and spa, expansive pool area, palatial clubhouse, superb steakhouse and sumptuous lodging. Its Weiskopf-designed course will by 2019 have a companion at Flying Horse North, a development in the Black Forest featuring 18 holes designed by former Weiskopf designer Phil Smith.
In Littleton, venerable Columbine Country Club will this year open a new 56,000-square-foot clubhouse with 5,000 square feet of fitness and wellness space, two indoor golf simulators, multiple indoor-outdoor dining options, junior enrichment programs and much more.
Columbine freely admits drawing inspiration from numerous sources, including the stunning indoor-outdoor dining space that has transformed The Country Club at Castle Pines.
In Westminster, The Ranch Country Club last year debuted a $5.5 million clubhouse renovation, dramatically expanding the fitness, dining and hospitality spaces to complement its strong golf, tennis and swimming offerings.
ClubCorp, which owns and operates Black-stone Country Club in Aurora, recently invested more than $1 million in upgrades to the patios, dining facilities, fitness center and pool areas. ClubCorp packages a membership to both Blackstone and Black Bear Golf Club in Parker. As added value, ClubCorp also offers a membership with access to all 300 of its clubs.
Another multi-club owner-operator, Arcis Golf, is also doubling down. The Texas-based firm owns and operates The Pinery and Pradera—two distinct, best-in-class lifestyle clubs separated by less than five miles in Parker. A Summit membership to both clubs de-livers 45 holes of golf, 11 tennis courts, three pools, two fitness centers, two junior camps and two fine-dining restaurants. It also offers access to more than 60 Arcis clubs around the country.
All this is not to say golf doesn't remain central to the club experience. Lakewood Country Club will spend $1.5 million to have Gil Hanse restore its Donald Ross-designed course this year. But this follows the 2008 construction of a new clubhouse to accommodate its expanding list of family-friendly member amenities.
Golf represents just another one of those, just not necessarily the most critical. "Think about it," Hood says. "If you play a great round of golf and have lousy food, it's literally going to leave a bad taste about the club. But you can play a crappy round and have a great meal with your friends afterwards and go home happy."
---
View the entire 2017 Private Club Guide:
---
Related Links:
Colorado AvidGolfer Private Club Guide
Colorado AvidGolfer Private Club Guide: Changing the Game
Colorado AvidGolfer Private Club Guide: Denver Region
Colorado AvidGolfer Private Club Guide: Mountain Region
Colorado AvidGolfer Private Club Guide: Southern Region
Colorado AvidGolfer Private Club Guide: Club Directory
Colorado AvidGolfer is the state's leading resource for golf and the lifestyle that surrounds it. It publishes eight issues annually and proudly delivers daily content via www.coloradoavidgolfer.com.