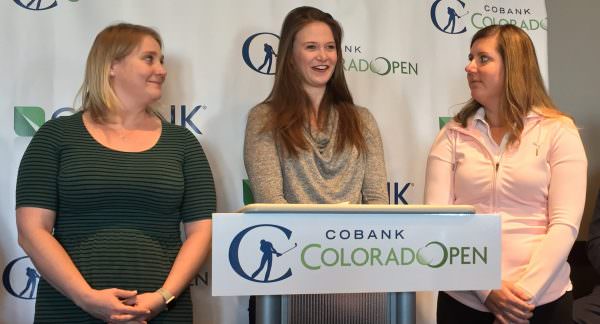 One year and one day after doubling the purse in the CoBank Colorado Open, the Colorado Open Golf Foundation announced today that the CoBank Colorado Women's Open would follow suit. As of this year, the total purse in the Aug. 30-Sept. 1 event at Green Valley Ranch Golf Club will jump from $75,000 to $150,000, making it the wealthiest women's state open in the country.
Moreover, the first-place finisher in the tournament will receive $50,000, nearly quintuple 2016 winner Lauren Coughlin's payday of $11,000. That amount is now second-place money.
"We wanted do right by the CoBank Colorado Women's Open and distance ourselves from other state opens," explained Colorado Open Golf Foundation CEO Kevin Laura during a press conference at Topgolf in Centennial. Joining him were the main catalysts behind the purse increase—Oakwood Homes CEO and COGF Founder Pat Hamill, retired CoBank CEO Bob Engel, COGF Chairman Chris Nordling and Vice-Chairman Alex Ringsby.
"We also wanted to put ourselves on par with the Symetra Tour events," Laura adds, referring to the LPGA's developmental tour. "Our first-place money is $13,000 higher than their biggest event's, and only six events have a larger total purse. We're in the big girls' game from now on."
One of the Symetra events with a bigger purse, the $210,000 Sioux Falls GreatLife Challenge, overlaps with the scheduling of the CoBank Colorado Women's Open. But the winner of that event receives $31,500.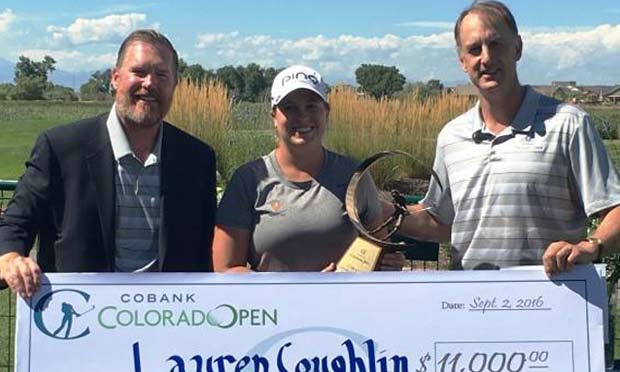 "We have LPGA players coming and stealing our money on the Symetra Tour," quipped Littleton's Ashley Tait, who has made the cut in 10 Colorado Women's Opens. "Now the Symetra Tour players can do that in Colorado."
Tait appeared with 2005 champion Erin Kerr Houtsma and 2013 champion Becca Huffer. The three all talked about the life-altering impact $50,000 would have on their careers. Houtsma, who recently had her amateur status reinstated, joked that she was suddenly having second thoughts about the decision. After all, it took her 11 years to become the event's all-time leading money winner with $31,325; it will take the next champion three days to eclipse her.
Laura announced that the purse for the pro-am portion of the CoBank ColoradoWomen's Open will remain at $15,000. He also announced that there will be an August 28 qualifier at CommonGround Golf Course, with 10 spots available.
A qualifier produced last year's winner in the $250,000 CoBank Colorado Open. Neil Johnson, the seventh alternate from a Monday qualifying event earned the $100,000 first prize with a 23-under-par 265.
Who knows if a similar Cinderella story will emerge from this year's women's field.
Online registration for all three CoBank Colorado Opens begins Monday, March 6. coloradoopen.com
RELATED:
[related_posts limit="3″]
Colorado AvidGolfer is the state's leading resource for golf and the lifestyle that surrounds it. It publishes eight issues annually and proudly delivers daily content via coloradoavidgolfer.com.