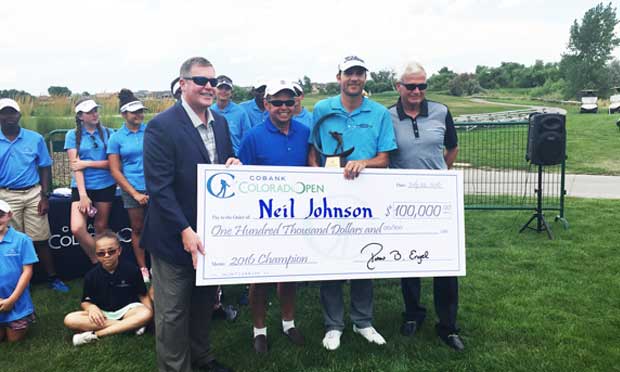 By Jon Rizzi
In Monday's fourth and final qualifier of the 2017 CoBank Colorado Open, Bryan Fox of Roswell, Ga. and Eric Kline of Ponca City, Okla. fired matching 9-under par 62s at Legacy Ridge Golf Course to take medalist honors by two strokes . Both players made nine birdies and no bogeys during their record-breaking rounds.
They were among 15 qualifiers from the 88-player field to advance to the championship, which takes place Thursday-Sunday, July 20-23 at Green Valley Ranch Golf Club in Denver.
Of the 60 players to advance from the four qualifiers, 15 list Colorado as their home state. The remaining 45 come from as far away as Mexico and Canada, and more than a dozen other states, including Hawaii, Vermont, New Jersey, Florida and North Carolina.
About 250,000 reasons explain the wide geographic distribution. That's the total purse for the CoBank Colorado Open—the highest of any state open in the country.
Starting tomorrow, these 60 qualifiers join 96 other competitors for a chunk of that quarter-million dollars, with the winner will taking home $100,000.
Attesting to the depth of the field, last year an alternate qualifier, Neil Johnson of Wisconsin, won the event by shooting a record-setting 23-under-par 265.
Johnson will be in the field this year, as will fellow former champions Jonathan Kaye, Scott Petersen, Derek Tolan, Ben Portie, Ian Davis and Zahkai Brown. Other notable players include Stephen Kupcho, 2012 U.S. Amateur champion Steven Fox, 2017 Colorado Match Play winner Chris Korte, Colorado PGA Player of the Year Geoff Keffer and current and former CU and CSU standouts such as Ethan Freeman, Riley Arp, A.J. Ott, David Oraee, John Souza, Parker Edens, Jake Staiano and Derek Fribbs.
There'll also be some family ties in the field. PGA Senior Tour player Doug Rohrbaugh and his son, Tristan will be playing. So will Nicholas Karavites, the stepson of former World No. 1 David Duval, and Gunner Wiebe, the son of 1986 Colorado Open Champion and 2013 British Senior Open Champion Mark Wiebe.
Admission is free. Come watch some of the best golfers in the country— not only in the state—at Green Valley Ranch Golf Club.
Follow the action here.