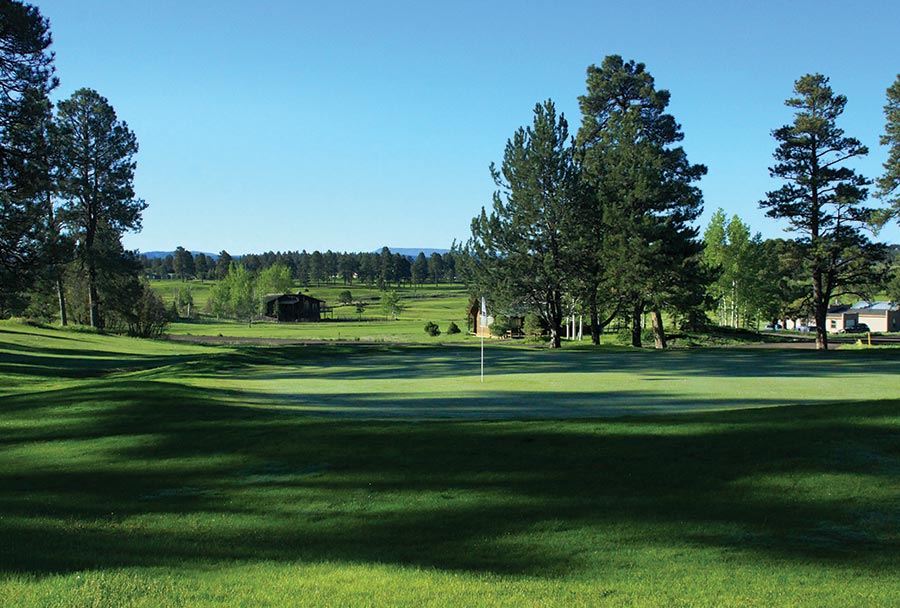 Named for its healing waters, Pagosa Springs abounds in transcendent beauty and many ways to enjoy it—including 27 soothing holes of golf.
By Chris Duthie
There's a heaven on earth
that so few ever find,
though the map's in your soul
and the road's in your mind.
–Dan Fogelberg, "The Wild Places"
DAN FOGELBERG got it right. In 1980, the multiplatinum-selling singer/songwriter bought a 590-acre spread just outside of Pagosa Springs, Colorado, where he would live for 27 years among the soaring ponderosa pines and craggy mountainscapes of the Weminuche Wilderness before succumbing to prostate cancer.
"It's a pretty calm existence here," Fogelberg said in a 1990 interview with G. Brown of the Colorado Music Experience. The musician behind such commercial hits as "Longer," "Same Old Lang Syne," "Hard To Say," "Leader of the Band" and "Run for the Roses" often performed incognito to unsuspecting local audiences or to raise money for worthy organizations like the Humane Society of Pagosa Springs.
"I'm an avid skier during the winter; summertime, there's so much to do," he said. "I enjoy the solitude of hiking and mountain biking. The mountains have always been a very healing place for me. You go through a lot of changes in life, but these mountains will always be here."
Solitude, calm and healing are words often used to describe another popular outdoor amenity: golf. While there's no evidence that Fogelberg ever showed a predilection for the game, it's not far-fetched to imagine the 2017 Colorado Music Hall of Fame inductee chasing pars and birdies at the area's premier daily fee, Pagosa Springs Golf Club. As captivating as it is challenging, the 27-hole facility ensconces itself in a forest of old- growth pines and water-brimming meadows, all gloriously framed by 13,000- and 14,000-foot peaks that comprise the San Juan and Weminuche mountains.
Originally designed in 1980 by celebrated PGA Tour player Johnny Bulla as a heavily wood- ed, 18-hole mountain course, the club expanded 15 years later with a lakes-infused links-style nine deftly crafted by DJ DeVictor. Undoubtedly, the course's variety adds significantly to the club's at- traction, especially when frost delays—a frequent problem even in summer—start players on the sunnier links nine. The crisply manicured and superbly conditioned three- course rota—the 3,412-yard Piñon, the 3,130-yard Ponderosa and the newer 3,730-yard Meadows—are an absolute pleasure to play. The elder Piñon/Ponderosa 18 treats players to tree- pinched tee balls, secluded pine- and piñon-framed fairways and small multi-level greens with modest 10.5 Stimpmeter speeds, plus several elevated hilltop tees that just squeal for players to go long or go home.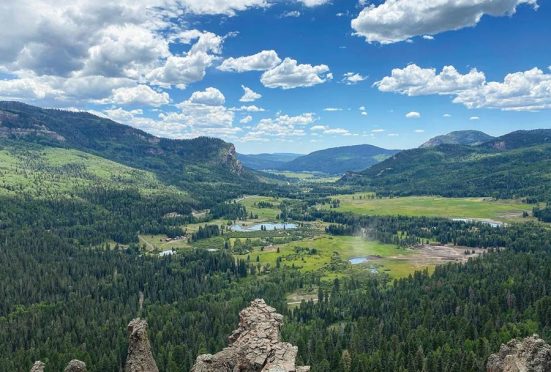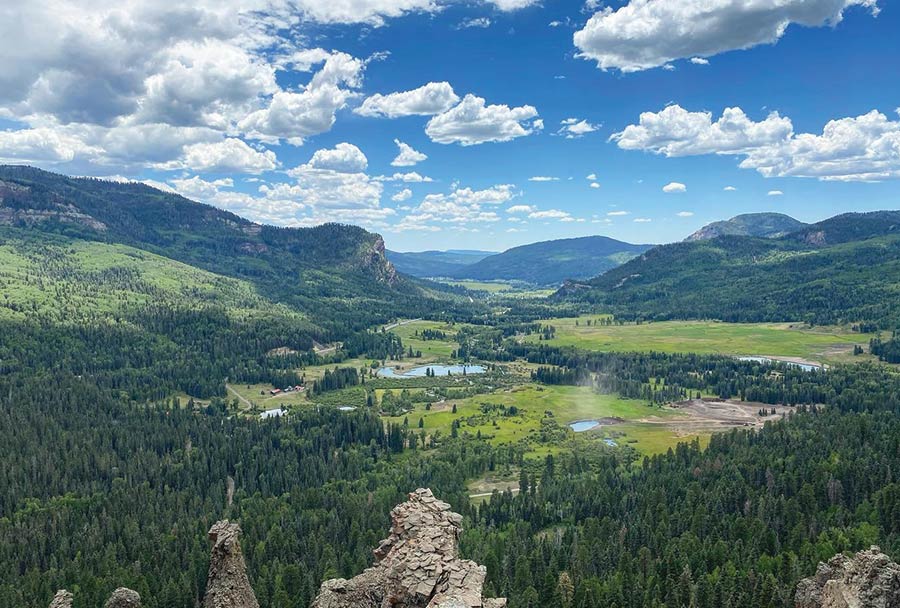 Down in the valley, the treeless but toothy Meadows nine eerily suggests South Florida golf: Seven holes border meandering lakes and wetlands—favored stomping grounds for muskrat, mule deer, elk, coyote and
bear—and the fairways and greens are generously spacious to accommodate foul-weather winds. The infrequently presented 360-degree big sky and mountain views of the forested up- per 18 predominate on the lower Meadows nine.
"Here you get a little mountain golf and a little links golf," said PGA Director of Golf Derek Pepin. "On the Piñon and Ponderosa, the tree chutes and small sloping greens protect par, while water, bunkering and the wind make the Meadows more of a shot maker's challenge.
"If you're a big hitter, the Meadows accommodates," he said. "Casual golfers and mid-handicappers will appreciate the original 18's occasional call to hit an iron or hybrid off the tee—but still reach the flagstick in regulation. All told, this is a fun environment for people to come out and play golf."
A 44-year-old rat-race expatriate, Pepin came to Pagosa three years ago after an 11- year stint at Houston's private Westwood Golf Club. He hasn't looked back. "Life was definitely stressful there," he says. "I was on call 24 hours a day. I was ripe for a change."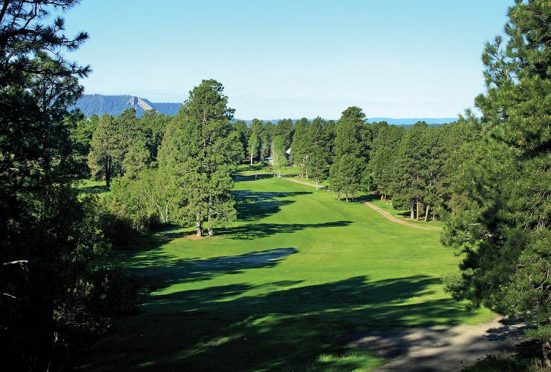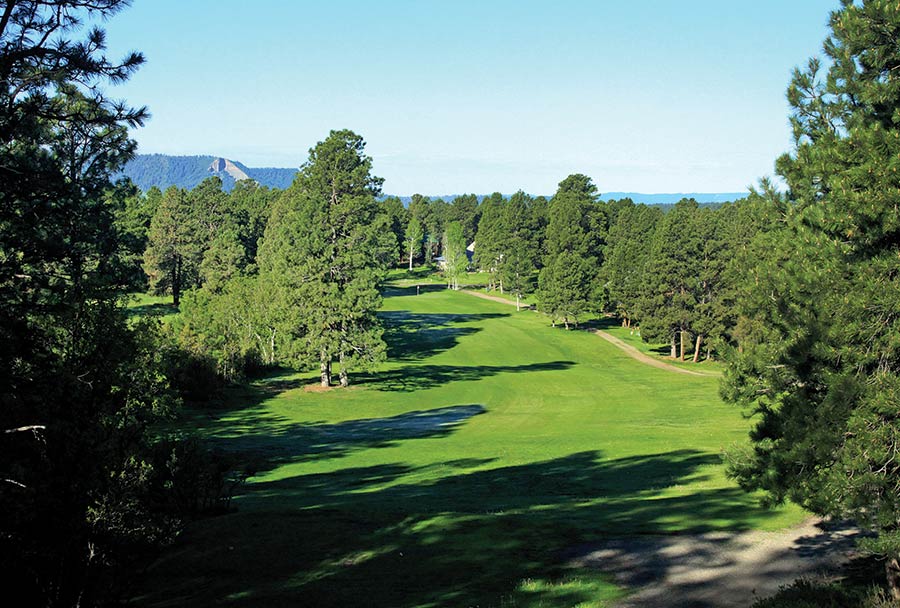 So, apparently, are a whole lot of folks who are discovering the area's vibrant lifestyle. Pagosa is a Ute Indian word for "healing," which goes part and parcel to the town's world-famous mineral hot springs—discovered hundreds of years ago by Native Americans—and the dozens of other outdoor pursuits that are minutes away from historic Main Street.
Water factors many of those pursuits, including guided fly-fishing on the Rio Grande and the Lower San Juan River, as well as paddleboarding, fishing, kayaking or canoeing in Echo Canyon and Williams Creek reservoirs or in "Colorado's answer to of Lake Powell"—the 35-mile Navajo Lake.
Eightmile Mesa and a latticework of trails in the San Juan National Forest challenge bikers and hikers of all levels. Situated 60 miles east of Durango, Pagosa is also a prime, Nikon-prompting gateway to Telluride, Creede, Taos and Santa Fe; to the nearby Ancestral Pueblo ruins at Chimney Rock National Monument; for riding the region's historic Durango & Silverton Narrow Gauge and Cumbres & Toltec Scenic railroads; and for casino gaming at the Southern Ute Casino Resort in Ignacio.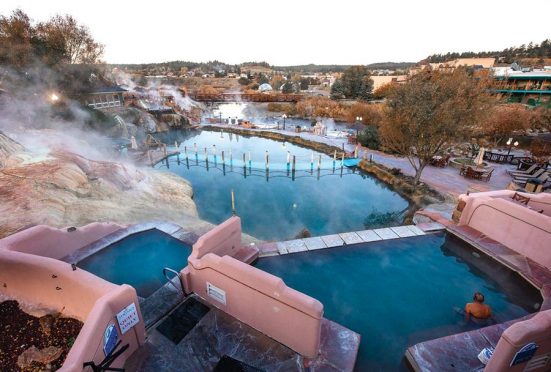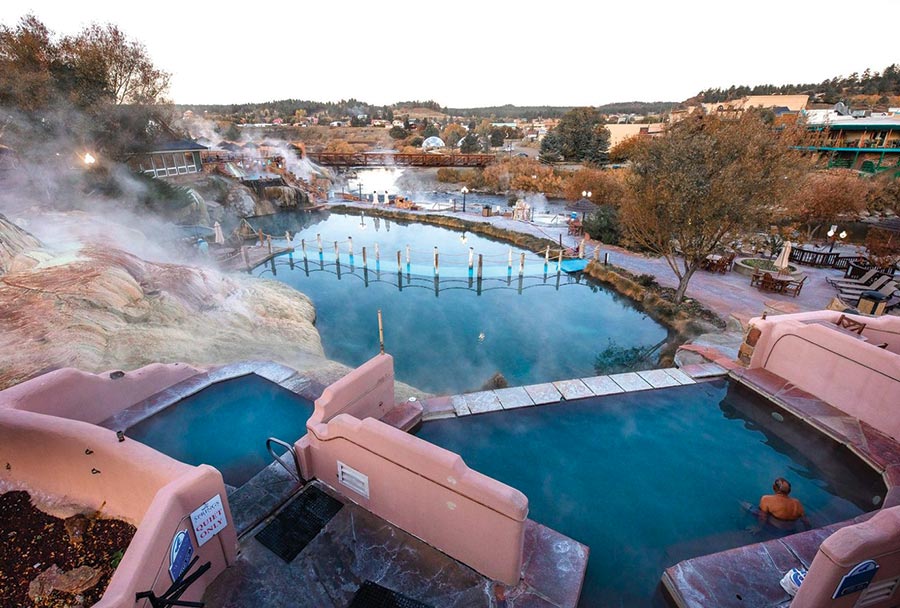 Bed down at the top-rated Springs Resort & Spa, which offers guests 24-hour access to the adjacent 25 pools of therapeutic mineral hot springs. In addition, the sprawling Club Wyndam Pagosa is ideally situated adjacent to Pagosa Springs Golf Club. Pagosa Springs' mass appeal is also show- ing up—where else?—in skyrocketing land sales, which were becoming increasingly apparent even before the ongoing "you can work from anywhere" COVID-19-fueled metropolitan exoduses.
In 2010, the 3,151-acre Boot Strap Ranch at the base of Wolf Creek Pass was sold for $47 million. Then in June 2021 the 9,600-acre Piedra Valley Ranch, located 12 miles west of Pagosa, went for $33.9 million.
One property located southeast of town, the 610-acre Mountain Bird Ranch, is not for sale. The former home and recording studio of Dan Fogelberg has been off-market for a decade, its current occupant evidently also finding it a "heaven on earth."
Longtime CAG Contributor Chris Duthie lives in Durango. For more about Pagosa Springs Golf Club, visit golfpagosa.com or call 970- 731-4755. For visitor information, check out VisitPagosaSprings.com.