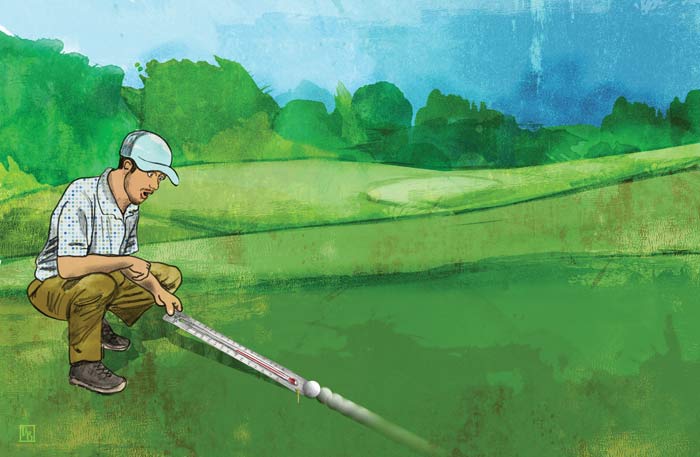 The first sign of climate change upon your favorite Colorado course this summer may not have been the brown tinge on its green fairways, but a pleasing, parabolic bounce of your best long drives. Turns out it may not be all due to that new driver and low-compression two-piece ball.
Drier and hotter means harder off the tee. And according to the National Oceanic and Atmospheric Administration (NOAA), 2016 has already turned out to be the hottest year on record, eclipsing last year's mark. Moreover, 15 of the 16 warmest years since records began to be kept in 1870 have occurred since 2000.
Climate change doesn't just mean the weather, on average, gets hotter. It means the weather gets weirder—hotter hot days, wetter wet ones, longer droughts, fiercer storms, heavier snows, and floods like the one Colorado experienced in 2013.
But for golfers, a key question remains: Could climate change actually help your handicap? Especially as golf course architects and superintendents continue to usher in water-wise designs and irrigation programs for the long-term health of the sport? The possibility is intriguing, even among the serious course-management challenges that endure.
As the epic California four-year drought in 2015 ushered in mandatory 25 percent water cuts statewide—impacting more than 600 golf courses—Colorado golf course superintendents did more than pay attention to water-wise changes made by their Golden State colleagues. They increasingly have implemented or prototyped similar strategies, including turf reduction (replaced by "native areas" or less landscaped rough), but to a lesser, not always noticeable effect.
"There has been almost a cultural change," offers Kevin Norby, a golf course architect who redesigned Coal Creek Golf Course in Louisville, Colo., after the 1,000-year flood event in 2013. "Part of the struggle is that the general public, golfers especially, like to see bright green grass when they play. We see the Masters on TV, we go to Scotland, Ireland or Bandon Dunes [Oregon]; we come back and tell people how great they are, how green." Norby, based in Minnesota, is not only exceedingly aware of the "Brown is the New Green" mantra espoused by some leaders within the U.S.G.A. He favors it as well, to a degree.
"We all need to be educated about it," he explains. "Drier climate and less water doesn't necessarily mean that all fairways are firmer, though they certainly can be. The fact is, there might be two courses next door to each other: While one superintendent may use 40 million gallons a year, another one next to him may use only 20 million gallons.
"I don't think this makes the golf experience any more difficult or challenging," Norby says. "But as the ball rolls further, it may roll into a hazard, or it may give you an advantage."
Architect Rick Phelps of Phelps-Atkinson Course Design, who designed Devil's Thumb Golf Course in Delta, has a related view. He points out that even as more native areas are introduced off the tee, and more prairie grasses and fescues now thrive versus bluegrass in boundary and non-corridor areas, handicaps have more or less stayed the same over the past 30 years.
While this is more or less accurate, the USGA reports that since 2009, the Average Handicap Index has jumped from 23.3 to 27.0, and the Median Handicap Index from 12.8 to 13.5.
"Pick any course that's opened in the last 10 or 15 years and they tend to play a little more challenging—in terms of lost balls more than anything," Phelps admits. It could be that instead of balancing the challenges presented by changes in climate and water use, ball and club improvements are adding to them.
One thing's for sure. Over the last three decades, the USGA has spent about $35 million on scientific research for improved and more resilient turfgrass, working with dozens of state universities, including Colorado State University in Fort Collins.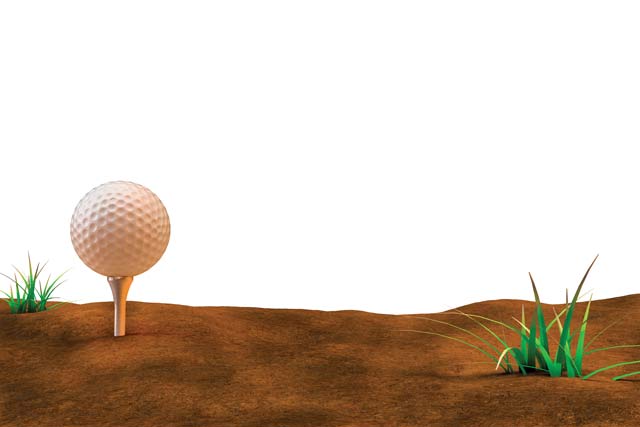 "When people talk about climate change, or droughts, or are worried about wildlife habitat, these are all things we've been working on the last 20 or 30 years," says Michael Kenna, Director of the USGA's Green Section. "What's changed more than anything else is that the golf courses, individual golfers and club leadership are becoming aware that these are real issues. Our industry, if it is going to survive, has to respond."
Even Donald Trump, who has called climate change a hoax, has applied to build a seawall to protect Trump International Golf Links Ireland from "global warming and its effects," according to the application.
"Personally, I applaud the USGA and hope to see this trend toward firm-and-fast continue in the future," Scott Ellis, Superintendent of Evergreen Golf Club, says. "For years, superintendents have complained about the [perfectly green, manicured] 'Augusta Syndrome.'"
In terms of putting, new green designs and re-designs have brought increased geometry into play on Colorado courses, at least partly due to climate or water concerns.  Look to find more punchbowl- and Biarritz-style greens, Norby says, built to both enhance play and funnel or catch water. In prior years, greens that retained water were considered a nuisance.
Faster and firmer greens, along with more slopes and breaks on 28-footers, may mean far more tricky reads ahead. How's that going to affect your scores? The long-term forecast for Colorado golf handicaps may be partly cloudy after all.     
The principal of Boulder-based BoCo Media (bocomedia.com), Curtis Pesmen has authored seven books, including My Cancer Year: A Survivorship Memoir.
---
This article appears in the Fall 2016 issue of Colorado AvidGolfer. Subscribe today!
RELATED ARTICLES:
Vote for the best in Colorado golf with the CAGGYs
Gary Barnett: Buffaloed but Unbowed
Colorado AvidGolfer is the state's leading resource for golf and the lifestyle that surrounds it, publishing eight issues annually and proudly delivering daily content via coloradoavidgolfer.com. Follow us on Twitter, Facebook and Instagram.