With fall in the air, so is the crisp smell of apples and the potent ciders they inspire.
By Cody Gabbard
---
Hard cider has been around just as long—if not longer—as beer in the United States. In fact, many of the Founding Fathers preferred it to malted beverages. That said, cider is still treated like beer's little brother, especially in a state renowned for its brews. Such attitudes may never change, but a handful of independent cideries and cider bars have recently sprung up across the country with the Front Range at the forefront of the trend.
---
FERMENT IN FIRESTONE
Amid randomly arranged picnic tables and a makeshift pizza oven, Wild Cider's co-founder Mark Birkin stretches out in a lawn chair under a shady tree behind the farmhouse near Wild Cider's production facility in Firestone. The scene suggests another lazy Sunday in a friend's backyard as he talks with nonchalant pride about his cidery.
His laidback approach makes sense. Wild Cider began by chance when the founders left a jug of Martinelli's Apple Juice too long in the refrigerator. It fermented. The taste was unique to any cider they had tried before and thus began their experimentations with apple juice and wild yeasts. Today, Wild Cider is fermented with a proprietary "wild" yeast that ferments for weeks at cool temperatures compared to the wine yeasts producers typically use to get their cider bottled in days. Mark attributes the full apple flavors and aromas to this slower fermentation process and high quality apple juice from fruit grown on Wild Cider's 14-acre orchard.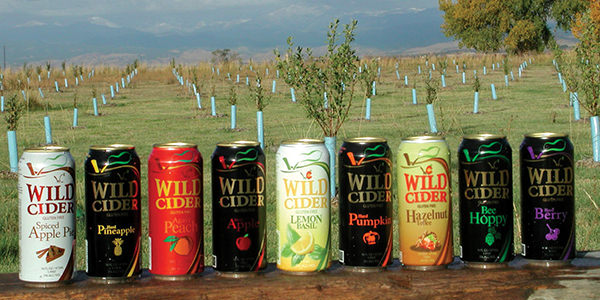 The taste difference from other ciders is quite evident, especially in its base product, Apple. The first impression is the tart and somewhat sweet flavor of a fresh apple, skins and all. It balances slightly sweet but is dry enough to keep it from being overly saccharine like many larger, commercially produced ciders.
Wild Cider has plenty of rotating taps that showcase fruits, spices, herbs and honey additions. Agave Peach is back-sweetened with peach juice and agave for a mouthwatering, fresh peach flavor and an aroma that leaps out of the glass. When available, the Oaked Cherry cider is a richly complex concoction perfect for long sips, with big vanilla notes melding with deep, cherry flavors that are faithful to the actual fruit.
What distinguishes Wild Cider is the focus on finding true, complementary flavors in each selection, whether in hopped, honey infusions like Bee Hoppy or the popular Lemon Basil Cider. Wild Cider is sold throughout Colorado on tap as well as in 16-ounce four pack cans, and will soon be available on select Frontier Airlines flights. In addition to its taproom in Firestone, Wild Cider shares a tasting room on Lee Hill Road in Boulder. 11455 Co Rd 17, Firestone; wildcider.com
---
The Rising Tide
Compared to other commercial ciders, St. Vrain Cidery's are typically a bit drier. The Longmont cidery also tries to stand out with unique fruit and spice blends such as Dry Chokeberry and Ginger, two of its flagships. The fruit in Dry Chokeberry provides additional tartness and tannins for an extra dry finish. It drinks clean and has some cherry notes to round out the flavor. Ginger is a highlight of the menu with the spice coming across as mildly fruity rather than a spicy burn. Initial green apple tartness finishes with subtle spice. Upcoming flavors include grapefruit, strawberry and hop infusions.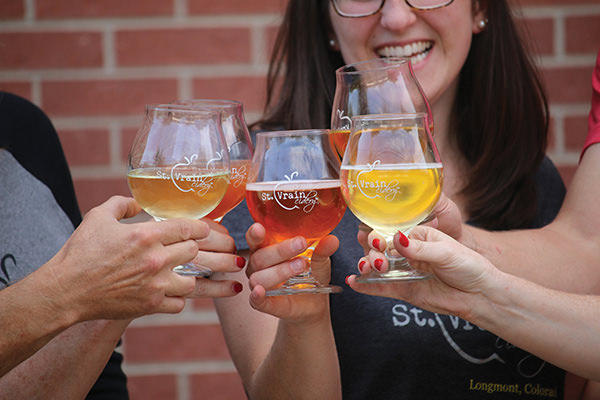 A majority of the pre-fermented apple juice comes from another Colorado cider and fruit juice producer, Big B's, out of Hotchkiss. Most ciders are comprised of a blend of apple varietals, much like the malts in beer. Dessert apples provide the sugars needed for fermentation, while other varieties bred specifically for cider-making provide the balancing qualities of bitterness, acids and tannins. For additional complexity, St. Vrain sources specialty apples such as winesap, bittersweet and sharp from the West Coast.
Unlike most cideries and even breweries, St. Vrain doesn't just serve their own creations, but a majority of their taps (currently at 24 and soon expanding to 36) are devoted to other Colorado ciders. According to co-owner Dean Landi, pouring a wide range of cider styles should benefit the industry as a whole by exposing as many flavors as possible to new drinkers. The decision to provide what would appear to be their competition is reminiscent of the early days of craft beer when camaraderie was much more important than beefs over trademarks. stvraincidery.com
---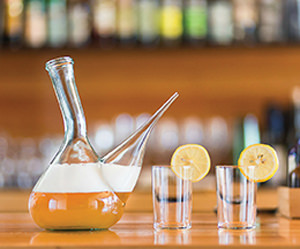 Basque in Variety
Arcana, a year-old Boulder restaurant, boasts a superbly curated list of ciders from all over the world. More than 20 are available at any given time, ranging from local creations to curios from regions like Normandy and Spain's Basque Country—the latter of which differ from the highly carbonated ciders available at the local grocery store. Typically fermented naturally with the yeast and bacteria that exists on the apple skins, these still ciders are dry, earthy and quite sour. Order one with a porrón—a specialized drinking vessel that looks like a cross between a wine decanter and a bong, from which you stream the cider into your mouth to create a carbonated sensation. arcanarestaurant.com
---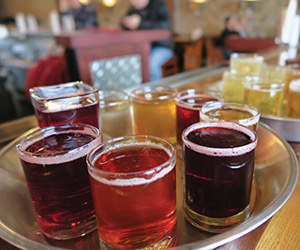 Know Your Ciders
There's no better way to explore what types of cider are available than to try as many as possible. With 48 taps and ciders ranging from whiskey barrel-aged, sweet to dry and everything in between, Scrumpy's Hard Cider Bar and Pub in Fort Collins is a must visit. If you're unfamiliar with the range of styles and flavors available, try one of the flight selections of eight small pours. Sample dry and sweet, English and American. Although cider styles are much more loosely defined than beer styles, there are some definitive characteristics between countries of origin, which the knowledgeable staff will happily help you discover. scrumpys.net
---
Contributor Cody Gabbard writes CAG's Tapping In column. Read more of his writing at coloradoavidgolfer.com. 
This article appears in the Fall Issue 2017 of Colorado AvidGolfer, the state's leading resource for golf and the lifestyle that surrounds it, publishing eight issues annually and proudly delivering daily content via coloradoavidgolfer.com.