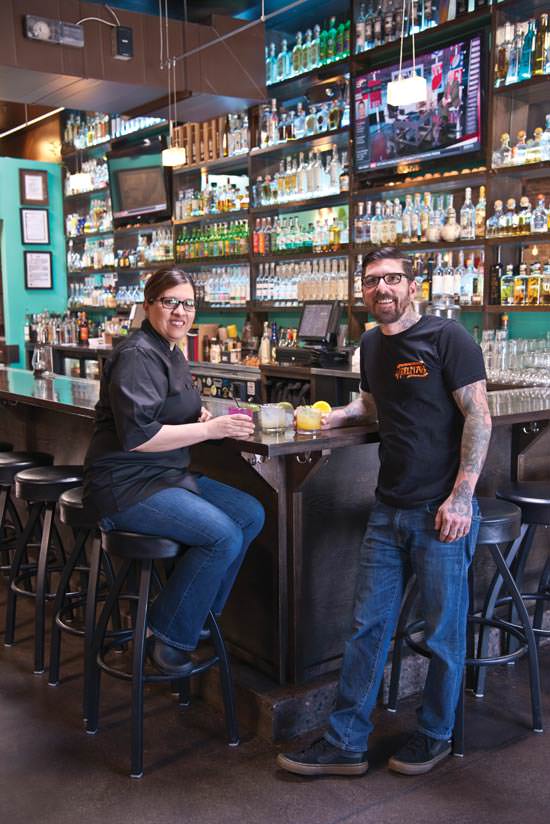 Let's face it, the most popular Mexican restaurant food is hard to swallow if you've ever had the real deal—those booming burrito chains are far from authentic. Culinary teams obsessed with holding the line are worth celebrating, and Brian Rossi, who had managed Mezcal and El Camino in town, finally has a thriving Mexican restaurant of his own—Adelitas Cocina y Cantina.
"I wanted my own business, for my family and for a passion project," Rossi says. "With Adelitas, I'm immersed in Mexican food and culture. It makes life easy!"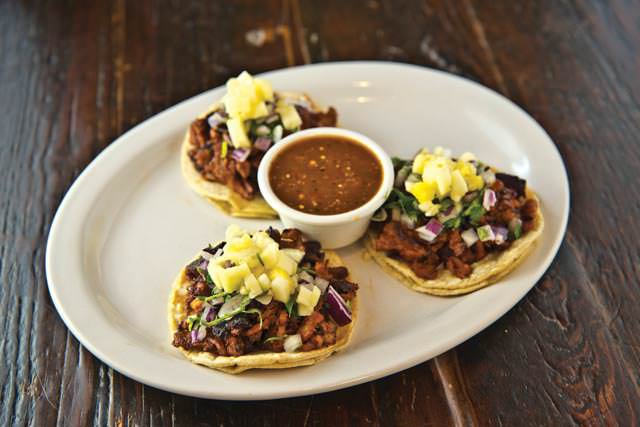 His festive little oasis on Broadway is in its own league. Much of its appeal lies in the ambiance. The stylish bar design features a mirrored background and shelves for liquor that reach all the way to the ceiling. The vibrant colors and local artwork on the walls are commanded by a mural of La Adelita, a chesty female warrior in the Mexican Revolution.
Chef Sylvia Ayala is an adelita in her own way (the word has come to refer to brave, altruistic women). Rossi's partner in the restaurant, she cooks classic family dishes from scratch; the recipes come from her homeland in the state of Michoacán, located on Mexico's southern Pacific coast.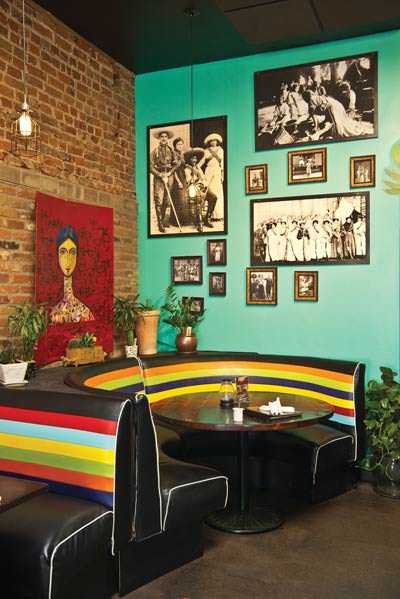 "It's a big area with a lot of different landscapes, from dry barren desert to mountainous to tropical," Rossi says. "It allows the access to lots of diverse fruits, vegetables and chiles."
The latter are quite crucial to the ruddy house mole sauce. Typical moles are dark, thick and rich, and even an "easy" mole is crafted from, oh, 15 ingredients. Sylvia's secret recipe doesn't use peanuts or unsweetened cocoa/chocolate, so it's less dense, but it's abundant in spicy flavor.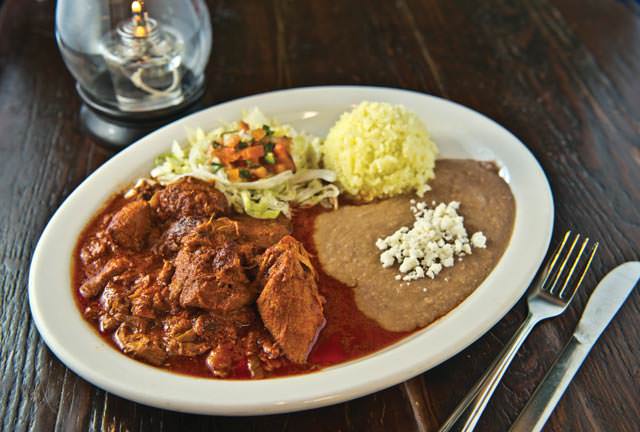 "It's all about the chiles, guajillos," Rossi explained. "The source that we originally used was unable to get them, and the mole changed. So we tracked them all the way down."
Ayala's Michoacán fare focuses on fresh ingredients, some flavors from citrus and an awareness of presentation—dishes such as the tamalitos and ceviche appetizers look as pleasing on the plate as they taste on the tongue. Pozole, the traditional Mexican stew, is constituted of hominy and oversized chunks of pork laced with those chile guajillos and served with a plate of fresh cabbage, chopped radishes and cilantro-sprinkled onions for crunch. ¡Fantastico!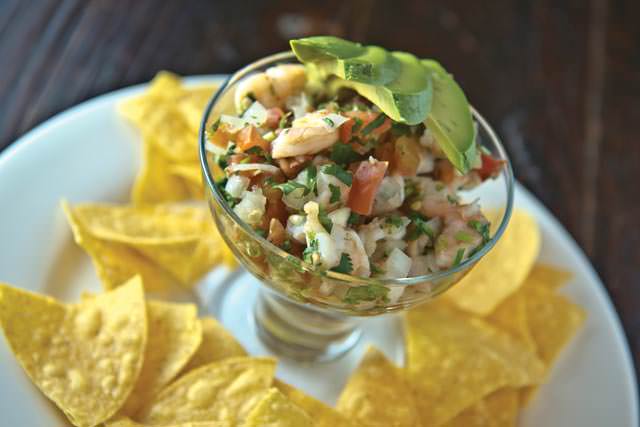 Molcajete cooking involves putting meat, vegetables and sauce in a piping-hot bowl carved from volcanic rock, a variation on traditional clay pot cooking. Adelitas' Mar, Tierra y Cielo Molcajete ("land, sea and air") brims with flank steak and shrimp, with the chicken being the air (okay, chickens don't fly, but the unbeatable flavor justifies the artistic license). Besides the meats, the immense bubbling cauldron (which could serve two) contains portions of green onions, Mexican white cheese and sliced nopales (cactus pad).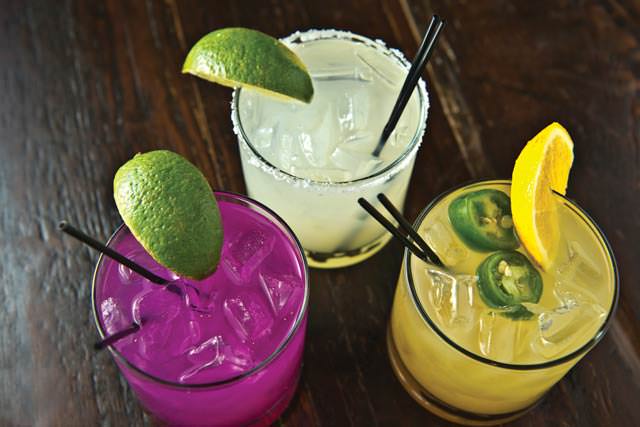 The perfectly seasoned Carne Asada (Ayala's marinade is a secret, natch) can be ordered as a plate or as a layer in the Chavindecas appetizer, a type of quesadilla (two corn tortillas traditionally filled with spinach and mushroom).
The Puerco Con Chile Colorado serves oh-so-tender pork covered in a flavorful sauce (yep, those guajillos again) that begs to be sopped up with a warm tortilla. I'd eat Adelitas' mole sauce on a Kleenex, but the chipotle crema is equally sublime.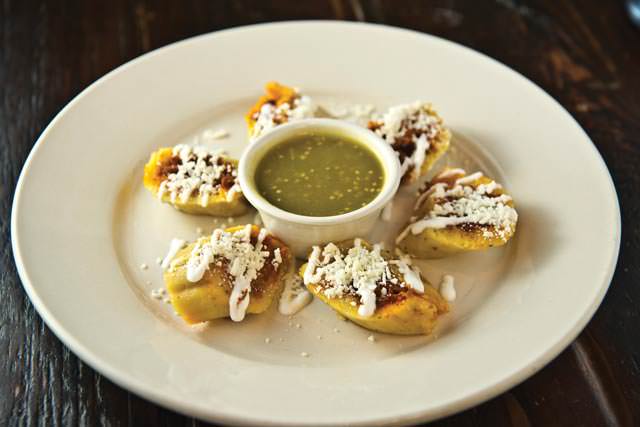 The vibrant energy of the restaurant is especially appealing on $1 Taco Tuesdays, and the friendly staff makes warm recommendations, like the pineapple-topped Tacos Al Pastor. The bar serves as headquarters for a bevy of reasonably priced tequila options. The award-winning house margaritas, a bargain at five bucks, are well-balanced—not cloyingly sweet or revoltingly tangy—with fresh-squeezed lime juice, agave syrup and triple sec, and you know there's some Cimarron tequila in them.
There are also enchanting cocktails—try the Down in Laredo, a mash-up of whiskey and tequila. Rossi and his masterful mixologists are also bent on associating mezcal with old-world spirits.
"I get to various spots in Mexico at least four times a year and tour a lot of mezcal distilleries in Oaxaca," he enthuses. "Mezcal is tequila's grandfather, produced for over 500 years. All of these small villages and families have never been able to make money on mezcal until the last couple of years; they just trade for food or labor. Truthfully, mezcal is not a product but a culture, a lifestyle.
"I also try to get my staff down there as much as possible. If you're here a year, I'll get it done. I took my manager to Jalisco for a week visiting producers, the first raicilla (a fire-roasted cousin of mezcal) trip on record. It brings out everyone's spirit—having a restaurant like ours where you feel like you're in Mexico!"
1294 S. Broadway
303-778-1294
RELATED ARTICLES:
Pan-Frying for Gold: Restaurant 1858 at Seven Falls
Back on Top: Telluride's Allred's Restaurant
This article appears in the June 2016 issue of Colorado AvidGolfer.
Colorado AvidGolfer is the state's leading resource for golf and the lifestyle that surrounds it. It publishes eight issues annually and proudly delivers daily content via coloradoavidgolfer.com.