Ideas for what to give the golfer this season— or put on your own wish list.
By Suzanne S. Brown
---
TAKE IT PERSONALLY. Keep toiletries and grooming tools organized with a leather-trimmed canvas hanging valet locker bag, $50.30, or shave kit, $39.50, from Eisinger Smith of Golden. Styles in black and brown leather are also available: the Mesa collection hanging bag is $71.20 and the shave kit is $39.50. The accessories are lined with moisture-resistant nylon. Personalization is available; shipping, extra. To order, call 800-222-8444 or e-mail [email protected]
BOTTLE SERVICE. Boulder-based EcoVessel set out to make a better bottle and succeeds in a number of ways. Many of the company's designs are triple-insulated with copper, stainless steel and a vacuum center that keeps beverages hot for eight hours or cold for 36. Bottles have interchangeable tops that include a flip spout, stainless steel top with a dual opening and carry strap, or a push-button top with lock. Another innovative feature in the Perk is a removable strainer that can be used for tea, fruit or ice. Various shapes, sizes and colors are available, including copper mugs and wine tumblers, $18 to $33. ecovessel.com
SWEET TREATS. The batches of toffee that Kelly Wherry whipped up in her Denver kitchen more than 20 years ago for friends and relatives were so popular she turned her candy-making into a business. Her family recipe, perfected and expanded with novel flavors like pumpkin spice, now sells in more than 150 shops nationally. Holiday flavors include eggnog and starlight mint, as well as salted caramel and traditional English toffees. Choose four ¼-pound cartons and send them in a gift box for $45; or make  ¼-pound selections for $10 each, which make great hostess gifts or stocking stuffers. Looking for a company gift? Miss Kelly's Candies customizes packaging with company branding on all flavors. See the full product line, which includes cocktail caramels, at misskellyscandies.com
SOCKS APPEAL. It's hard to know which character pair to give as a gift from Stance's "Caddyshack" socks collection. Will it be Carl Spackler—the wacky greenkeeper played by Bill Murray in the 1980 cult film—or the gopher he tries to annihilate? Then there's funny, cranky Judge Smails. No matter the choice, all treat the wearer's feet to anatomically correct designs for the left and right feet, cushioning support and moisture-wicking fabric, $16-$20 per pair. stance.com
IN THE PINK. Cool pink, blue and white are the perfect antidote to winter's drabness and make up the color palette designers at EPNY chose for its Ice Ice Baby collection. In addition to the variety of separates in the line is a vivid pink dress and undershorts trimmed in a print with contrast interlocking circles, $114. For stores call 800-926-8010; more from the collection at epnygolf.com
COVER STORY. Bright pops of color and Swarovski crystal-studded knit covers will add sparkle to her driver, fairway and hybrid clubs as well as her game. Linda Faye started Just4Golf when she couldn't find feminine accessories and now offers head covers in singles or sets in a variety of colors and patterns, including dots, stripes and argyle. The 3-piece lime set is $59, sparkle dots are$78, and made-to-order driver cover with 250 crystals is $198. just4golf.com
SHIRT TALES. Guys who like the look of an untucked shirt but can't seem to find one that hits at the right length will appreciate designs from Johnnie-O, which describes itself as a blend of West Coast surfer style, East Coast prep and Midwestern practicality. The company's woven shirts hit just at the hip, are cut fairly straight across and have a lower last button so the ends of the shirt don't gap at the bottom. In addition, the company sneaks in a hidden "tweener" button between the second and third buttons that lets a guy go from buttoned-up and businesslike to cool and casual. Among the many styles are the cotton buffalo check, $98. *Also functional and stylish are the Midtown quilted jacket, $295, and Sawyer 5-pocket pants in cotton with a bit of stretch, $145. johnnie-o.com
IF THE CLUB FITS… you'll lower your scores by as much as six strokes per round and add more than 20 yards on your tee shots. Those are the average results achieved through Club Champion, the country's premium club fitter, builder and retailer of the best brands in golf. Offering more than 35,000 hittable head and shaft combinations, Club Champion utilizes a proprietary in-house fitting process that incorporates dozens of variables to create clubs of the optimal swing weight, length, lie and shaft flex. Fitting every club in your bag runs $350, but if a golfer books and completes the process before January 31, 2018, he or she pays only $175. Similar discounts apply to individual club fittings for irons or drivers ($99 instead of $150) and putters ($66 instead of $100.) Prices are for fitting only. Clubs are available for purchase, though Club Champion can also optimize a golfer's current clubs. Fittings at Club Champion (2670 E. County Line Rd., at University) are by appointment only, but you can purchase a gift card anytime at clubchampiongolf.com or 888-340-7820.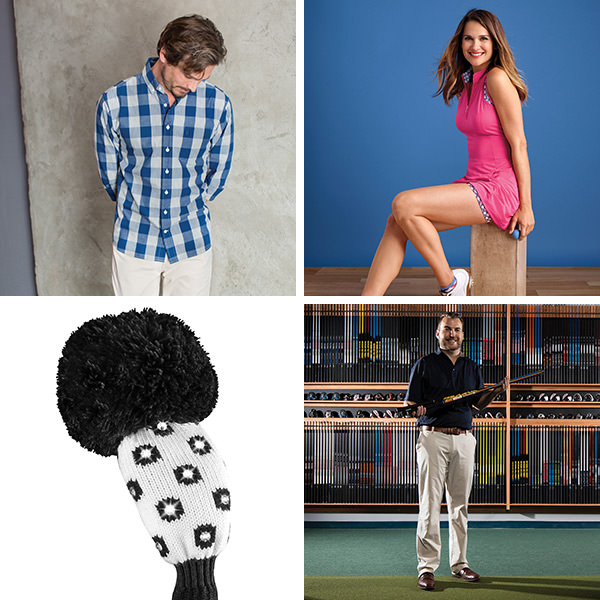 AGAINST THE WIND. Winter conditions might threaten to put a guy off his game, but the right outerwear will make him forget about the weather and focus on his performance. Case in point: Kjus' Dweight soft shell half-zip jacket in Polartec Windbloc fabric. In addition to keeping the wind out, the four-way stretch material is breathable, fast-drying, water- and dirt-repellant. Four color choices, $349. kjus.com
LINK ANALYTICS. The tech-savvy player who wants to take some of the guesswork out of the game will love receiving the Arccos Golf 360, which combines shot tracking, GPS 2.0 and a proprietary analytics platform. The device has sensors that the golfer applies to his clubs, then the Arccos 360 records the shots and analyzes the data to help him make better decisions while on the course. After completing a minimum of five rounds, the golfer can access the Arccos Caddie, an artificial intelligence platform that uses data from Arccos users as well as GPS info to give golfers suggestions for on-course strategy, provides accurate GPS distances to any point and also calculates
"plays like" yardage that measures the impact of wind and elevation, $250. Arccosgolf.com
CLOSE TO THE VEST. Brad Franklin started his Toronto-based Bradley Allan men's golf collection just over a year ago, but he brings years of experience and knowledge to his products, having worked as a golf professional and as a product developer and designer in the golf apparel industry. Franklin loves natural fibers like pima cotton, but recognizes the need for performance materials, so he develops his own fabrics. Among the items in his fall collection is the graphite mélange gray quilted nylon vest with PrimaLoft insulation for lightweight warmth. Like the rest of the collection, it will function as well on the course as in the city, $149. bradley-allan.com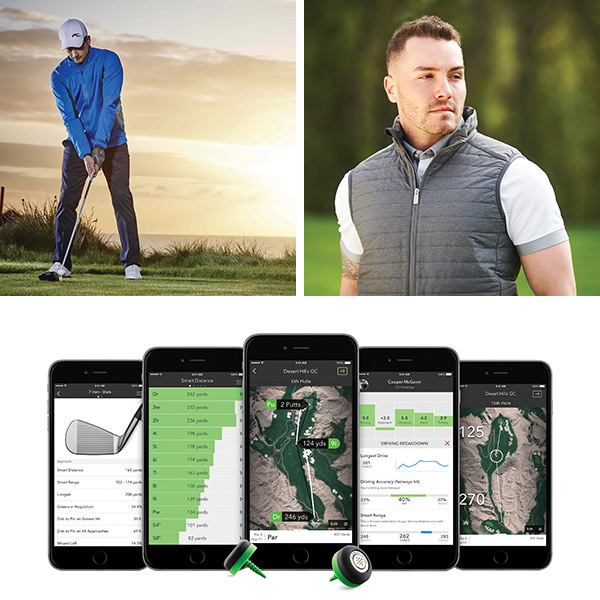 ---
Suzanne S. Brown is the former fashion and features editor for The Denver Post. She also contributes to Mountain Living and Colorado Expression.
This article appears in the Winter 2017 Issue of Colorado AvidGolfer Magazine, the state's leading resource for golf and the lifestyle that surrounds it, publishing eight issues annually and proudly delivering daily content via coloradoavidgolfer.com.