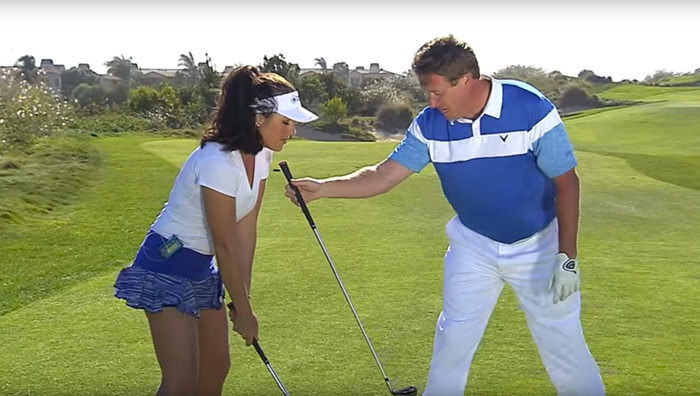 January in Colorado can mean a lot of things. The rush of the holidays is over and the start of the new year brings with it excitement and resolutions. We can be hit with a foot of snow and below-zero temperatures one weekend and see glimmers of green grass as temperatures rise to the 50s and 60s the next.
For golfers, the latter type of a sun-soaked January day can stir up a renewed desire to get back on the course as we anxiously await for spring. Paired with the optimism of a new year, many of us set out to improve our swings, our games, or even just our level of enjoyment out the game. One way to achieve all three is by bringing more consistency to your swing and your iron shots.
In the video below, Jimmy Hanlin and Carling Nolan share some simple tips to help you achieve a better swing. For amateur golfers, these can be great starting points to a better year of golf ahead. For the more advanced golfer, these can be great check points as you start warming up your golf game for the spring.
As Hanlin explains, consistency is most important for your iron game. This isn't your driver where you're trying for maximum distance. If you need to hit a shot 140 yards, you want to hit it 140 yards.
Three tips for consistent iron shots:
80%: Nick Faldo once said he never hits his iron shots more than 80%. This allows you to stay in (see #2)…
Balance and Posture: To make the same swing every time, we have to keep our balance and posture.
Chin at the golf ball: Keeping your chin at the golf ball keeps your head level and allows your body to turn smoothly into your swing.
---
Visit our Instruction area for more golf tips, instruction, and lessons.
RELATED:
4 Tips for Straighter Drives
See Jason Day's Warm Up Routine
How to Hit a 3-Wood Off the Deck
Should You Chip with a 7-Iron?
Colorado AvidGolfer is the state's leading resource for golf and the lifestyle that surrounds it, publishing eight issues annually and proudly delivering daily content via coloradoavidgolfer.com. Follow us on Twitter, Facebook and Instagram.