Winter is coming, get something that can weather the storm.
---
The crossover craze came along at just the right time for companies like GMC, goosing sales in a major way. The importance of the Acadia to the bottom line means that their decision to shrink its scale so dramatically was quite ballsy; this second generation machine is over seven inches shorter and 3.5 inches narrower; the smaller shell is built of higher strength but lighter materials, meaning GMC can claim a curb weight reduction of up to 700 pounds.
It certainly feels close to that reduction when you drive the new Acadia; its precision steering, chassis control and the alacrity which with it changes direction are in another world to the behemoth it replaces. This GMC accelerates in a much more sprightly manner too, with the redesigned 3.6-liter V6 offering revvy and refined sprints to 60mph in just over six seconds. This 310hp engine is the only one for the Rockies; there's a smaller four banger for front-drive models destined to live life at lower altitudes. Fuel economy is class-average at around 20mpg combined, despite a new AWD system that ostensibly allows for more efficiency by disconnecting the rear axle.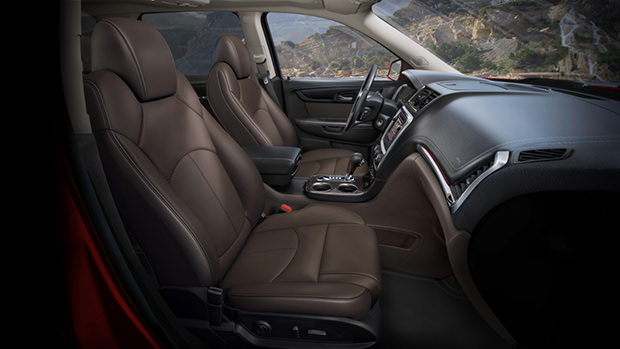 The Acadia looks terrific, especially gussied up in the test model's All-Terrain package, whose blacked out chrome, chunky 20-inch wheels and other body addenda suggest epic adventure might be in store. It's just the right size too for most folks' use, being much easier to park and maneuver in tight urban confines yet still having a commodious cockpit. Materials are actually of decent quality, but General Motors has a singular talent for making them seem cheap. It's something about the plastics' graining and colors, along with switches and shapes that look more downmarket than the rather ambitious price point suggests they should be. There's a third row available in other models; the All-Terrain makes due just two, the second of which easily folds flat and both of which are very comfortable. The General's latest infotainment system is generally responsive and easily figured out too. The remaining question is if class-leading dynamics and appealing aesthetics are enough to offset the lack of equipment and perceived interior quality at the near-$50,000 sticker price. Sales numbers will answer that; the inherent depth of talent and utility in this new Acadia platform are unequivocal.
---
EPA ratings: 18/25mpg; 20mpg combined
0-60mph: 6.1sec
Price as tested: $48,065
Here is what GMC has to say.
4 Stars
---
Contact Isaac Bouchard for help saving time, money and hassle when buying or leasing one at [email protected]