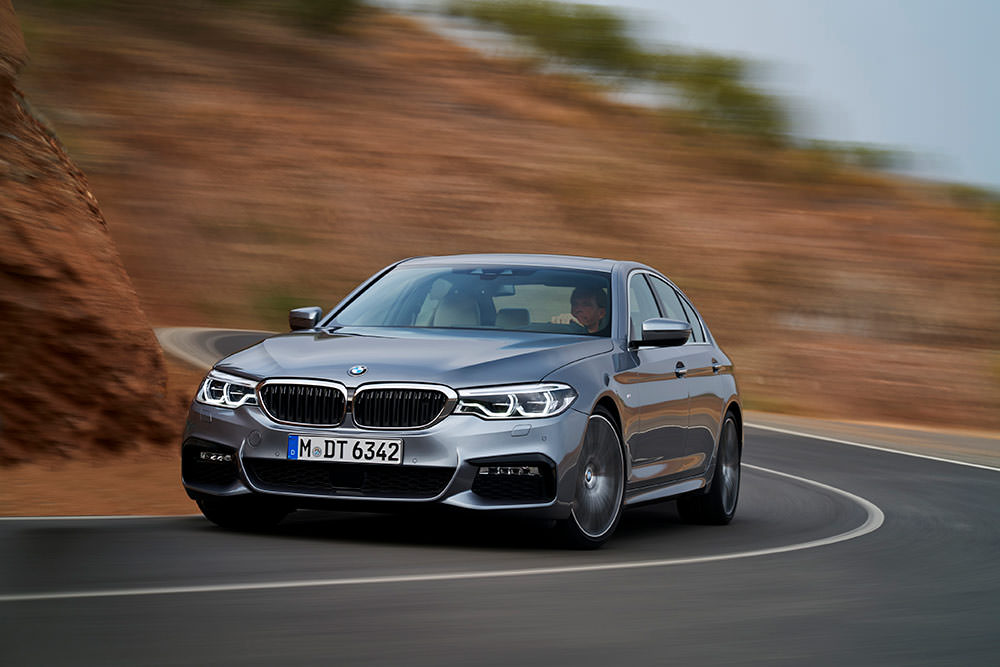 Scuttlebutt said BMW intended the new, 7th generation 5-series to be a return to the true sports sedan ethos of the E39 series from the turn of the century. But it wasn't better handling or faster acceleration—both of which the new, G30-series 5 has—that convinced me. I actually began to believe when I flicked the turn signal stalk to take a corner and it didn't immediately re-center itself, only returning to its resting position once I'd straightened the lovely sports steering wheel.
This certainly hasn't been the case in BMWs built over the last decade; instead, this perfected little device was redesigned in a manner that made it harder to use rather than easier. The fabled German company has always been willing to push the envelope technologically—iDrive was the first true infotainment interface, and went from being horrid to the industry standard—but this return to blinker grace demonstrated a newfound sense of focus from the company. As does the 530i as a whole, with a more athletic demeanor than the outgoing car; the chassis is more interactive, with absurdly high limits, quicker reactions and more feedback through the seat of the pants. About the only area that didn't really make much progress is the steering, which is still Opioid-addict numb. At least it is linear and very accurate.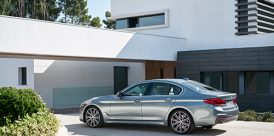 Both the test 530i and a briefly sampled six cylinder-powered 540i have quite the appetite for that; independent tests show the six to be almost as fast as the fabled E39 M5, with 0-60mph being dispatched in the mid-4 second range. The 530i's B46-engine makes 248hp and 258lb-ft and will be more than enough for most needs, with what feels like sub-6 second poke. It does sound like a diesel at idle and never sings like the 540i's six, but it lightens the nose, improving turn-in response. What it doesn't do is benefit real-world fuel city economy.
The 530i's aesthetics and interior illustrate BMW's conflicting drives to satisfy the Sybarite in all of us but also its lack of conviction to move forward stylistically after the poorly received Bangle-butt era. This latest 5 series could almost be a clone of its predecessor from the outside, though closer inspection reveals myriad new character lines and thoughtful detailing, and its proportions are nigh on perfect. However, it's inside that the real beauty is to be seen, with gorgeous surfacing, an improvement in material quality and a level of craft that reminds us that BMW owns Rolls Royce. The latest iDrive 6.0 offers more options—including touch sensitivity to its 10.3in screen—but had a few glitches that are now typical of major OS changes. The 530i is an incredibly serene place to while away the miles, with a super stiff yet lighter structure and incredible isolation from road and wind noise. It is more refined now than most anything one might consider a competitor, and many ostensibly more luxurious machines as well.
The 530i's semi-autonomous driving aids available generally work well, Traffic Jam Assistant in particular being a real boon at times, though the lane assist system still seems to have a tendency to wander back and forth like a tipsy driver undergoing a sobriety test. The BMW is in no way alone in this; it will take a wholesale repaving and bolder lane markings to move us to truly autonomous driving. In the meanwhile, this newest 5 series is one of the most pleasing places to enjoy the actuality of piloting a luxury sports sedan, regardless of which of those seemingly conflicting attributes are important to you.
---
Isaac Bouchard is owner of Bespoke Autos, an auto brokerage that helps people save time, money and hassle when buying or leasing vehicles. Since 1991 he has helped his clients save over $1 million dollars. He has written extensively about getting the best deal possible when buying or leasing a vehicle, arranging financing or trading in a car. Isaac has been a professional automotive journalist as well for over 13 years, having reviewed most all types of cars, trucks and SUVs.
---
Colorado AvidGolfer is the state's leading resource for golf and the lifestyle that surrounds it. It publishes eight issues annually and proudly delivers daily content via www.coloradoavidgolfer.com.