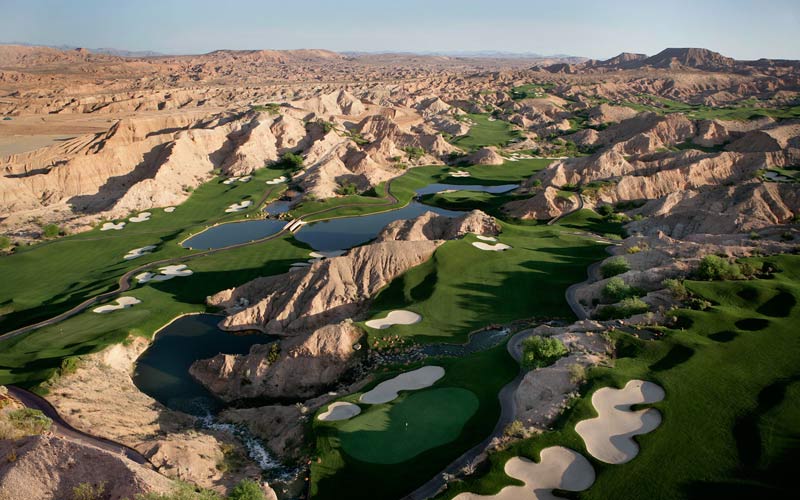 [box style="rounded" border="full"]
Scottsdale/Phoenix
Tucson
Las Vegas
Mesquite
St. George
Looking for deals? View all golf and travel deals, including deals and stay & play packages to the golf resorts below.
[/box]
Alchemist Architects Dennis and John Rider created golf gold when they reshaped the site's ubiquitous moonscape topography of plunging ravines and sandstone canyons into a one-of-a-kind, 6,939-yard masterpiece known as Wolf Creek Golf Club (pictured above). The 16-year-old course ranks as Golf Digest's 41st best public layout in America ("a fantasy calendar come to life, with holes clinging to stark canyon hillsides and plunging down narrow ravines"). The 19th hole is no less exceptional. Situated in the sleek 17,500-sqare-foot clubhouse, the popular Terrace Restaurant and outdoor pavilion major in stellar views and superb food and drink. golfwolfcreek.com
---
Smart Plays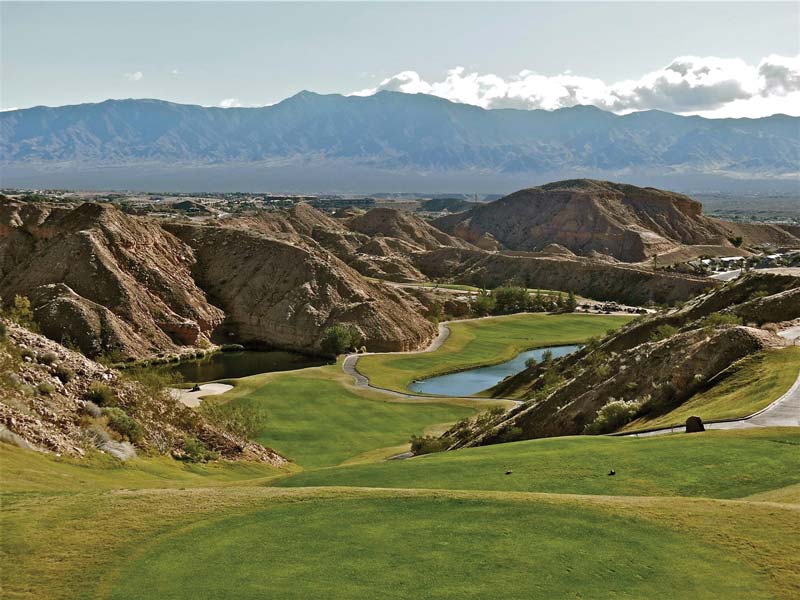 Falcon without a Snowman: Perched high on the cliffs of Mesquite, Falcon Ridge Golf Course flows through picturesque hills and canyons with spectacular views, precipitous elevation changes and memorable water features. Kelby Hughes and Cresent Hardy crafted this 6,550-yard challenge, which accompanies eye-candy holes with hearty fare in Scotty's Bar and Grill. golffalcon.com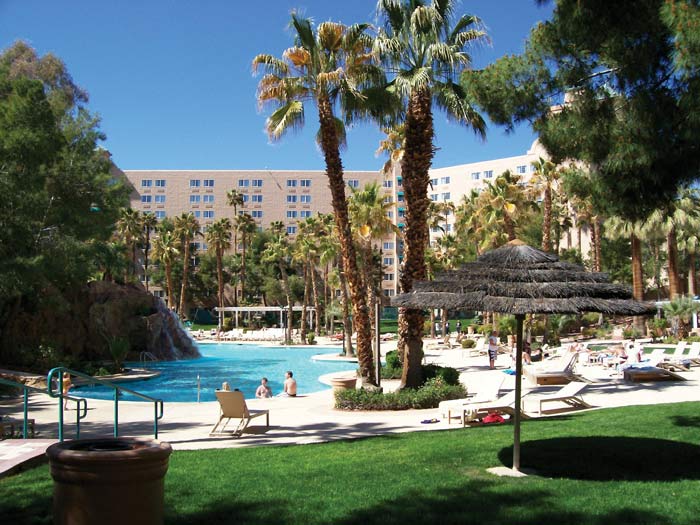 BIG PINK: The iconic rose-colored CasaBlanca Resort & Casino recently remodeled its 500 rooms, adding European-style bedding and other upgrades. Resort amenities include a spacious, clean-air, 24-hour casino with every type of game and sports and racing book; world-class co-ed spa; three restaurants, including Katherine's fine dining; a lagoon pool with water slide; live entertainment and a Cal-Olson-designed golf course. casablancaresort.com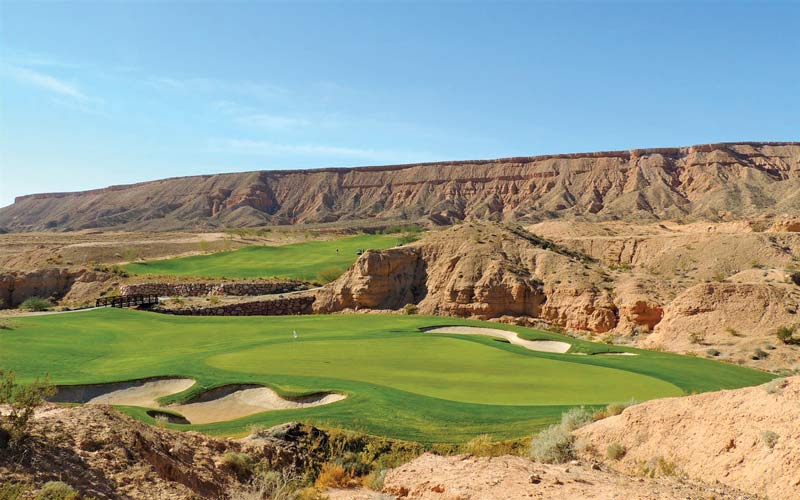 Named for the wagons that once carried settlers westward, Conestoga Golf Club invites cart-riding, club-wielding pioneers to traverse the myriad washes, arroyos, ravines, bluffs and bunkers that marble its lush fairways. Troon Golf manages the 7,232-yard Gary Panks layout that both Golf and Golfweek rank among Nevada's top 10 public courses. Five sets of tees let you bite off as much Conestoga as you like, but make sure to sink your teeth into the succulent burger in the club's 1880 Grille and sample its signature cocktail, the Branding Iron. conestogagolf.com
---
Placing Your Bets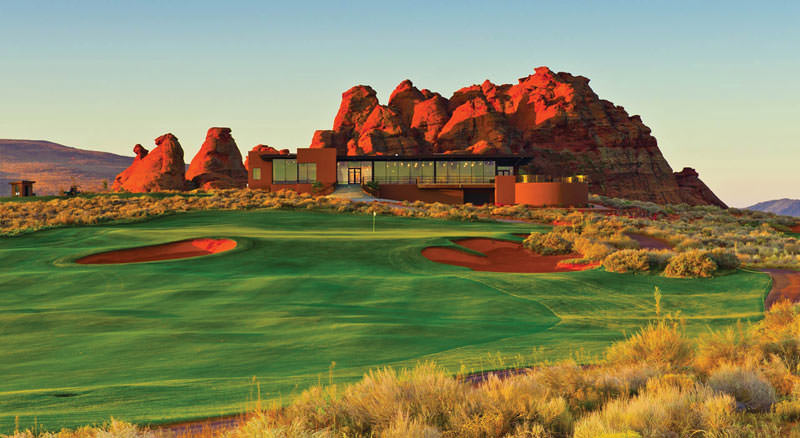 TURNKEY OPERATION: Few golf vacation packagers custom-fit vacations with the efficiency of Golf Mesquite Nevada. The one-stop shop helps you build a golf vacation that always hits the sweet spot between your budget and golf appetite. Relationships with area courses—including Sand Hollow and Coral Canyon, Golf magazine's #1 and #6 public courses in Utah—and hotels ensure you score the best possible deals. golfmesquitenevada.com
STRIKE IT RICH: The Eureka Casino Resort occupies a 60-acre property with newly remodeled rooms, suites and a resort swimming pool separate from the casino—complete with cabanas and lush gardens—and spa. Fine dining at Gregory's Steakhouse complements acres of slots and high-limit craps, roulettte, poker and Mesquite's only single-deck blackjack hame. eurekamesquite.com
---
What's Around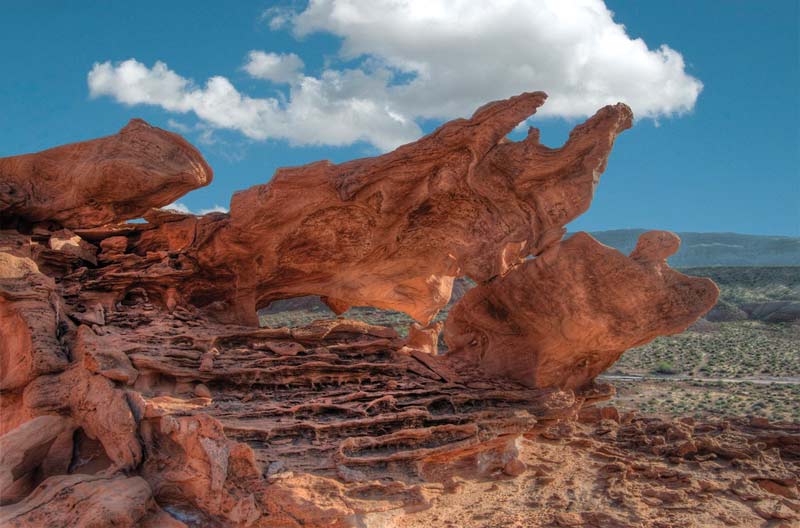 HEY GORGES: Although only 36 miles separate Mesquite from St. George, Utah, the Nevada town sits on the Arizona border. The scenic "Arizona Strip" of Interstate 15 connecting Mesquite and St. George cuts through Arizona's northwest corner and the beautiful Virgin River Gorge, where limestone cliffs hover 500 feet above the highway. 
TRAILBLAZER:  In 1990, The Palms Golf Club sparked the Mesquite golf boom—despite being across the Arizona border in Littlefield. The palm-lined, 6,804-yard, par-71 William Hull design boasts multiple water features and dramatic back nine elevation changes—such as the 114-foot plunge from tee to fairway on the par-4 15th. palmsgolfclub.com
NO CASINO, NO PROBLEM: Located on a hill across from Falcon Ridge Golf Course, the Holiday Inn Express Hotel Suites Mesquite provides a quiet, smoke-free, pet-friendly place to recharge before returning to the action. ihg.com/holidayinnexpress   
FINLAND IN THE DESERT: Also known as Hobgoblin's Playground and Devil's Fire, Little Finland (pictured above) glows with orange Navajo sandstone formations in wild, Daliesque shapes. Located about an hour's drive south of Mesquite via the rugged Gold Butte Backcountry Byway and best accessed by 4-wheel drive or ATV, the remote scenic area rewards the adventurous with countless photo opps of the erosional "fins" that give the area its name. blm.gov
POCKET CHANGE: In the same Gold Butte region of Little Finland, you'll find Whitney Pocket, home of wind-sculpted red, yellow and white sandstone, easy hikes, Native American petroglyphs and incredible vistas. Nearby, check out the 125-foot-deep, 75-foot-wide sinkhole known as Devil's Throat. Look for the fragile Golf Butte environment soon to be designated a National Conservation Area. blm.gov
---
Seize the Day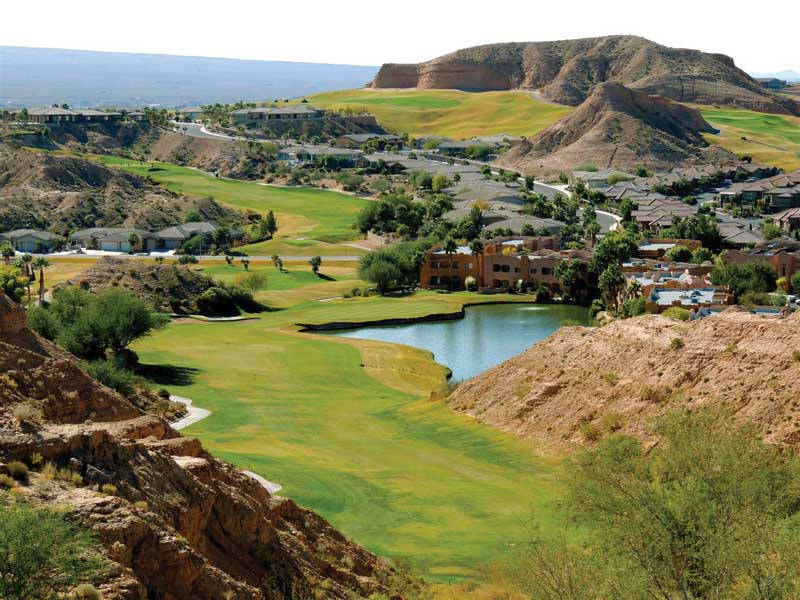 Two fabulous golf experiences await at the semi-private Oasis Golf Club, which turned 20 last year and hosted all but one episode of The Big Break Mesquite in 2007. Mesquite's only 36-hole facility, Oasis features two Arnold Palmer designs—Palmer and Canyons—and three of the top 18 holes the King says he's ever designed (nos. 5, 6 and 8 on the Palmer course). Both par-71 courses traverse rugged landforms with fairways and greens tucked between escarpments. At 6,403 yards from the tips, the Canyons is the shorter of the two by a pitch shot but rated more difficult in slope. theoasisgolfclub.com
Golf courses aren't the only works of art in Mesquite. The Mesquite Arts Center highlights and displays the works of more than 180 painters, potters, sculptors, photographers and other members of the Virgin Valley Artists Association. Admission is free, and the gift shop supports the artists. mesquitefineartscenter.com
120 MPH is awesome for swinging a golf club and flying through the air. Mesquite Skydive, located at the airport north of Wolf Creek Golf Club, is Nevada's largest full-service drop zone. Its certified instructors cater to divers of every experience level. skydivemesquite.com
---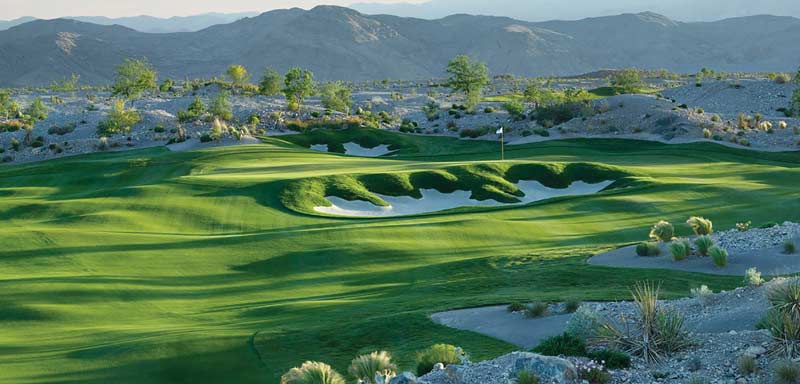 Equidistant from Mesquite and Las Vegas, Coyote Springs Golf Club ranks among Golf Digest's 100 Greatest Public Courses and among the Top Places You can Play by Golf and Golfweek. Playing from 5,349 to 7,471 yards and surrounded by mountains in every direction, this exhilarating eight-year-old Jack Nicklaus Signature course bobs and weaves around 11 lakes and ponds, crushed-stone waste areas and native vegetation. With an average of slightly less than seven bunkers apiece and lickety-split greens, each hole provides a memorable challenge, making it well worth arriving early to get in some work on the impressive 19-acre practice facility. coyotesprings.com
What To Do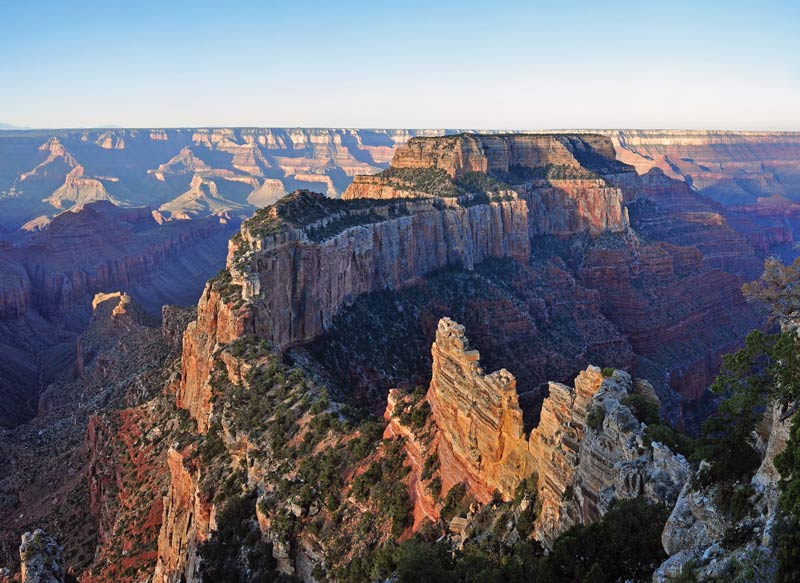 DRIVE THE SCENE: Although Mesquite no longer hosts the RE/MAX Long Drive Championships, the surrounding area still inspires impressive drives. Twenty minutes in the car brings you to the Virgin River Gorge Recreation Area. Or experience the radiance of  Valley of Fire State Park (50 min.), Dixie National Forest (75 min.) Lake Mead (75 min.) and the Grand Canyon's North Rim. (2.5 hrs).

CASA COURSE:  Nestled along the wetlands of a wildlife sanctuary, CasaBlanca Golf Course was crafted by Cal Olson with great sensitivity to the surrounding environment. A key stay-and-play amenity of CasaBlanca Hotel & Casino and the Virgin River Resort & Casino, the walkable 7,011-yard layout takes in sweeping desert vistas and views of the Virgin Mountains. Water comes into play on at least six holes, though not necessarily forcing carries. casablancaresort.com
So Many Choices
ROLLING ON THE RIVER: In addition to tossing dice, guests at Virgin River Resort & Casino can roll strikes. The 700-room resort features 24 bowling lanes and a game arcade with prizes and a snack bar. The Virgin's better known for other games—blackjack, craps, Texas Hold'em, three-card poker, roulette—as well as Sierra's Buffet, the River Cafe and access to the Palms and CasaBlanca golf courses. virginriver.com
WHAT'D YA SHOOT?: Owned by a Grand Junction family that moved to Mesquite in 2014, The Smokin' Gun Club features traps, sporting clays, skeet range, five pistol ranges and a 10-station 3-D archery course. The 113-acre property also boasts a motocross track and areas for RVs and tents. thesmokingunclub.com
HIKE A VIRGIN: The Virgin Mountains rise west of Mesquite. Make the 23-mile drive to the trailheads for Little Virgin Peak, the top of which rewards you with views of Davidson, Moapa and Mormon peaks, Valley of Fire, Lake Mead and Virgin Peak. summitpost.org
---
This article appears in the Fall 2016 issue of Colorado AvidGolfer. Subscribe today!
Colorado AvidGolfer is the state's leading resource for golf and the lifestyle that surrounds it, publishing eight issues annually and proudly delivering daily content via coloradoavidgolfer.com. Follow us on Twitter, Facebook and Instagram.