Here are 18 state-centric golf experiences worth having before checking in with the starter at Heaven's Gate.
1. Go East.
"Inland links" may be an oxymoron to golf traditionalists, but how better to describe Ballyneal, a purist's delight designed by Tom Doak on Colorado's Eastern Plains? A two-and-a-half-hour drive from Denver, the walking-only course roils across huge dunes with firm, fast fescue fairways and greens, no tee or yardage markers (caddies are a must), and wind reminiscent of the seashores that spawned the game (and even affects putts). Ballyneal allows limited public play by overnight guests who stay in one of its four plush lodges. ballyneal.com
2. Shoot a Rare Bird.
Also known as an albatross, a double-eagle occurs roughly 200 times less frequently than an ace, making it about a 2,600,000-to-one shot. Think about it. Even a 20-handicap can luck into holing a 120-yard tee shot. But can the same player reach a 525-yard par-5 in two, let alone jar one from the fairway? Bonus: You don't have any drinks to buy.
3. Get on Sanctuary.
Built in Sedalia by RE/MAX founders Gail and Dave Liniger exclusively to raise money for charity, Sanctuary is one of Colorado's toughest tickets. The spine-tingling Jim Engh-designed course annually hosts only two-dozen tournaments, with the average group raising $190,000. Foursomes have gone for as "little" as $1,600 and as much as $10,000. sanctuarygolfcourse.com
4. Shake It Up.
Playing the private Castle Pines Golf Club is a treat in itself, but a pint of Häagen-Dazs spindle-mixed into a creamy milkshake at the turn makes the experience that much sweeter. During The International's 20-year run, there wasn't a PGA Tour pro that didn't rave about the vanilla or chocolate shake.
5. Play 'em all.
Between 1990 and 2009, close to 100 golf courses opened in Colorado, bringing the current checklist to a daunting 250 courses (hey, it could be worse; imagine playing Florida's 1,103). Private clubs have become more accessible as they look to sell memberships but Castle Pines, Denver and Cherry Hills can become your white whales.
6. Do the Colorado Combo.
Late March and all of April present the best opportunities for a ski-golf doubleheader. Hit A-Basin or Loveland, which stay open late into the season, for some morning runs. Then, to ensure enough daylight for 18 holes, stay on the west side—Deer Creek, Fossil Trace, Applewood, Raccoon Creek.
7. Turn a Triple Play.
Why live in Colorado if you don't savor the great outdoors? Bookend a round of golf with a morning run and a late afternoon of hunting, fishing, hiking, biking or sailing.
8. Play in the sand.
Before improvements in irrigation and grass seed came along, many golfers competed on sand green courses. Yuma's Steve Jones, the 1996 U.S. Open Champion, won the Colorado state sand-greens championship. Oiled silicate, raked smooth, still serves as the putting surface at such eastern Colorado courses as Plainsman in Kirk and the Prairie Golf Course in Cope.
9. Be the King.
To drive the green à la Arnold Palmer on the first hole at Cherry Hills, you of course first have to be invited to play. That said, more than a half-century of equipment innovations have allowed hundreds of lesser players to match Arnie's 1960 U.S. Open feat, but it still takes a mighty poke to drive it 346 yards. chcc.com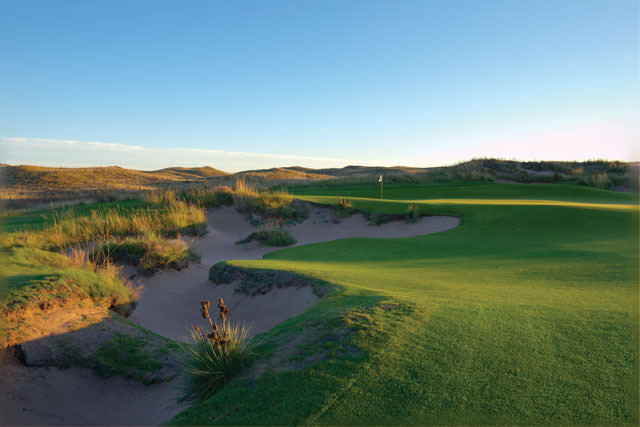 10. Go Off the Grid.
You want private? There's a nine-hole course east of Greeley, that doesn't appear in any golf guide. It's one of the many amenities at Eagle's Nest Ranch, a 45,000-acre retreat owned by Philip Anschutz that also features two spectacular lodges, a working cattle ranch, bird hunting, river fishing and lavish accommodations for up to 12 guests (mainly corporate retreaters). Eagle's Nest Ranch partners on a limited basis with another Anschutz property, The Broadmoor in Colorado Springs. eagles-nest-ranch.com
11. Get Sprinkled With Stardust.
They chip and putt among us, the athletes, newscasters, musicians and personalities we all recognize. And not all are country club members. For example, former Nugget J.R. Smith, a regular player at City Park, once got paired with Mike Wolf, a friend of the magazine, who proceeded to dunk his first-ever hole in one. Your best bet at a brush with celebrity? Sign up for a pro-am with famous guests.
12. Pay It Forward.
CommonGround Golf Course does uncom-mon good. It's home to The Solich Caddie and Leadership Academy, a two-year program that creates opportunities for young people to develop leadership skills and enhance character. So take a caddie. The Colorado Golf Foundation pays them, it costs nothing but the time spent helping a young person while enjoying something you love. But pay it forward and tip anyway. commongroundgc.com
13. Pay It Back.
More than 2,500 people signed up to volunteer for the 2014 BMW Championship at Cherry Hills. Assignments can range from taking tickets to stocking merchandise, but the overall experience affords an intimate look at a championship operation and allows you to give back to the game. The next big local opportunity will come when The Broadmoor hosts the 2018 U.S. Senior Open. Apply early. 2018ussenioropen.com
14. FORE-teener!
Environmentalists will gnash their teeth, but could anything be more Colorado than smacking a biodegradable golf ball from one of our 54 14,000-foot peaks? GolfTEC's Steve Bauerle is summiting all 54 for charity, but he's just taking swings when he arrives, Leaving No Trace. 14ergolf.com
15. Experience The Broadmoor.
It's not just the thrill of playing the legendary East and West courses. It's the entire five-star, five-diamond package—from the attentive service and exquisite cuisine to the diverse accommodations and activities—that elevates the iconic Broadmoor to "must-do" status.
broadmoor.com
16. Get the Lead (and Copper) out.
With tees at 10,152 and 9,863 feet above sea level, Mount Massive and Copper Creek respectively rank as the highest nine- and 18-hole courses in North America. Only a half-hour drive separates the two, and the combined elevation exceeds that of base camp at Mount Everest. mtmassivegolf.com; coppercolorado.com
17. Win Something.
Whether it's the CGA Stroke Play, CWGA Niblick or the D flight of your Thursday night league championship, the thrill of victory at a sport so challenging delivers the fleeting sense of accomplishment that the Jordan Spieths of the world feel all the time.
18. Invest in your game.
Colorado rates as one of the most progressive PGA sections in the country. GolfTEC started and headquarters here. We have AimPoint experts like Stan Sayers at Colorado Golf Club; nationally recognized instructors like Don Hurter (Castle Pines), Trent Wearner (Meridian) and Ann Finke (Country Club of Colorado); and the renowned club-fitting expert Brian Gott (CommonGround).
ALSO SEE: We asked 25 Coloradans of note what's on their golf bucket list.
So, what's on YOUR Bucket List? Tell us on Facebook, Twitter or Instagram. Or email to [email protected].

This article appears in the June 2016 issue of Colorado AvidGolfer.
Colorado AvidGolfer is the state's leading resource for golf and the lifestyle that surrounds it. It publishes eight issues annually and proudly delivers daily content via coloradoavidgolfer.com.